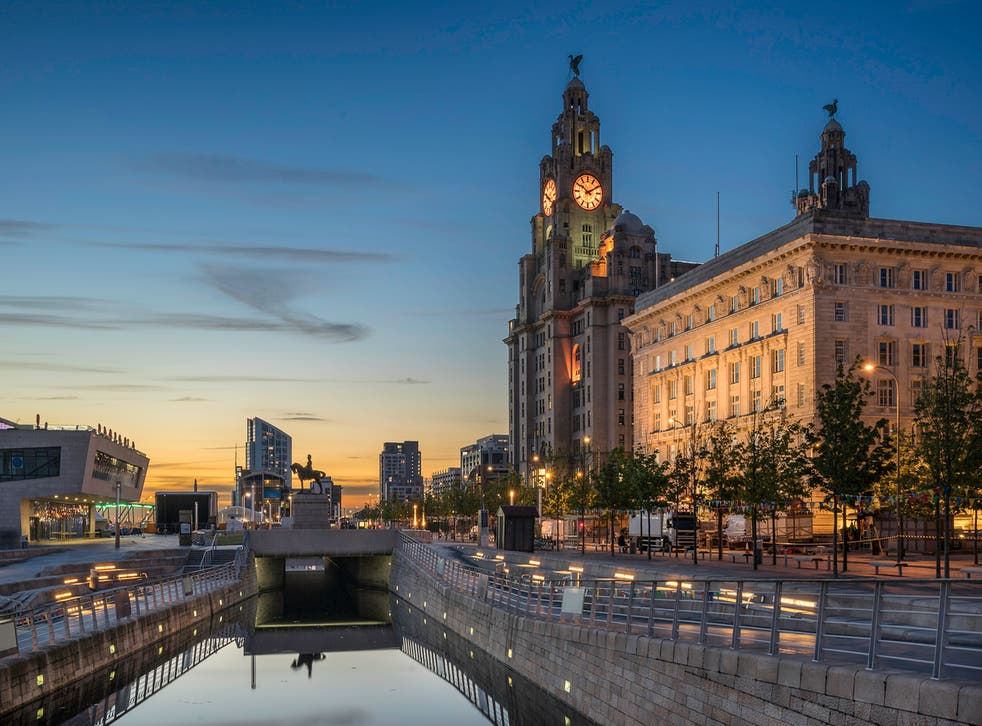 Liverpool guide: Where to eat, drink, shop and stay
Here's how to get the most out of a Liverpool city break
Anastasia Grabova
Wednesday 20 June 2018 10:43 Comments
Famous worldwide for its legendary football clubs and a rich musical heritage that includes the likes of Cilla Black, Frankie Goes to Hollywood, and, of course, the Beatles, Liverpool has seen a huge amount of regeneration in recent years. From the vast new shopping and residential complexes built in the past decade, to the transformation of disused warehouses into thriving hubs of independent enterprise, Liverpool continues to evolve and adapt. Proud champions of their city, Liverpudlians keep building on its creative legacy, meaning there's no end of innovative new places to visit, from cool pop-up shops to rediscovered and lovingly restored historical sites.
What to do
Take a tour
Whether you're a diehard Beatles fan or not, there's no better way of getting a feel for Liverpool than with a Magical Mystery Tour (cavernclub.org/the-magical-mystery-tour). Visit all four of the band members' former homes, peek through the distinctive red gates at Strawberry Fields, and take the steps down to iconic Sixties youthquake hangout The Cavern. For a more in-depth tour, book the Cavern taxi rather than the bus as the driver will have more time to offer commentary en route. From £18.50.
Spot of culture
Located in the red-pillared warehouses of Albert Dock, a Unesco World Heritage site and the largest collection of Grade I listed buildings in the UK, is Tate Liverpool (tate.org.uk/visit/tate-liverpool). Its calendar of modern and contemporary art exhibitions is world-class, with Roy Lichtenstein in Focus (free until 17 June 2018) and John Piper (£10 for adults until March 2018) currently on display. Open daily, 10am-5pm.
A piece of history
It's no secret that the merchants of 18th-century Liverpool derived much of their wealth and lucrative trading routes from their involvement in the slave trade. The International Slavery Museum (liverpoolmuseums.org.uk/ism) offers a thought-provoking insight. Open daily, 10am-5pm; free entry.
Go beneath the city
Truly fascinating and bonkers at the same time, the Williamson Tunnels (williamsontunnels.com) are the creation of eccentric businessman Joseph Williamson. Reportedly wanting to help solve the local mass unemployment of the early 19th century, Williamson hired hundreds of men to build a labyrinth of tunnels beneath the Edge Hill district of the city. Stretching out for miles, many of the routes have been blocked over the years. However, they are currently being excavated by an enthusiastic team of volunteers. Dates and times vary; tours are free, donations welcome.
Where to stay
Seamlessly blending luxury with a Beatles theme is the Hard Days Night Hotel (harddaysnighthotel.com), which has specially commissioned artwork inspired by the Fab Four in every room. To indulge your inner rock star, book a stay in the John Lennon suite, in the middle of which sits a baby grand white piano. Doubles from £66, room only, or £78, B&B.
With wooden floors, exposed brickwork, wooden beams and very large beds to fall into at the end of a long day, Hope Street Hotel has the feel of an upmarket spa. This independent boutique hotel offers luxury features such as Egyptian cotton sheets and REN toiletries as standard for a very reasonable price. Doubles from £86, room only.
Not unlike its namesake, The Titanic Hotel is a great big hulk of a building, and was once a warehouse for storing rum and tobacco. Retaining many of its original features, this hotel boasts exceptionally large rooms, a bar serving over 60 varieties of rum, and an on-site spa to boot. Doubles from £99, B&B.
Where to eat
Best for brunch
Bold Street has long been home to some of Liverpool's best independent eateries and vintage shops. Tea shop, bar and arts venue LEAF (thisisleaf.co.uk) serves a wide selection of brunch favourites and a few special creations – try the scrambled eggs and chorizo on toast with chilli, spring onions and roast vine tomatoes. Open 9am-12pm daily; 9am-3pm at weekends.
Best for lunch
Cosy and compact, with just one long communal table running the length of the restaurant, Maray (maray.co.uk) offers a tasty selection of Middle Eastern inspired small plates. The sea bass with confit tomatoes and rose harissa comes highly recommended. Open daily 12-10pm, and until 11pm on Fridays and Saturdays.
Best for dinner
For an extra special evening, book a table at award-wining fine-dining restaurant The Art School (theartschoolrestaurant.co.uk). Using a finely tuned list of local suppliers, chef patron Paul Askew has perfected a range of menus. Push the boat out with an eight-course tasting menu for £89 – pescatarian, vegetarian and vegan options are available too. Open Tuesday to Saturday, 12-2.15pm and 5pm onwards.
Where to drink
Secret bars are quite the thing here. Those in the know book a table at 81 Ltd (81ltd.com); entry is by appointment only. Intimate leather booths and a masterful cocktail menu make this an ideal place to kickstart an evening out. Open Thursday to Sunday, times vary.
Originally a Victorian gentleman's club, the Philharmonic Dining Rooms (nicholsonspubs.co.uk/restaurants/northwest/thephilharmonicdiningroomsliverpool) is reputedly the most decorated pub in England. Peek into the gent's toilets if you can (the bar staff are well used to being asked to check no one is using them). Notoriously grand, this room alone is Grade-I listed – one step above the Grade-II listed building itself. Open daily, 11-12am, and 11am-11pm on Sundays.
Offering 360-degree views of Liverpool from 300ft above sea level, the cocktail lounge at Panoramic 34 (panoramic34.com) is an unforgettable place from which to sample an array of classic and specially created cocktails. Try a taste of locally distilled organic gin, and order a Berry 'Cross the Mersey, made with Liverpool Gin and crème de mure. Open daily, 11am-11.30pm, closing at 11pm on Sundays.
If you're feeling brave try Some Place (07534 281525), an absinthe bar whose secret entrance is marked only by a green light on Seel Street. Go for the full French bohemian experience and try an Absinthe Sour, served theatrically with a vintage Belle Époque absinthe fountain which drips water into your glass via a sugar cube. Open 8pm-12am, Wednesday to Friday, and 7pm-12am on Saturdays.
Where to shop
For major brand names and designer wear, head to Liverpool One (liverpool-one.com). Thoroughly modern and convenient, the centre has recently welcomed the likes of Guess, Ben Sherman and Molton Brown to its long list of resident retail heavyweights. And as an example of scouse football humour, check out the official Everton Two shop – so named to revel in the address Everton Two, Liverpool One. Open Monday to Friday, 9.30am-8pm; weekends vary.
Exclusive to Liverpool, Utility (utilitydesign.co.uk) is the place to find design-led furniture, quirky gifts and unique souvenirs – think hand-drawn tea towels of the city skyline, exclusive prints of iconic buildings, and cook books celebrating local dishes. Open daily, times vary.
Cavern Walks (cavernwalks.co.uk) is a boutique shopping centre, home to Vivienne Westwood and Cricket, a luxury retailer stocking the likes of Saint Laurent, Celine and Stella McCartney. On the same floor you will find Boudoir Boutique which specialises in statement fashion looks and sells an eclectic range of brands including Wildfox, Zandra Rhodes, and Terry de Havilland. Open daily, times vary.
Home to art galleries, vintage clothing shops, and antique warehouses, Lark Lane (larklaneguide.com) has long been regarded as the laidback, bohemian part of town. The Farmer's Market, which takes place from 9am-2pm on the fourth Saturday of every month, sells high-quality, organic food grown within a 30-mile radius.
Architectural highlight
The largest cathedral in the UK, Liverpool's Anglican Cathedral (liverpoolcathedral.org.uk) is an astounding example of Gothic architecture, featuring countless ornate details.
Nuts and bolts
Public transport
Although most places are generally walkable, it's easy to hail a taxi if needed.
Best view
To see Liverpool's distinctive skyline and some of its most famous buildings in one stretch, take a River Explorer Cruise across the Mersey (merseyferries.co.uk).
Insider tip
An area of previously abandoned warehouses, the Baltic Triangle (baltictriangle.co.uk) is now one of Liverpool's most buzzing areas, having attracted digital startups, independent restaurants and bars, and large-scale music festivals. Don't miss the food and arts market every Sunday.
More information
Register for free to continue reading
Registration is a free and easy way to support our truly independent journalism
By registering, you will also enjoy limited access to Premium articles, exclusive newsletters, commenting, and virtual events with our leading journalists
Already have an account? sign in
Join our new commenting forum
Join thought-provoking conversations, follow other Independent readers and see their replies