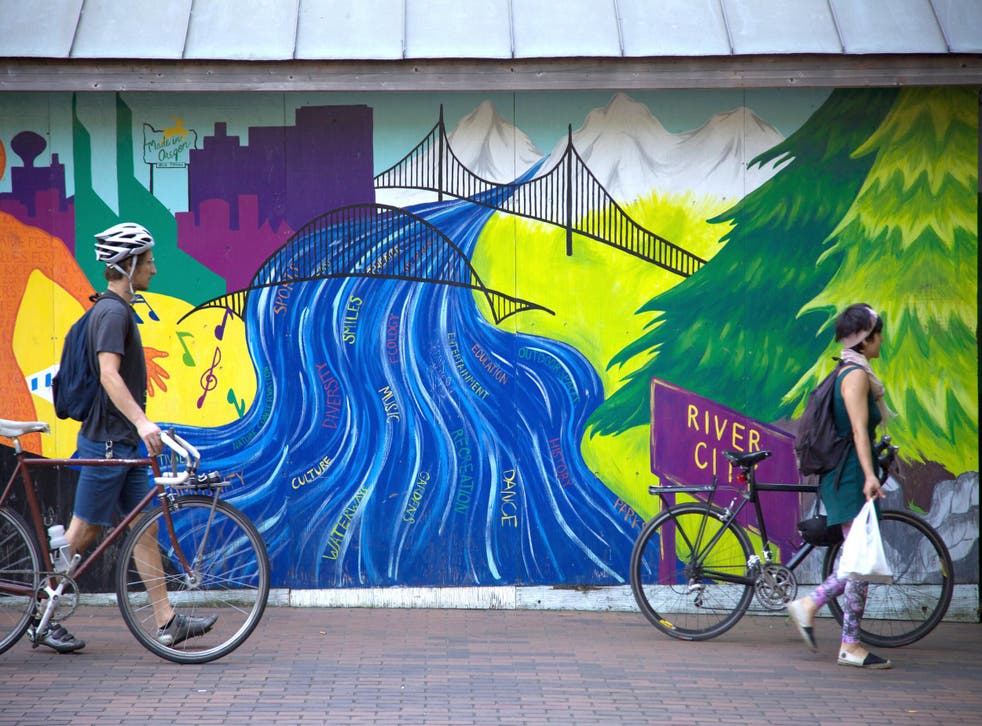 5 reasons why Portland's a cycle-friendly city
With dedicated bike lanes, riding trails and traffic-free areas, Oregon's largest city has plenty to make it perfect for pedalling
Thursday 04 May 2017 07:51
Portland, Oregon, might just be the most bike-friendly city in the United States. Known for being eco-conscious and independently-minded, Portlanders have historically fought big road-building projects in favour of more local solutions - resulting in an excellent public transport system and world-class cycling infrastructure. That means you can explore everything Portland has to offer ­- from its famously gorgeous parkland to more than 70 local breweries - on two wheels. Keen bikers will love Portland - and Portland will love them.
This summer, discovering Portland by bike is a cinch for Londoners, thanks to the launch of the first ever non-stop air link to the UK. Here are five of Portland's many cycle-friendly innovations you can now easily experience for yourself.
The people's bridge
Tilikum Crossing, known as the bridge of the people, opened in 2015. Closed to private cars, it is for the exclusive use of cyclists, pedestrians and public transport. Use it to get from the west side of the Willamette River to the Eastbank Esplanade, which offers a shore-side cycle with scenic city views.
The SE 17th Avenue Multi-Use Path
This new hiking and biking trail helps cyclists ride easily from the busy inner-city to the more laid-back communities in the south. It connects two existing bike paths - the Springwater Corridor, which heads from south-east Portland to Powell Butte Nature Park, and the Trolley Trail, tracing an old streetcar line between the historic towns of Milwaukie and Gladstone. It's great for getting off the beaten track.
Downtown cycle lanes
Even cycling in Downtown Portland is painless, thanks to wide, green dedicated bike lanes and road rules that are favourable to pedallers. For this reason, an organised bike tour is a brilliant way to get to know Portland, and operators offer everything from historical rides to beer and food-focused itineraries.
Biketown bike-sharing
You'll see bright orange bikes parked all over Portland - there are 1,000 of them available at 100 stations dotted about the city, as part of the Biketown bike-sharing scheme. With eight gears, real-time GPS and responsive lighting to keep cyclists visible, the bikes are ideally suited to urban riding and cost as little as $2.50 to rent.
Ride and fly
Portland is so pro-cycling that even the airport caters to pedal power. PDX offers bicycle parking and a dedicated bike assembly and repair station, with tools provided, so people can disassemble and reassemble their bikes pre- and post-flight. There is even a multi-use path that starts at the airport and connects to a regional trail system. Ride, park and fly!
Delta Air Lines begins flying to Portland from London Heathrow on 26 May, in partnership with Virgin Atlantic. Visit delta.com and start planning your summer of cycling in Portland