Could idle cruise ships become pop-up hotels at UK seaside resorts?
Marella Explorer and Holland-America's Zaandam are barely a mile from shore of the Devon resort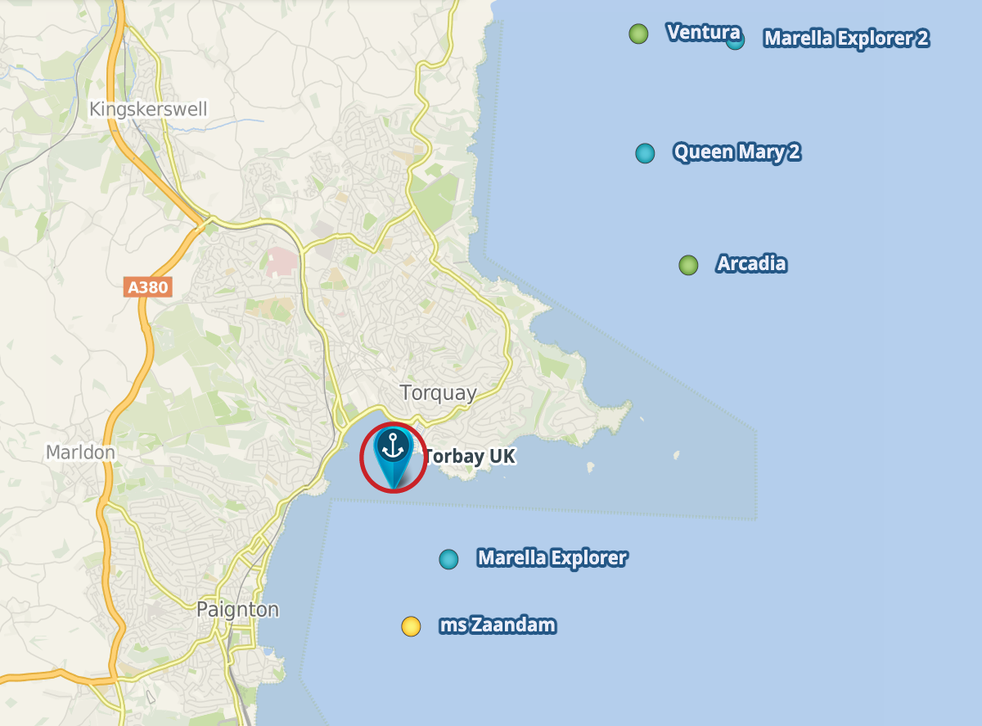 Cruise ships that are currently anchored and idle off the UK coast should temporarily become pop-up hotels, a seaside council leader has said.
Steve Darling, the Liberal Democrat leader of Torbay Council in Devon, has called for cruise lines whose vessels are moored in the bay to consider opening them for overnight guests to help relieve the demand for holidays in the southwest.
At present almost all of the world's 270 pre-pandemic cruise ships are idle, with a significant number of them at anchor off the south coast of England.
Marella Explorer and Holland-America's MS Zaandam are barely a mile from shore, while Cunard's Queen Mary 2, Marella Explorer 2 and P&O Cruises' Arcadia and Ventura are just north, off the coast between Babbacombe and Teignmouth.
Mr Darling told The Independent: "In any normal summer I think I'd get a lot of grief from local accommodation providers by suggesting additional capacity, but with so much uncertainty about international travel this summer they are all likely to sell out.
Read more: 
"In what could be an extremely busy summer, you can't just magic up additional capacity.
"When we're thinking 'How can we build some pop-up capacity?' it's already on the doorstep.
"We could also build relationships with a couple of cruise lines so they may call at Torbay in future."
With no harbour capable of handling cruise ships, vessels are obliged to use tenders to get passengers ashore.
CruiseTimetables.com currently shows just two cruise ships scheduled to call in Torbay in 2021: the German vessel Artania on 31 May, 7 July and 23 September, and Silver Spirit of Silversea on 26 September. 
Mr Darling said the cruise ships currently at anchor have become part of the community, with locals collecting Christmas presents for the skeleton crew on board.
The council leader rejected the suggestion that increasing overnight guests could add further pressure to Torbay's limited resources. 
"We are going to have hordes of people pitching up here anyway. If someone from the Midlands is unable to book, they may come down for a day."
A spokesperson for Marella, the cruise operation owned by Tui, said: "Our main focus is maintaining our ships to return to service for our customers as soon as we possibly can."
Since the 1980s, cruise ships have been deployed to provide accommodation at major sporting events including the Winter Olympics in the Black Sea resort of Sochi in 2014 and the summer Games in Rio.
They are also expected to be drafted in for the 2022 World Cup in Qatar.
There are relatively few examples around the world of cruise ships becoming permanent accommodation.
Two former Cunard liners, Queen Mary and the QE2, are currently floating hotels – in Long Beach, California and Dubai respectively.
But Katie King, former director of marketing for the QE2 in Dubai, said: "The QE2 is one of the world's most famous ocean liners afloat, with a history and story spanning more than 50 years.
"It's hard for any modern ocean liner to ever offer such a cultural experience steeped in heritage.  If the QE2 wasn't the QE2 , would she have been a successful project? The answer is, not likely. She was bought and restored because she is the QE2."
Register for free to continue reading
Registration is a free and easy way to support our truly independent journalism
By registering, you will also enjoy limited access to Premium articles, exclusive newsletters, commenting, and virtual events with our leading journalists
Already have an account? sign in
Register for free to continue reading
Registration is a free and easy way to support our truly independent journalism
By registering, you will also enjoy limited access to Premium articles, exclusive newsletters, commenting, and virtual events with our leading journalists
Already have an account? sign in
Join our new commenting forum
Join thought-provoking conversations, follow other Independent readers and see their replies