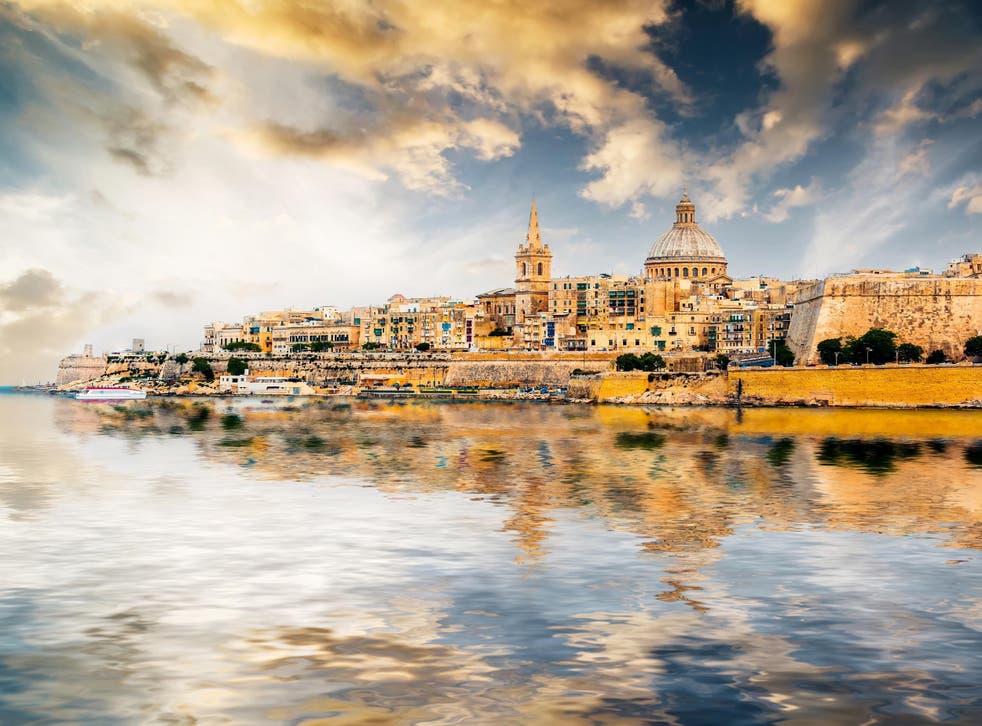 Malta's best hotels: from Brad and Angelina's favourite digs to Game of Thrones filming locations
With more than 300 days of sunshine a year, incredible clear seas and Game of Thrones-worthy medieval cities, these hotels join a long list of reasons to visit Malta
Aoife Oriordain
Tuesday 23 August 2016 11:38 Comments
The Xara Palace, Mdina
Set in a 17th-century palace in the winding, honey-coloured medieval alleyways of Malta's former capital (which starred as King's Landing in season one of Game of Thrones), this small, luxurious hotel has just 17 antique-scattered rooms, all heavy on local charm. Settled by the Phoenicians and known as "the silent city", Mdina is encircled by sturdy fortifications and its car-free streets echo with the sound of horse hooves. As well as fine-dining de Mondion restaurant (sample dish: braised pork cheeks and crispy belly with cauliflower custard and caramelised shallots), the hotel also offers the more homely Trattoria AD 1350, set in a picturesque square. Guests also get the use of a swimming pool at the hotel's other property, a hunting lodge in nearby Rabat.
Xara Palace, Misrah Il Kunsill, Mdina, Malta (00 356 2145 0560; xarapalace.com.mt​). Doubles from €130 per night, B&B.
Hotel Ta'Cenc & Spa, Sannat
When Brad Pitt and Angelina Jolie needed some downtime while filming By The Sea, shot entirely on location in Malta, they checked in to this secluded spot on the tiny island of Gozo, in the Maltese archipelago. (More Game of Thrones trivia – Daenerys Targaryen and Khal Drogo's wedding was filmed on the island.) Offering views out over a peaceful landscape of date palms and dry stone walls, with the Mediterranean beyond, it's easy to see why Brad and Ange were so taken. There are 83 rooms dotted around the grounds, some of which comprise individual, conical-roofed traditional dwellings known as trulli. There are two outdoor pools, but best of all is the hotel's nearby private beach, Il Kantra, proffering a pocket of turquoise blue by a rocky terrace with its own beach club.
Hotel Ta'Cenc & Spa, Cenc Street, Sannat, Gozo, Malta (00 356 2219 1000; tacenc.com). Doubles from €140 per night, B&B.
The Phoenicia, Floriana
The Phoenicia was Malta's most luxurious – and only five-star – hotel when it opened in 1947, offering unmatched views of capital Valletta's port and the Maltese coastline. But November will mark a new chapter in its illustrious history when it reopens as a Gordon Campbell Gray hotel, following an extensive overhaul. Totally redone, the hotel will retain all its historic and architectural charm, yet with a more contemporary feel conceived by the trio of Campbell Gray, designer Peter Young and interior designer Mary Fox Linton (the latter two's previous clients include The Dorchester). Early next year the hotel will also get a new spa, gym, an indoor pool and an outdoor pool, set in its lush gardens.
The Phoenicia, The Mall, Floriana, Malta (00 356 2291 1023; campbellgrayhotels.com/phoenicia/home). Doubles from €250 per night, B&B.
Hotel Juliani, St Julian's
St Julian's is a popular seaside town on Malta's north coast. Right in the thick of it all, Hotel Juliani is a family-run boutique townhouse smack-dab on the seafront, gazing out over the pretty curve of Spinola Bay. Constructed in mellow stone, its traditional Maltese balconies painted a fashionable shade of blue, the classic flavour continues inside with specially commissioned ceramics and walls dotted with works by local artist Pippa Toledo. Each of the 44 rooms is done in a bright and breezy style with some nautical touches, while the top perk is the rooftop pool with panoramic views of the harbour.
Hotel Juliani, 25 St George's Road, St Julian's, Malta (00 356 213 88 000; hoteljuliani.com). Doubles from €70 per night, B&B.
Quaint Hotel Xewkija, Gozo
Such was the success of the original Quaint Hotel in Nadur on Gozo, this Gozitan micro-chain opened a second property in March in the island's oldest village, Xewkija. This historic townhouse at the edge of Xewkija's main square has just 10 simple but stylishly decorated rooms. Pin-up Mgarr ix-Xini beach, with its picturesque fish restaurant and sparkling waters, is a short drive from the hotel, while the grandly Baroque Rotunda of Xewkija (also known as St John the Baptist's Church) is another must-see. Next up for Quaint are two more properties in Sannat and Ghajnsielem.
Quaint Boutique Hotel, St John the Baptist Square, Xewkija, Gozo, Malta (00 356 221 08500; quainthotelsgozo.com). Doubles from €80 per night, B&B.
Register for free to continue reading
Registration is a free and easy way to support our truly independent journalism
By registering, you will also enjoy limited access to Premium articles, exclusive newsletters, commenting, and virtual events with our leading journalists
Already have an account? sign in
Join our new commenting forum
Join thought-provoking conversations, follow other Independent readers and see their replies