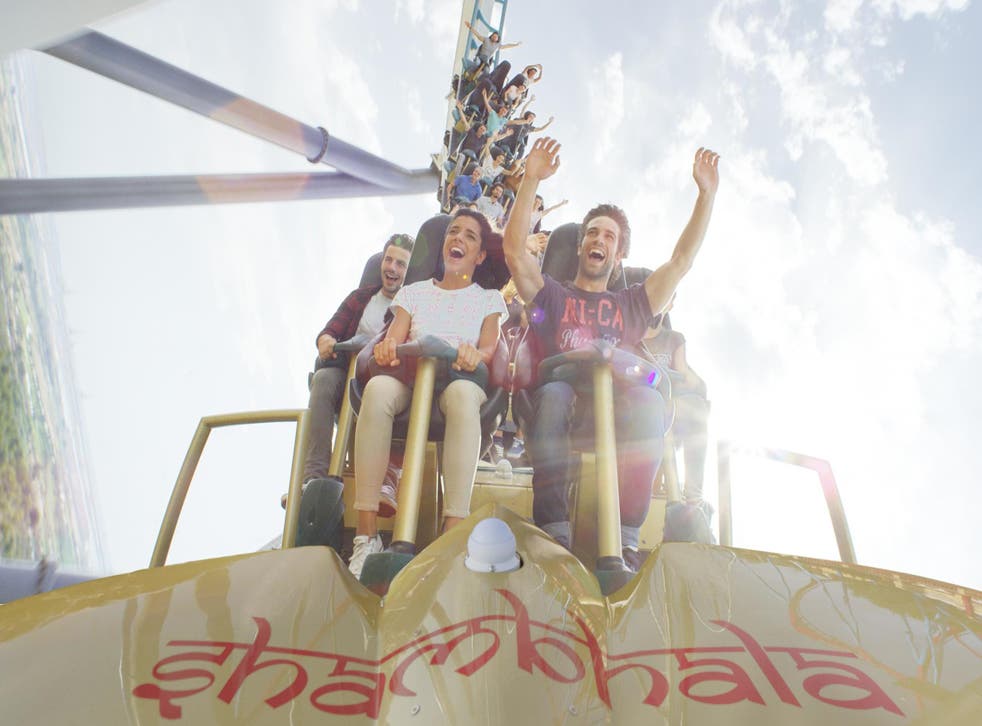 Five reasons Salou's PortAventura theme park is better than Disneyland Paris
Spain's best theme park is really the happiest place on earth
Sarah Arnold
Thursday 05 October 2017 10:48 Comments
Click hereIt almost feels wrong writing this; there's an element of sacrilege to it. It's something that feels like it deserves a hushed whisper – like saying you put the milk in first when making tea, or admitting to never having watched Game of Thrones.
Nevertheless, I'm going to make a bold statement. Disneyland isn't actually the happiest placed on earth.
The Parisian park may well be celebrating its 25th anniversary this year, introducing a new Star Wars land and a Pirates of the Caribbean ride that features Johnny Depp in honour of this landmark event, but to my mind it still isn't a patch on another European theme park of a similar age – PortAventura.
Situated in the Spanish hills outside the popular holiday resort of Salou, PortAventura has come a long way from the small water park that first opened 20 years ago. It's now comprised of three theme parks, numerous hotels and restaurants, and even has its own beach club on site.
On paper it sounds pretty similar to Disneyland Paris – but here's why it's so much more:
Disney is dated
I love some good old nostalgia as much as the next person, but Disneyland in many ways hasn't moved with the times. Kids growing up in the watch-anything-you-want-in-an-instant era don't spend their Sunday afternoons watching Western films with their grandparents; instead of amazing them, the cowboy and Indian theme in Frontierland baffles them.
And don't even get me started on It's A Small World – the ride that takes you past singing animatronic children from around the globe. These days it just seems weird; very few people under the age of 50 understand what the experience is about and you don't realise what you've let yourself in for until it's too late. Then you have to spend the rest of the day with the irritating yet insanely catchy tune running relentlessly through your brain.
On the flip side, PortAventura continues to evolve to accommodate popular trends and themes. Kids would much rather ride on family friendly Stampida, where two wooden rollercoasters race each other. The resort has also undergone a €100m (£88m) investment and opened Ferrari Land this year, with a flying theatre, simulators and some of the most thrilling rides in the park.
Thrills and spills
Disneyland Paris is a condensed version of its Disney World cousin in Florida, with all the key features of the bigger park. The problem is, they're simply not thrilling enough.
There's nothing like being on a rollercoaster that accelerates from 0 to 180kmh in five seconds, or throws you every which way thanks to multiple loop-the-loops. At Disney, the peak of this is Star Wars Hyperspace Mountain (formerly known as Space Mountain until the rebrand this year). But even here the thrill level isn't high. And I should know. I rode it 19 times in two days last year.
Both Hyperspace Mountain and the other main coaster, Aerosmith Rock 'n' Roller Coaster, are set indoors in the dark, and there's nothing about the experience that catches you off-guard or surprises you as a rider.
Over at PortAventura, it's a different story. In Ferrari Land, Red Force stands at 112m high, making it the tallest rollercoaster in Europe. Shambhala in the main park has five camel humps that make you feel like you're floating (although this may be because the restraints only come to your thighs).
Location, location, location
PortAventura is ideally located for the British holidaymaker. It is situated close to the resort town of Salou and is one hour away from Barcelona. If that isn't close enough, Reus airport (which really should be renamed PortAventura Airport) is 10 minutes' drive away; airlines that fly there include Ryanair and Jet2.
Click here to find flights to Reus
Disneyland Paris is easily accessible via the Eurostar – however, if you aren't travelling from London, this isn't particularly useful. Despite the name, the parks aren't located within Paris, but 27 miles outside it. A taxi from Charles de Gaulle airport can take more than an hour at peak times.
Queuing is a breeze
For some, queuing for upwards of two hours for a popular ride at a theme park is the norm. For others, the thought of this is enough to put them off. Disney has the single rider line for those who don't mind riding alongside a stranger; not ideal if you want to share the experience with your loved one. They also offer a FastPass system in which you are given a time to return to the more popular attractions.
At PortAventura, the Express Pass is an extra €33 (other options are more expensive) but for those wanting to maximise time at the resort it's well worth it. There are separate queues for wristband holders, making queuing a much more pleasant and, most importantly, speedy experience.
Food, glorious food
There are no two ways about it – dining options at Disneyland are terrible, unless you're prepared to fork out for a character dinner. On site, your only choice is an overpriced burger and chips in the fast food joint. Either that or stuffing yourself with the sugary goods sold around the park.
In PortAventura, there are options to suit all tastes. From a Mediterranean lunch at Vinosfera or a relaxed bite at Raco de Mar, it's come a long way from chicken nuggets and chips.
Register for free to continue reading
Registration is a free and easy way to support our truly independent journalism
By registering, you will also enjoy limited access to Premium articles, exclusive newsletters, commenting, and virtual events with our leading journalists
Already have an account? sign in
Join our new commenting forum
Join thought-provoking conversations, follow other Independent readers and see their replies