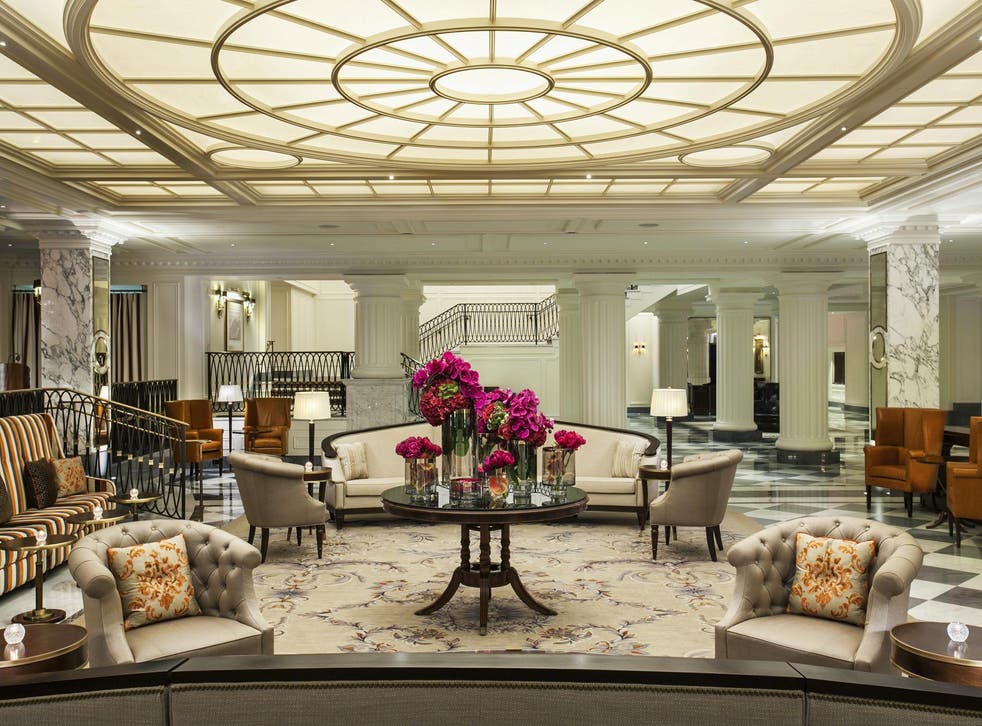 InterContinental New York Barclay hotel review: a grand dame restored to its former glory
Following a multi-million dollar renovation, one of Manhattan's original railroad hotels is back on track
It's not enough to be a luxury hotel anymore. At least, that seems to be what hoteliers think as they bandy around words like "lifestyle", "boutique" and "design" when describing their latest properties. Don't get me wrong, I love a boutique design lifestyle hotel as much as the next person, but sometimes good old-fashioned luxury still feels rather special – when done well. And that's just what I found at the InterContinental New York Barclay.
I blame Home Alone 2: Lost in New York. A seminal film of my childhood, I hold it entirely responsible for my guilty pleasure in plush carpets, gold fittings and marble lobbies. Although that particular masterpiece was filmed at the Plaza Hotel, round the corner, the Barclay has the advantage of having just had a top-to-toe refurbishment.
It first opened its doors to guests in 1926, and relaunched this spring after its $180m (£135m) revamp. Now it feels fresh but classic, with all the features one might expect of a New York grand dame: neo-classical columns, elaborate ceilings and a (new) marble staircase. It's very Park Avenue – in a good way.
The artwork, according to the hotel, was chosen to reflect its 1920s legacy, so dotted around you'll find vintage maps and Hudson River School landscapes.
The one drawback was the restaurant – or lack of it. For a hotel of this size (there are 704 rooms and suites) I was surprised the Gin Parlour was the only spot for dinner. Although it serves a full menu of really rather good dishes, ranging from American classics such as burgers to Italian- and Middle Eastern-inspired small plates, it's more of a bar in style and ambience – it seems to merge into the lobby, and there's a TV on the wall. The staff seemed surprised when I ordered food, and had to return several times to check my order. But in a city like New York, you'd be missing out if you didn't venture beyond your hotel to eat, whether you're after a dollar slice or high-end fine dining.
Location
Midtown wouldn't usually be my choice of location in New York, being right in the thick of the tourist zone, but the Barclay's position is incredibly handy – especially for first-time visitors.
Originally established as a railroad hotel, it's a short walk away from Grand Central, which I'd recommend sticking your head into, even if you don't have a train to catch. You're also close to Central Park and MoMa (the Museum of Modern Art; moma.org), and right by a subway station, so the rest of the city is at your disposal.
Comfort
The bedrooms are where the hotel really comes into its own. I was in a one-bedroom Deluxe Suite, complete with separate living room. There are 10 categories to choose from though, starting with the smallest (but still not to be sniffed at) Superior Rooms and ranging all the way to the soon-to-be-revealed Presidential and Penthouse Sky Suites – the latter has its own private terrace.
The rooms are all decorated primarily in neutral tones, set off by splashes of colour. In the case of mine, the interiors were mostly (sophisticated, rather than dull) grey with pops of red, harking back to the hotel's 1920s origins through Art Deco-style furniture (the gold-rimmed coffee table particularly caught my eye), geometric textiles, and an original eagle-adorned brass door plate.
The bed was vast and extremely comfortable, while the bathroom is a vision of marble, with both a shower and a tub. The bedroom windows have skyscraper views, so you never forget you're right in the heart of the city. Lost in New York, if you like.
Essentials
InterContinental New York Barclay, 111 East 48th Street, New York, USA (001 212 755 5900; intercontinentalnybarclay.com). Deluxe double rooms start at $530 (£400), room only.
Wi-Fi: $14.95 (£11) a day
Parking: $68 (£51) for 24 hours
Access: 34 wheelchair-accessible rooms
Rooms: ****
Service: ****
Value: ***
Join our new commenting forum
Join thought-provoking conversations, follow other Independent readers and see their replies