Analysis
Simon Calder: What is causing the air traffic control chaos? The authorities have some explaining to do
Nats boss appears to confirm reports that a 'dodgy flight plan' was responsible for calamitous shutdown
Tuesday 29 August 2023 20:48 BST
Comments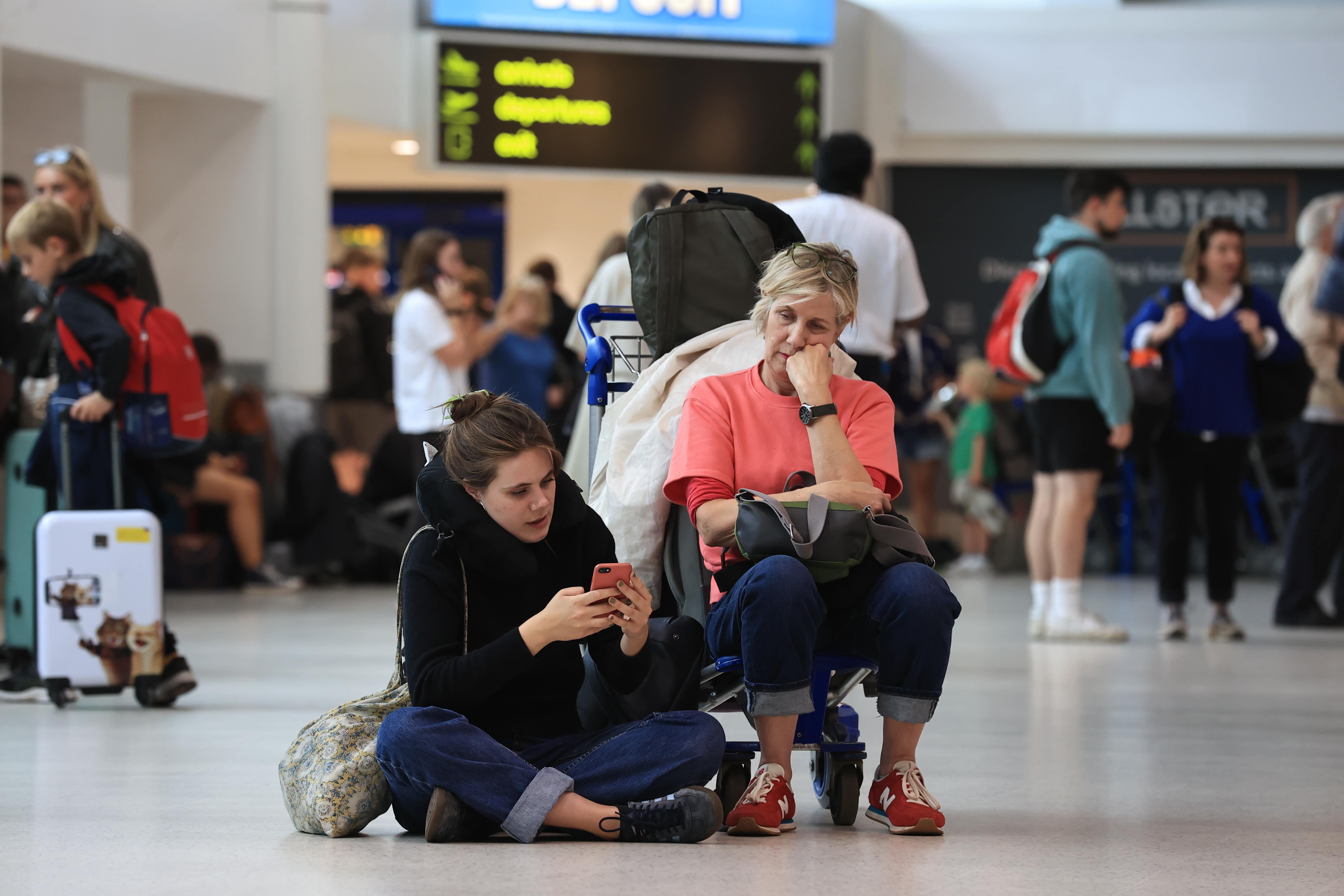 It's the £80m question: why are airlines facing enormous financial losses while their passengers endure extreme distress?
The last week of August is a time of high demand for air travel, especially from returning holidaymakers. Because of the UK's limited airport infrastructure, especially in southeast England, there is precious little slack in the system: Heathrow and Gatwick are, respectively, the busiest two-runway and single-runway airports in the world.
So the UK's normally well-regarded air traffic control (ATC) system needed to be working perfectly on bank holiday Monday.
At 11.24am on Monday I began to get reports from airlines of an "ATC failure affecting entire UK airspace". Within 15 minutes I asked Nats, the national air traffic service, what was happening.
Just before noon on Monday, the company told me: "We are currently experiencing a technical issue and have applied traffic flow restrictions to maintain safety. Engineers are working to find and fix the fault.
"We apologise for any inconvenience this may cause."
That last line raises the bar for official understatement. The entire UK aviation industry could see the only possible consequence was severe disruption. And so it proved, with almost 1,600 UK-touching flights cancelled on Monday and an estimated quarter-million passengers waking on Tuesday somewhere they did not want or expect to be.
On Monday evening I asked Nats a dozen questions, which I shall share with you.
Nature of issue?
The cause?
Time it occurred?
Time when impact began on flights?
Time it was fixed?
Time normal service resumed?
Whether priority was given to long-haul flights?
Nats' assessment on number of flights affected/cancelled/diverted?
Any assurance that it will not happen again?
What lessons Nats has learnt from the event?
Whether airlines can expect any recompense from Nats?
Whether individual passengers can expect any recompense from Nats?
The organisation replied at lunchtime on Tuesday, declining to answer those questions and saying a thorough investigation is under way to understand the root cause of what happened. The world will have to wait until that is known.
Michael O'Leary, chief executive of Europe's biggest budget airline, Ryanair, had no more luck than me. In a video message, he said: "It's not acceptable that UK Nats simply allow their computer systems to be taken down, and everybody's flights get cancelled or delayed."
In the information vacuum, I had little choice but to indulge in speculation. Experience shows that foul-up is far more likely than foul play in these circumstances. So I ventured to pin the blame on some weakness in the monumentally complex Nats computer system.
Several sources told me that a French airline filed a dodgy flight plan that made no digital sense. Later on Tuesday, the Nats chief executive, Martin Rolfe, appeared to confirm reports that a rogue submission was responsible for the calamitous shutdown.
In a statement, the CEO indicated the organisation's complex IT system defaulted to fail-safe mode when presented with anomalous data.
Mr Rolfe said: "Our systems, both primary and the back-ups, responded by suspending automatic processing to ensure that no incorrect safety-related information could be presented to an air traffic controller or impact the rest of the air traffic system."
Surely the Nats system should automatically have identified an anomaly and spat out the plan, saying "try again"? Yet instead, the flight plan was ingested and set in train a shutdown of the entire system.
The closest analogy I can come up with is an extremely well-tuned machine – let's say an aircraft engine – being prone to spanners being thrown into the works.
Nats now faces a simple question from the airlines, which face a collective £80m loss, and upset passengers: how can a safety-critical and economy-critical part of the national infrastructure be vulnerable to – let's surmise – a flight plan inadvertently botched by a hapless work-experience person?
Safety was never an issue: UK air traffic control has a well-deserved reputation for superb professionalism. But with so much emotional and financial cost being paid by passengers and airlines, the air traffic control provider has some explaining to do. Very soon.
During times of travel chaos, The Independent's travel correspondent Simon Calder is here to provide unparalleled advice to holidaymakers. You can sign up for Simon's newsletter by clicking here. Subscribers to Independent Premium can also receive a weekly Ask Me Anything email from Simon which sees him answer your burning travel questions. You can sign up to Independent Premium by clicking here.
Simon will also be on hand from 9-10am BST, on Wednesday 30 August to answer all your questions in an 'Ask Me Anything' event here. From advice on your rights to what to do if your flight is cancelled, he will be answering live in the comments section and you can submit your questions in advance by clicking here.
Join our commenting forum
Join thought-provoking conversations, follow other Independent readers and see their replies