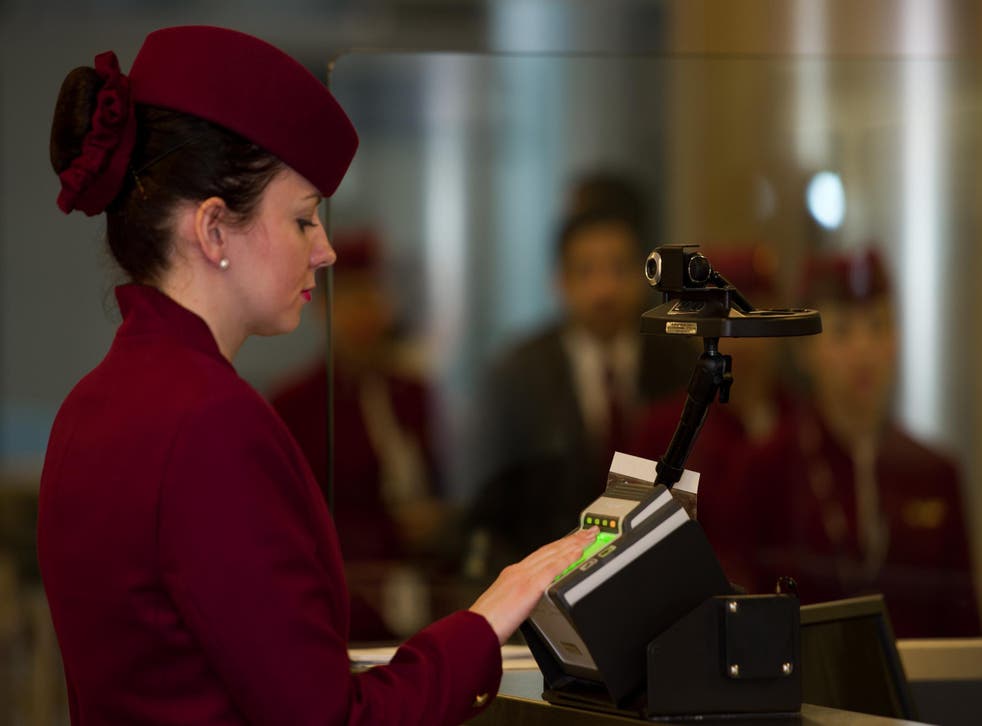 Airport biometrics: How new customs technology is going to make security queues a thing of the past
You don't like queues at the terminal, and airlines and airports don't either. Here's what they're doing about it – and it involves your face
Paul Sillers
Friday 30 June 2017 15:59 Comments
Call it a marriage of convenience: airlines want you to have a frictionless and convenient experience through the terminal, and airports want you to zoom through all the checks so that, airside, you can treat yourself to some retail therapy.
But here's the thing: 3.8 billion passengers took to the skies worldwide last year. That figure's expected to double in the next 20 years, but airport capacity can't begin to grow at that pace. The solution? Getting you through the airport faster and more seamlessly – at a time when security, protection of national borders, and elimination of threats requires ever more stringent scrutiny of every traveller passing through the system. And that's where biometrics come in.
Increasing vigilance while spending less time examining the 10.4 million people who flow through the world's airports every day seems like a contradiction, but airports are betting on biometrics to make queues a thing of the past. In fact, developments are moving so fast that biometrics will ultimately replace all forms of travel documentation with your unique physical attributes which can be scanned at every airport checkpoint.
We've already adopted biometrics in our personal and business lives – with fingerprints (logging in to our phones), voice (Siri, Cortana, Amazon's Echo Dot) and facial recognition (logging in to Windows 10 with our faces). So why not at airports? After all, we've all experienced elements of biometrics at airports at many of the electronic turnstiles – through fingerprint and iris scans, or increasingly commonly, scans of your entire face. Now that the science is maturing, airports are rushing to join the dots between check-in, bag drop, immigration and border control, airside security and the boarding gate – using ePassports (every UK passport now has a chip embedded in it).
The idea of the all-biometric airport is that once you create a match between your facial characteristics and your passport, you'll be able to proceed through all of the terminal checkpoints from kerb to cabin without having to exhibit travel documents. It's a matching process known in the industry as "Single Token Travel".
How soon will we have a biometric airport?
Sita, the company which provides communications and IT infrastructure for the aviation industry, has been trialling various biometric systems around the world. "We're pretty much there in terms of readiness," Stephen Challis, Sita's head of product development, tells The Independent. "We have a trial that's been running for six months in Brisbane, where the passenger enrols their passport, boarding card and their face image at check-in, then uses that through the various control points". At the boarding gate, passengers simply look into the camera and through they go. "That's a significant gain for passengers in terms of speed and convenience," says Challis.
Challis said that the trial has done "very well in Brisbane" and Middle East destinations. So how will biometrics affect our flying experience?
A selfie before you fly
One of these upcoming features is the "Single Token Travel" enrolment process which you do before check-in using smartphones. Using Sita's app, you scan your passport and take a selfie – which matches your face to the ePassport data. Once matched, you can proceed to security if you've already checked in online. "It's a proof-of-concept at the moment, but we're looking to demo that in a live operation by the end of this year" says Challis.
At check-in
Last month, in a separate biometric initiative, Finnair invited 1,000 of its frequent flyers to participate in a face recognition test at Helsinki airport in order to improve the airline's understanding of "the applicability of face recognition technology and the impact it has on the customer experience".
Customers taking part in the test used an android app to send three selfies and upload Finnair loyalty card information to the test system; they then used a check-in desk with face recognition technology. As customers approached the check-in desk, there was an "invisible red carpet moment" where service agents were provided with the name of the passenger and their flight information and could address them in a personalised way.
Sari Nevanlinna, head of ground experience and ancillary at Finnair, says: "Face recognition technology could offer possibilities for smoothing the departure process from the customer's point of view."
The airport is equally enthused. "We want to make air travel flow even smoother and be involved in developing the customer experience" says Heikki Koski, vice-president of Helsinki airport. "Facial recognition is part of the larger megatrend of biometric recognition, and it will enable 'hands-in-the-pockets' travelling, where you no longer need any travel documents."
Biometric bag drop
Checking luggage is a major pain for passengers, even if they've checked in online. Worry no more – Delta Air Lines has hopped on the biometric bandwagon, opening the "first biometric self-service bag drop in the US" last week at Minneapolis-St Paul airport with the promise that it will process twice as many customers per hour as a manned desk. Whether that's cynical cost-cutting or seriously cutting-edge, only time will tell; the airline claims that it will "free up more Delta people" to deal with customers.
The advantage of using biometrics at bag drop is two-fold: as well as saving time for passengers, there's a visual record of the actual passenger dropping the bag – not just someone who might have picked up the suitcase owner's boarding card.
At the boarding gate
The Independent reported recently that low-cost US carrier JetBlue implemented a trial of face-reading technology to speed up the boarding gate process at Boston Logan International Airport whereby, at a custom-designed self-service camera station, passengers scan their travel documents a selfie kiosk. But JetBlue is not alone in focusing on biometrics to reduce or eventually eliminate queues at the boarding gate.
In February, Amsterdam's Schiphol airport – which has set itself the target of being the world's "leading digital airport" by 2018 – also announced a facial-recognition trial in collaboration with KLM involving boarding without having to show your boarding pass and passport. To enrol in the process, passengers scan their passports, boarding passes and have a photo of their face taken by a special registration kiosk (personal data is automatically deleted after boarding). Beyond that procedure, passengers needn't exhibit any further documentation – their face is enough to grant them access through to gate barrier and they can proceed to the plane.
"The goal of the trial is to find out how we can move passengers onto the aircraft as quickly and efficiently as possible" said Schiphol airport's director of safety and security Wilma van Dijk as the trial got underway. "This trial will last at least three months, although as far as I'm concerned we will take all the time we need to conduct the testing as effectively as possible".
In the UK, following a successful trial last year, British Airways announced this April that the first three biometric boarding gates for UK domestic flights departing from Heathrow Terminal 5 had been opened with a view to roll out the scheme on international flights in the future.
The system enables travellers to scan their own boarding pass at the gate and then simply walk through to the aircraft. To facilitate this, a digital facial scan of the customer is recorded when they pass through security. As they arrive at the gate, their face is "matched with this representation when they present their boarding pass" – allowing them to board the aircraft. "Our customers have told us that they want the ability to simplify and speed up their journeys through the airport," says Troy Warfield, BA's director of customer experience.
Will passengers warm to biometric tech?
In its Passenger IT Trends survey released this week, Sita says that 57 per cent of passengers say they'd prefer biometrics to passports and boarding passes; those who've already used this technology express an average 8.4 out of 10 in terms of customer satisfaction, and feel over four times more satisfied going through security than doing it in the "normal" way.
"Like the use of any data" says Sita's Challis, "once people begin understanding what it's used for, understanding what the benefits might be, and are confident that their data is being managed securely and with respect, then I think, generally speaking, people are quite happy to share that sort of information."
Register for free to continue reading
Registration is a free and easy way to support our truly independent journalism
By registering, you will also enjoy limited access to Premium articles, exclusive newsletters, commenting, and virtual events with our leading journalists
Already have an account? sign in
Join our new commenting forum
Join thought-provoking conversations, follow other Independent readers and see their replies