Prepare for take-off: the peak air travel day of the week this summer is Friday
Exclusive: In the busiest ever summer at Britain's airports, research by The Independent reveals the dates when the crowds will be biggest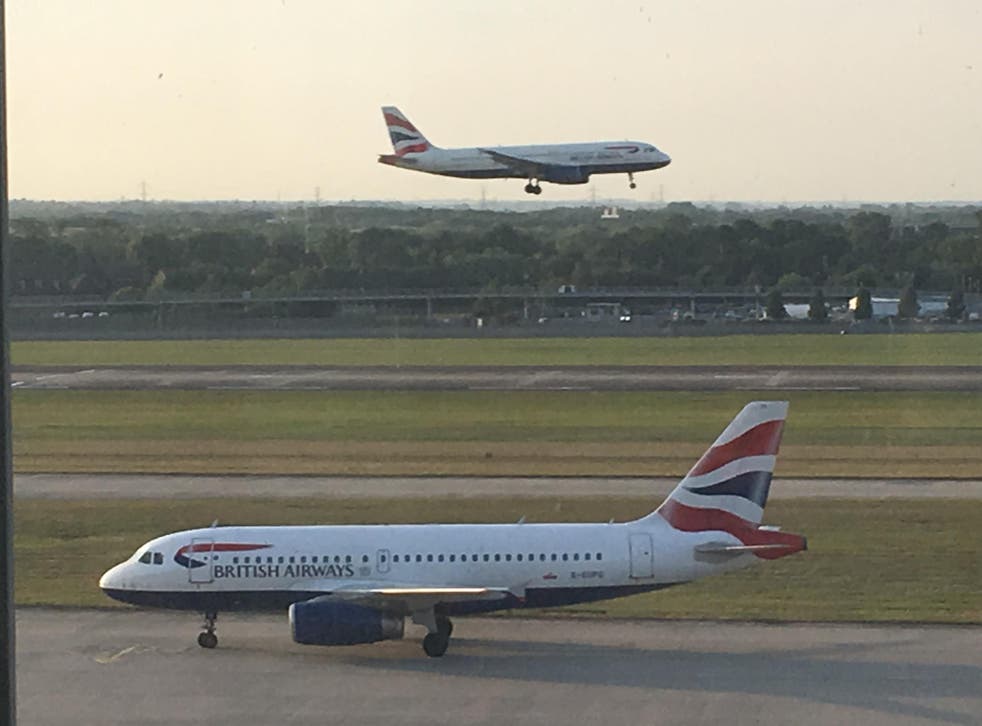 As Britain's largest airports gear up for their busiest ever summers, the worst days of the week for crowds are Fridays and Sundays. The Independent has researched the peak times for passenger numbers, with staff and facilities working at full stretch. A key date to avoid at most big airports is Friday 25 August, at the start of the Bank Holiday weekend.
At Heathrow, a new single-day record has already been set this summer, with 259,917 people flying through on Friday 30 June – representing almost four people per second. Numbers since then have been affected by the strike by some members of British Airways cabin crew. The forecast for the busiest day in the main summer holiday is Sunday 6 August, with 257,893 passengers.
The busiest long-haul routes from Heathrow are New York, Dubai and Los Angeles. Dublin, Amsterdam and Frankfurt are the short-haul destinations with the most passengers.
The airport's chief executive, John Holland-Kaye, said: "Our record breaking year, month and day figures show Heathrow continues to be the trade and tourist gateway to all of the UK."
For outbound travellers from Gatwick, Friday 21 July will be busiest, with 84,000 passengers, while baggage reclaim and passport queues will be most stretched on Sunday 3 September when 87,000 passengers are expected to arrive. Sunday 13 August will be the busiest day overall with 168,000 passengers using the Sussex airport.
Guy Stephenson, Gatwick's chief commercial officer, said: "We are expecting record numbers to use the airport this summer with passenger numbers on all of our top 10 routes exceeding last year's totals."
The top three long-haul destinations are Orlando, Dubai and Toronto, while the busiest European routes are all to Spain: Barcelona, Malaga and Palma. On Friday 21 July, Gatwick expects 15 departures to Barcelona, on five airlines: British Airways, easyJet, Monarch, Norwegian and Vueling.
Manchester is now firmly established as the third-busiest UK airport and in the top 20 European hubs, with annual passenger numbers rising at 11.5 per cent. The airport expects Friday 18 August to be the busiest day. Manchester claims 210 destinations, more than any other UK airport.
Lower down the league table for passenger numbers, Friday remains the most common day for crowds. Stansted, which is the nation's biggest single-terminal airport, predicts its busiest day will be Friday 25 August. On that day, 93,000 people - more than the capacity of Wembley Stadium - are expected to fly in and out. Its nearby rival, Luton, also forecasts 25 August will be the busiest day; the two preceding Fridays, 11 and 18 August, are expected to be almost as busy.
Birmingham's busiest day is also predicted to be Friday 25 August, with an estimated 50,284 passengers, almost exactly split between arrivals and departures. The biggest crowds for departures are expected on Friday 21 July. Coming home, the day after the Bank Holiday weekend, Tuesday 29 August is looking busiest.
UK news in pictures

Show all 50
In Scotland, the school holidays have already begun, and some airports have already experienced their busiest days for the summer. But Aberdeen is expecting its busiest day on Thursday 20 July, with 12,350 passengers passing through.
Travellers using Scotland's busiest airport, Edinburgh, might choose to make an especially early start next Saturday 22 July. The airport predicts the busiest time of the summer for going through the outbound security check will be 5am-6am on that day, with 2,742 overall for the hour – representing 47 new passengers joining the end of the queue every minute.
Additional research by Charlotte Wickens
Register for free to continue reading
Registration is a free and easy way to support our truly independent journalism
By registering, you will also enjoy limited access to Premium articles, exclusive newsletters, commenting, and virtual events with our leading journalists
Already have an account? sign in
Register for free to continue reading
Registration is a free and easy way to support our truly independent journalism
By registering, you will also enjoy limited access to Premium articles, exclusive newsletters, commenting, and virtual events with our leading journalists
Already have an account? sign in
Join our new commenting forum
Join thought-provoking conversations, follow other Independent readers and see their replies