The Independent's journalism is supported by our readers. When you purchase through links on our site, we may earn commission.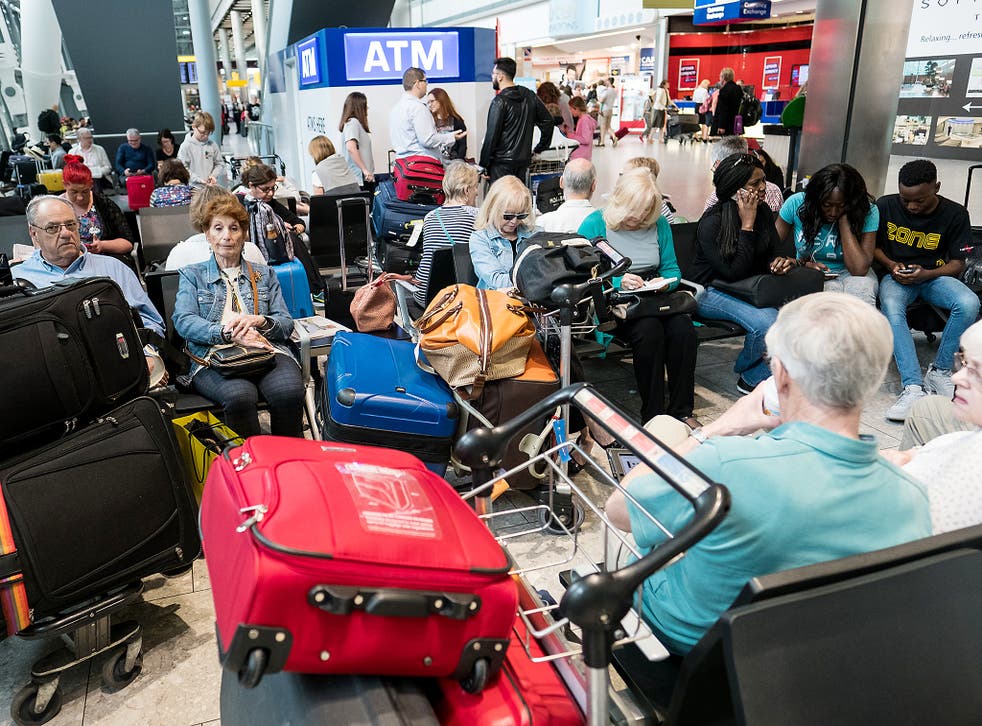 British Airways IT system outage: What are BA passengers' rights?
Airline has confirmed that it will meet claims under European passengers' rights rules
Simon Calder
Travel correspondent
Thursday 01 June 2017 10:13 Comments
Simon Calder explains the rights of British Airways passengers caught up in the airline's shutdown following an IT system failure – and considers the impact on the airline.
What went wrong?
British Airways is still trying to find out exactly why the IT system on which its entire network depends failed. While some parts of the airline's operation can be handled manually, so much depends on computers communicating with each other and the outside world that flying was brought to a halt and resumed only slowly.
One reason for the vulnerability is that BA, in common with many big organisations, has a corporate IT system with cutting-edge technology alongside "legacy" elements and processes that are almost prehistoric in computing terms.
What are the rights of passengers whose flights were cancelled because of the failure?
The most basic entitlement, which applies regardless of the cause of the disruption, is the airline's obligation to provide care for passengers affected by cancellations. They are entitled to meals and accommodation as appropriate until they can reach their final destination. British Airways is supposed to provide this care, but in practice during severe disruption many passengers fend for themselves and then claim back later. BA has said it will pay up to £200 for a hotel room (with couples expected to share), £50 for transport between the airport and the hotel, and £25 per day for meals and refreshments. If a passenger has a legitimate claim for more, such as the only available hotel being a £100 cab ride away, the airline is unlikely to decline a properly receipted claim.
Will BA cover the cost of new tickets bought by a disrupted passenger for travel on a different airline?
British Airways initially said no, telling passengers: "If we weren't able to offer a suitable alternative flight we would offer a full refund of any unused sectors on your booking with us, but any alternative flights booked via different carriers would be at your own expense and would have to be claimed back through travel insurance."
But this policy has changed, and reasonable alternative travel arrangements will now be covered by the airline.
Passengers holding return tickets who found another way to reach their destination but still intend to fly home with BA face potential problems. If they are recorded as "no-shows" on the outbound flight, they may find their inbound leg is cancelled. They should contact the airline to explain the position.
What about actual compensation?
Under EU passengers' rights rules, passengers whose flights are cancelled or delayed by three hours are entitled to cash compensation depending on the length of the trip: under 1,500km, €250 (£218); 1,500-3,500km, €400; above 3,500km, €600 (or €300 for flights delayed by three to four hours). British Airways says it will meet all eligible claims.
In pictures: British Airways disruptions

Show all 17
Affected passengers should claim direct from the airline; they do not need an intermediary, who will take about 30 per cent of the value of a settlement.
Because of the sheer number of passengers affected, payments are likely to take months rather than weeks.
What if the financial costs to the passenger exceed the stipulated EU amount?
Receiving the European compensation payments does not rule out more substantial claims. For example, due to the shutdown some families will have had to abandon planned Mediterranean holidays, losing the pre-paid cost of accommodation running into thousands of pounds. They may claim from the airline under the Montreal Convention, which gives passengers certain rights to recover financial losses directly caused by an airline's failure to get them to their destination on time.
What about luggage?
By the end of Tuesday, BA is thought to have fewer than 10,000 bags to deliver to passengers who travelled without their luggage, and is making arrangements to get them back. The airline is saying: "Should your baggage be delayed and you need to purchase essential items during your trip, then please do so.
"We are very sorry for the frustration this situation is causing at a very busy time of year for holidays."
The airline is obliged to get your luggage to you free of charge. If a bag never comes back, you can claim up to about £1,100 in compensation, depending on the contents.
How bad is this for BA?
While strikes, weather and previous IT failures have had some effects, nothing as extreme as this has happened since the Icelandic volcano shut down all flying in northern Europe in 2010. The difference then was that all airlines were affected. The reputational damage to BA is considerable; the timing, at the start of half-term for many schools, was especially unfortunate, with some families having invested thousands of pounds in holidays which they have now missed. But as BA has the majority of slots at Heathrow, the world's most desirable international airport, it retains a huge structural advantage over other airlines, and is likely to continue to prosper despite this failure.
Register for free to continue reading
Registration is a free and easy way to support our truly independent journalism
By registering, you will also enjoy limited access to Premium articles, exclusive newsletters, commenting, and virtual events with our leading journalists
Already have an account? sign in
Register for free to continue reading
Registration is a free and easy way to support our truly independent journalism
By registering, you will also enjoy limited access to Premium articles, exclusive newsletters, commenting, and virtual events with our leading journalists
Already have an account? sign in
Join our new commenting forum
Join thought-provoking conversations, follow other Independent readers and see their replies