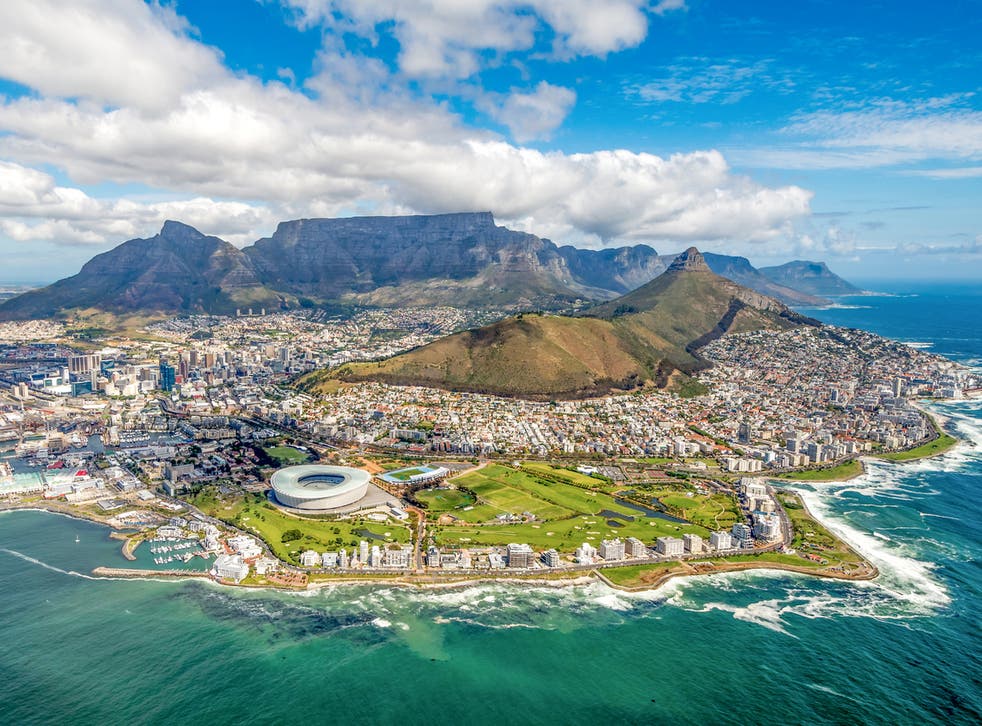 Cape Town drought: From not flushing the toilet to not washing your hands, here's what you'll experience at a luxury hotel
Oil in the pool and toilet instructions that include 'if it's yellow, let it mellow': here's what to expect at Cape Town's finest hotels as Day Zero approaches
Luxury hotels in Cape Town have had to bring in water-saving measures in response to prolonged drought in the city.
However, when The Independent got in touch with 10 four- and five-star properties, enquiring as a potential guest about the impact of the current water shortage, we received wildly different responses, from being informed the situation is "critical" and that visitors are encouraged to refrain from flushing the toilet, to being assured: "The water situation will not affect your experience at all."
Most properties say nothing about the drought on their websites at present, but five of the 10 we contacted swiftly got in touch with lists of the water-saving measures they are employing, many of which would have a significant impact on visitors' holidays.
Cape Town is running out of water. How? Simon Calder explains
A new daily limit of 50 litres per person, a reduction of 43 per cent, was brought in on 1 February as the South African capital's "Day Zero" – the day when the city's water supplies are exhausted – fast approaches. It is currently forecast to be 16 April.
"In the event of what the City of Cape Town refers to as 'Day Zero', there will be available water for tourists' and locals' critical needs," South Africa Tourism said in a statement. "These are considered to be water for personal hygiene and consumption.
"We should be prepared to live with very little water for around three months, with the hope that by the end of winter, enough rain has fallen to switch the water system back on."
Luxury hotels are not exempt from the crack-down, so a stay might not be the five-star experience guests anticipated when they booked.
Boutique hotel Kensington Place has some of the most comprehensive rules in order to save water. Guests are asked to limit showers to 90 seconds, use hand sanitizer instead of washing their hands, brush their teeth using a glass of water rather than running water and, perhaps most extreme, refrain from flushing the toilet after urinating; the advice says, "If it's yellow, let it mellow. If it's brown, flush it down."
During stays of five nights and under, bedding will not be changed, while wet towels will be dried and returned without washing. The hotel describes the situation as "critical", and is taking steps accordingly.
The five-star Cape Grace has also put in place measures to keep guests' water usage as low as possible. A reservations consultant confirmed that low-flow showerheads and aerators on taps had been installed to reduce the flow of running water, along with pressure reducing valves on the hot and cold water feeds into each individual room. Water-based spa treatments have been struck from the menu, and bath plugs removed to ensure guests don't take baths. The pool has been treated with an oil-based, non-toxic liquid called Heatsavr, which reduces natural evaporation.
"Our priority will always be to ensure that we can continue to welcome our guests," the Cape Grace team said in a statement. "This will, however, rely on us all continuing to reduce our water consumption substantially to prevent 'Day Zero'.
"In the meantime, it will be business as usual with the least impact to our guests despite the discomfort caused by using water sparingly. We call on our guests to visit Cape Town and save like locals!"
The ocean-front 52 De Wet hotel is no longer doing guests' laundry or allowing baths; "Otherwise everything, thus far, remains as normal," said the hotel's general manager.
A travel consultant from the Belmond Mount Nelson Hotel said: "The Western Cape Government, Fedhasa, SATSA, SAACI, Wesgro and Cape Town Tourism, are reassuring tourists and those intending to travel to Cape Town that we are open for business and also that Day Zero is avoidable.
"Belmond Mount Nelson Hotel has embraced a number of water-saving initiatives and has joined forces with Capetonians in driving their behaviour change and to do our bit towards avoiding having the taps turned off."
The hotel is fortunate enough to be located next to a hot water spring that flows off Table Mountain; the water is used to irrigate the gardens, keep the pool topped up, do the laundry and for sanitation services. Work is being done to make this water potable.
Nevertheless, extra measures have been introduced, such as aerating the taps and showers in all bathrooms and laundering guests' linen every three days instead of daily.
While the hotel is encouraging guests not to take baths, plugs are still in rooms.
Some hotels claim that Cape Town has not yet reached a critical point. Luxury boutique hotel Cape Cadogan has issued a press release, saying: "While communication around the crisis has certainly helped galvanise us into reducing our water consumption, it has also led to the premature imagining of a doomsday scenario, which is as yet unfounded.
"The feared 'Day Zero', when the city is forced to cut off regular access to water, is not a given."
A representative from Cape Cadogan told The Independent: "The taps are on and guests will be able to use water as normal but we have advisory notes in bathrooms advising on water saving measures.
"The water situation will not affect your experience at all."
Join our new commenting forum
Join thought-provoking conversations, follow other Independent readers and see their replies