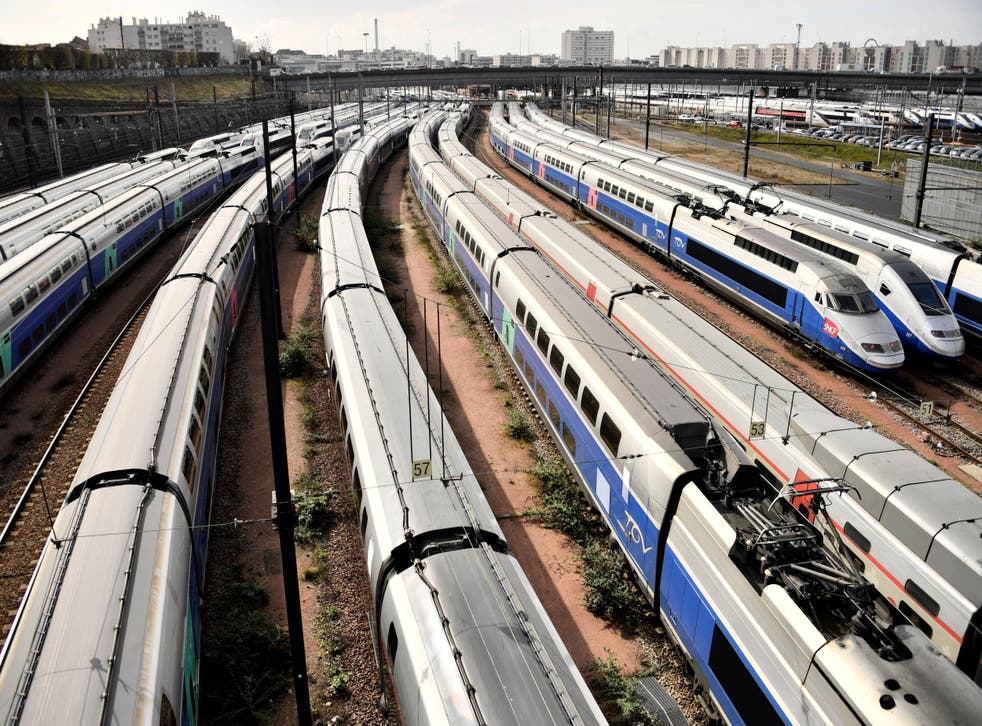 French rail strikes: British holidaymakers facing travel chaos as transport workers stage 48-hour walkout
Airline passengers between the UK and continent braced for serious disruption on Friday, Saturday and Sundays because of industrial action by aviation staff
Tens of thousands of British holidaymakers face disruption over the next four days due to the latest round of strikes by transport workers.
French rail staff are due to walk out for their next 48-hour stoppage on Thursday and Friday. During recent strikes as many as 80 per cent of TGV high-speed trains have run, but on conventional inter-city routes and some suburban lines most services have been cancelled.
Eurostar has cancelled a pair of morning rush-hour trains between London and Paris on Thursday and four trains on Friday. Passengers can switch to alternative services or claim a full refund.
The strikes are set to continue every five days until 28 June, but could be extended over the peak holiday months of July and August.
In Italy, rail staff working for Trenitalia - the national operator - and its private rival, Italo, will strike from 10pm on Thursday to 6am on Sunday.
Local transport in Rome, Turin and Verona will be disrupted by a 24-hour strike on Friday. workers in Milan and Naples may also take action.
Airline passengers between the UK and Europe face serious disruption on Friday, Saturday and Sundays because of strikes by aviation staff.
On Friday, Italian air-traffic controllers will join a day of industrial action by public servants. The controllers will stop work between 1pm and 5pm, which is likely to ground dozens of flights at the busiest time of the week.
A similar strike a month ago grounded more than 100 UK-Italy flights.
On Saturday and Sunday, controllers in the Marseilles Area Control Centre will stage another walk-out. The centre covers the southeast quarter of France, the island of Corsica and a large tranche of Mediterranean airspace extending as far south as the southern tip of Sardinia.
The bitter pay dispute between Air France management and its pilots, cabin crew and ground staff is continuing. The previous boss, Jean-Marc Janaillac, resigned after workers rejected a pay deal.
His successor, Anne-Marie Couderc, has taken over temporarily as president until September.
In the UK, passengers on the troubled Northern Rail franchise face three more 24-hour strikes on 19, 21 and 23 June. The train operator has brought in an emergency timetable after the botched introduction of new schedules last month.
The RMT general secretary, Mick Cash said: "We have seen over the past fortnight that Northern is a company which has declared war on its passengers and staff alike.
UK news in pictures

Show all 50
"RMT will not stand aside while the threat to axe safety critical guards from Northern services remains central to the company plans."
The train operator says: "We are proposing changes to modernise the conductor role to give you a better service. We are clear there will be no job or pay cuts as a result of our proposed changes."
On strike days Northern typically runs trains between 7am and 7pm, with some routes cut altogether.
Join our new commenting forum
Join thought-provoking conversations, follow other Independent readers and see their replies