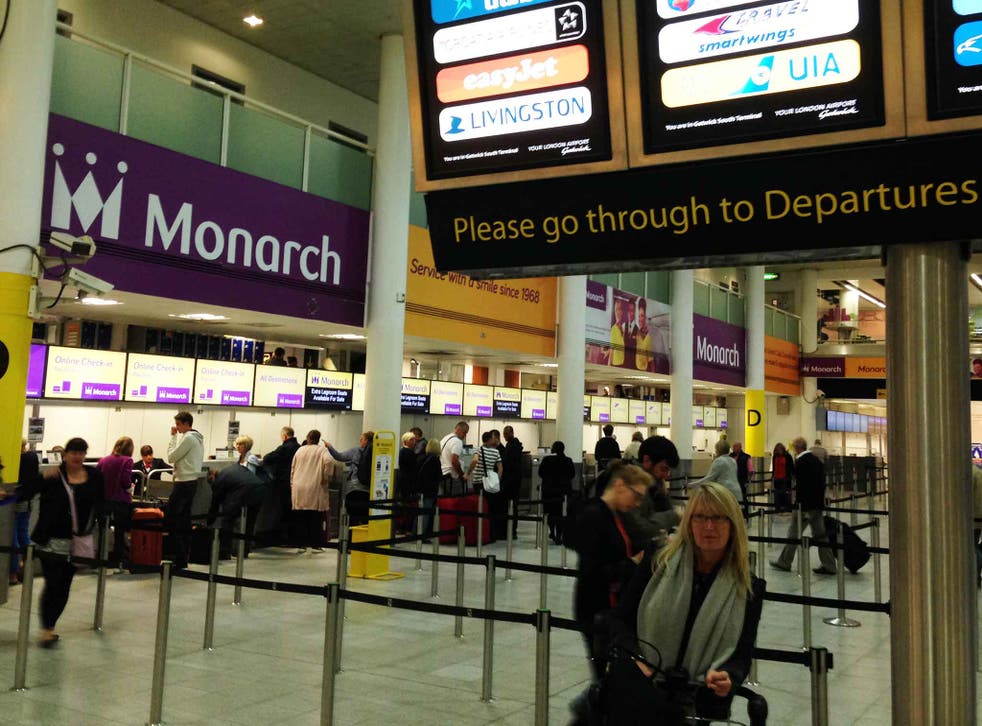 Gatwick unveils flight connection guarantee to eliminate financial risk of 'self-connecting'
'Gatwick Connects' will make the Sussex airport look more like a hub
Missing a flight is always frustrating. But for passengers from the UK regions making two-hop trips on budget airlines, it can also prove expensive. If the first touches down too late to connect with the second, the traveller must pay for a new flight and possibly a night in a hotel.
Gatwick airport has now unveiled a groundbreaking proposition aimed at passengers from Scotland, Northern Ireland and the Channel Islands: pay us a fee when you book the flights, and if the transfer goes awry we'll look after you.
"Gatwick Connects," as the venture is known, is believed to be a world first. It aims to eliminate the financial risk involved in "self-connecting".
Millions of passengers each year buy a pair of low-cost flights and hope for the best. But until now, a passenger who books a flight from Edinburgh to Gatwick and an onward flight three hours later from Gatwick to Barcelona has no recourse if the first is delayed or cancelled and they miss the connection. This applies even if a traveller self-connects on the same airline.
In pictures: The best and worst UK airports in 2014

Show all 9
In contrast, passengers on network carriers such as British Airways and Virgin Atlantic who buy through tickets, for example Edinburgh-Heathrow-New York, are fully protected. If the first flight is late, the airline must rebook the passenger on the next available service and provide meals and a hotel room as appropriate.
Gatwick has devised a system that does not require the airlines to adjust their business models and procedures. Stewart Wingate, the airport's chief executive, said Gatwick is "uniquely placed" to offer the service, "due to the breadth of our route network and our diverse short and long-haul airline mix".
Mr Wingate is engaged in a bitter war of words with Gatwick's larger rival, Heathrow, which has been recommended as the location for a new runway for London.
While Heathrow is thriving as a hub, Gatwick is overwhelmingly a "point-to-point" airport; few passengers make official transfers from one airline to another.
The new product will make the Sussex airport look more like a hub. Prospective passengers are directed to Gatwick Connects through two fare-comparison websites, Dohop and Skyscanner. They book in a single transaction, which includes a fee for Gatwick – starting at £27.50 for a one-way journey.
The airport says: "In the event that your inbound flight is delayed or cancelled, and so you miss your outbound flight from Gatwick, we will ensure you get onto the next available departure to your destination, at no extra cost to you. We will also provide you with hotel and food vouchers if necessary."
There are still major shortcomings compared with Heathrow's transfer options. Luggage is not moved automatically from the first flight to the second. Instead, passengers must retrieve baggage, check it in again at the Gatwick Connects desk in the arrivals hall, then go to the departures level and line up for security. But Gatwick throws in fast-track security clearance – and the deal includes a glass of wine at an airside bar.
Only three of Gatwick's 45 airlines have so far signed up for the scheme. Key low-cost carriers including Monarch, Ryanair and Flybe are not participating, and no consumer protection is offered to passengers to fly to Gatwick to connect with package holidays with Thomas Cook or Thomson.
Join our new commenting forum
Join thought-provoking conversations, follow other Independent readers and see their replies