Airline's new policy to suspend 'overweight' flight attendants faces backlash
Staff must not weigh 10 per cent over their 'standard' measurement, says Chinese operator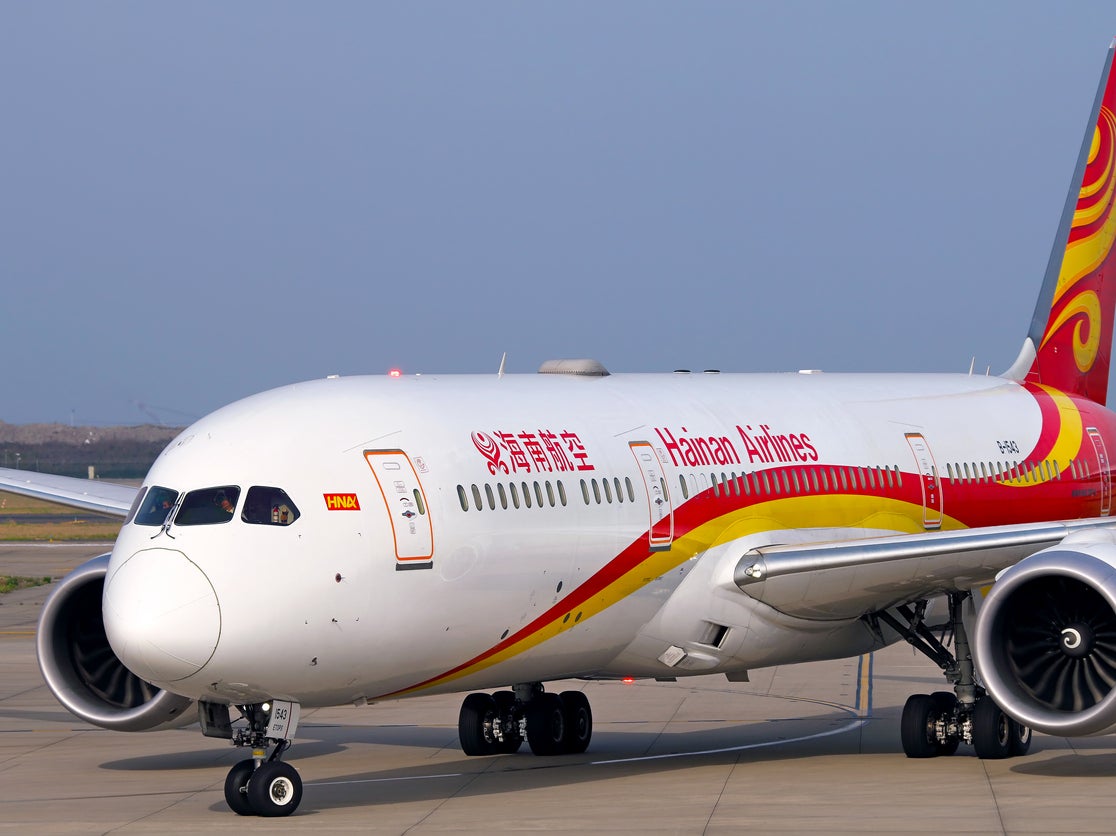 A Chinese airline is facing backlash over a new policy that will see flight attendants suspended if they exceed weight limits.
News of Hainan Airlines's "weight reference standard" went viral on Chinese social media after it was announced earlier this month, while the carrier has doubled-down and defended its plans.
The weight requirement will be calculated by an individual's height, reports CNN. For example, a flight attendant who is 1.58 metres (5ft 2in) tall – the average height of a Chinese adult woman – would be required to weigh around 48kg (7st 6lbs).
According to the state-run Global Times, those who are up to five per cent over their required figure will have their weight monitored and be reviewed, while those weight 10 per cent or more above the "standard" will be suspended and put on a company-supervised "weight reduction plan".
The policy applies to all cabin crew, regardless of gender.
The carrier told CNN: "This is intended to advocate healthy living habits and maintain a good professional image and healthy physique by anchoring the reference target, rather than passively waiting for individual crew members' physique to change significantly and then affect safety service work."
The Independent has contacted Hainan Airlines for comment.
A number of users on China's Weibo social media platform claimed that such a physically demanding job should prioritise stamina and strength over weight loss, especially in the event of an emergency.
"I just need the flight attendant to be fully qualified in professional knowledge, well-practiced in safety procedures, and wear the most suitable shoes and clothes for emergencies. Her weight is none of my business," said one Weibo comment.
In recent years, many airlines have taken steps to relax their appearance and uniform guidelines. In September 2022, Virgin Atlantic scrapped gendered workwear to allow staff to wear "the uniform that best suits them and how they identify" – although less than a month later the airline confirmed that gender-free unforms would not be worn on the flight carrying England's football team to the World Cup in Qatar.
British Airways also overhauled its rules in 2022, giving crew the choice of what make-up or accessories they want to wear, regardless of their gender.
Just this week, Australian flag carrier Qantas announced that employees will now be able to grow their hair long, ditch heels for flats and wear make-up regardless of gender for the first time.
However, last year Air India has outlawed grey hair, bald patches and receding hairlines for cabin crew in its updated staff guidelines. The same airline grounded more than 100 flight attendants in 2015 for being overweight.
Join our commenting forum
Join thought-provoking conversations, follow other Independent readers and see their replies