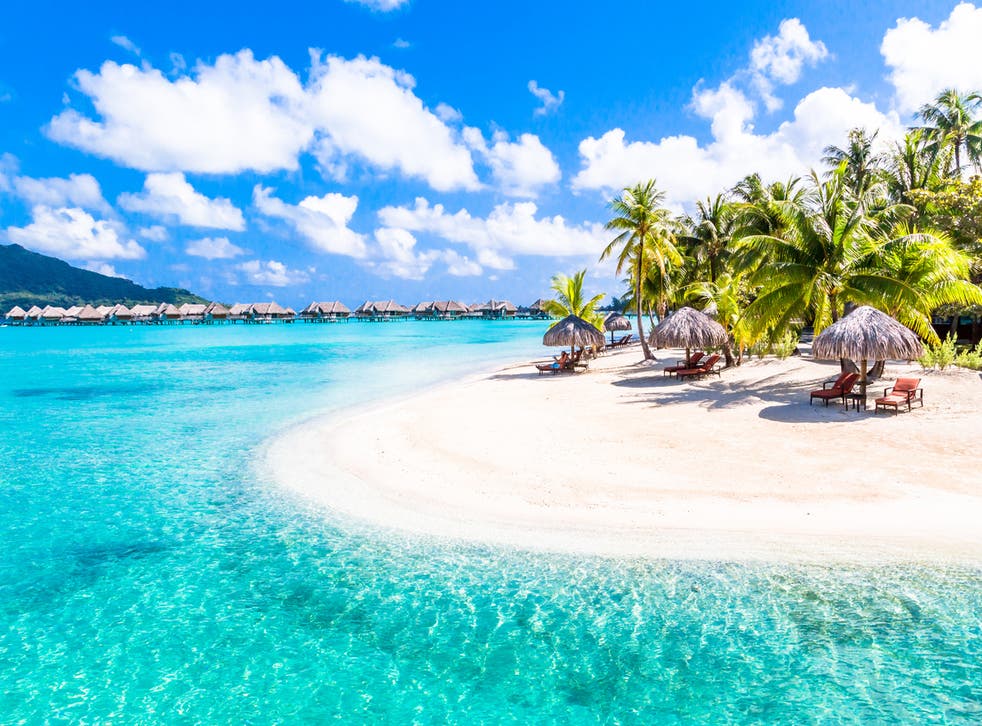 The 10 hottest holiday destinations for millennials in 2019
Bora Bora, Saint Martin and Aspen top the list
Bora Bora is the top trending travel destination for millennials in 2019, according to new research.
Interest in the French Polynesian island is up 24 per cent for this year compared to last, says Hopper, a mobile app that uses big data to predict and analyse airfares.
It looked at which places were proving more and less popular for 2019 based on which destinations its 30 million-strong bank of users were tracking for the coming year.
Travellers set "watches" for places they're thinking about visiting to keep an eye on flight prices – information Hopper has used to glean early intent and the locations set to attract its mainly millennial customer base over the next 12 months.
Sun, sea and sand seems to be calling, with other beach holiday spots in the top 10 including the Caribbean islands of Saint Martin and St Lucia and Kahului on Maui, Hawaii.
Cities in the top 10 include Dublin, Ireland; Anchorage, Alaska; Tokyo, Japan; Palm Springs, California; and Denpasar on Bali, Indonesia. Aspen in Colorado, popular for skiing in winter and rafting, mountain biking and hiking in summer, also made the cut.
Not all destinations were so lucky. Hopper also listed the 10 places where interest had decreased the most.
Frankfurt in Germany was the worst hit, with tracking down 17 per cent. It was swiftly followed by Managua, Nicaragua (down 16 per cent) – perhaps unsurprising given that "there has been a prolonged period of political unrest and street violence in many areas in Nicaragua since mid-April 2018", according to the Foreign and Commonwealth Office (FCO). The FCO currently advises against all but essential travel to Nicaragua.
Support free-thinking journalism and attend Independent events
Interest in Toronto in Canada, Santiago in the Dominican Republic, Bogota in Colombia and Mexico's Mexico City was also down for 2019.
However, these percentages only indicate whether tracking on Hopper has risen or fallen since 2018; they do not indicate how popular destinations are overall.
Top 10 millennial destinations trending up
Bora Bora (24 per cent)
Saint Martin (21 per cent)
Aspen, Colorado (18 per cent)
Denpasar, Indonesia (16 per cent)
Kahului, Hawaii (16 per cent)
Dublin, Ireland (13 per cent)
St Lucia (12 per cent)
Tokyo, Japan (11 per cent)
Palm Springs, California (11 per cent)
Anchorage, Alaska (9 per cent)
Top 10 millennial destinations trending down
Frankfurt, Germany (17 per cent)
Managua, Nicaragua (16 per cent)
Toronto, Canada (12 per cent)
Santiago, Dominican Republic (12 per cent)
Bogota, Colombia (11 per cent)
Mexico City, Mexico (10 per cent)
Cleveland, Ohio (6 per cent)
Chicago, Illinois (6 per cent)
Detroit, Michigan (6 per cent)
Atlanta, Georgia (5 per cent)
Join our new commenting forum
Join thought-provoking conversations, follow other Independent readers and see their replies