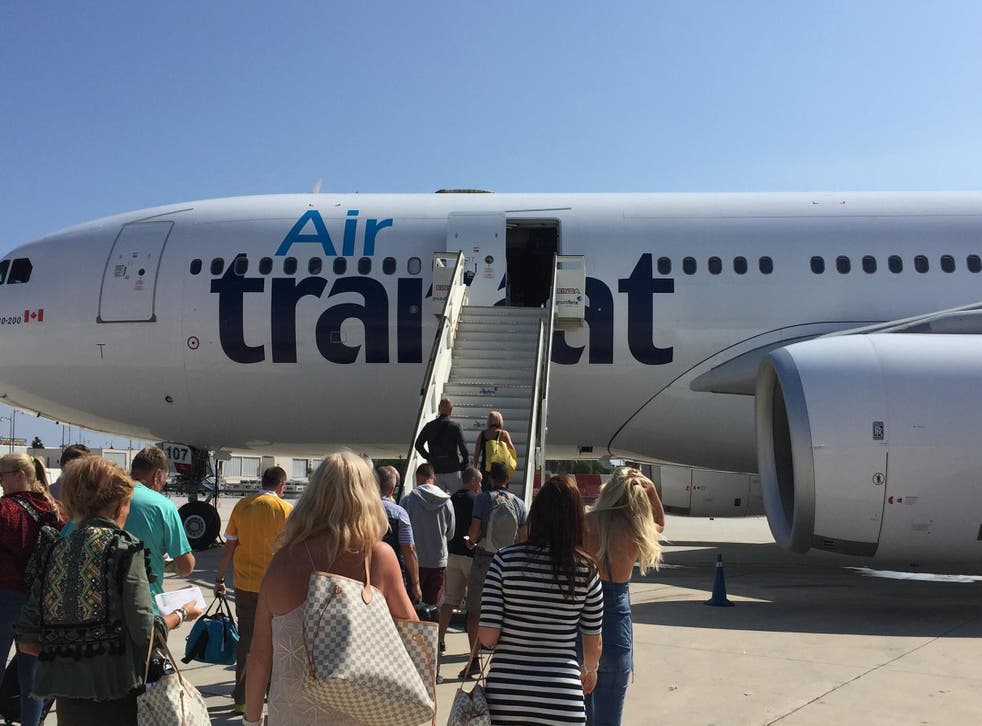 Monarch collapse: We need a softer landing when a travel company fails
Telling 2,000 aviation professionals they have lost their jobs ranks alongside stage designer at the Tory party conference as thankless task of the week
A year can be a painfully long time in aviation. Last October, the Monarch chief executive, Andrew Swaffield, received the warmest of welcomes as he made a surprise appearance on the stage at the Association of British Travel Agents (Abta) convention in Abu Dhabi.
The airline had been on the danger list for a couple of weeks. The Civil Aviation Authority (CAA) was so unconvinced about Monarch's prospects that it had established a shadow airline, with planes waiting at holiday airports across the Mediterranean to fly holidaymakers home.
The "pop-up" airline did not take to the skies. Just before an extended deadline for showing the authority a big bag of cash expired, Mr Swaffield sealed a £165m rescue package for Monarch.
Delegates at the travel industry's annual get-together were genuinely delighted that an airline with so rich a heritage was off the danger list. "Monarch is one of the rare travel brands for which many in the industry feel genuine warmth," I wrote after the chief executive's speech.
But after a wretched year for the airline and its staff, the financial life-support was turned off in the early hours of Monday morning. Telling the airline's 2,000 aviation professionals that they had lost their jobs ranks alongside stage designer at the Tory party conference as thankless task of the week.
This weekend travel agents and tour operators fly out to Abta's 2017 venue, Ponta Delgada in the Azores. At Gatwick airport they may encounter some of the 110,000 holidaymakers being brought home by this year's pop-up airline.
The taxpayer-funded operation to replicate Monarch's schedules is painfully expensive: the cost for each passenger averages £545 for a one-way flight of two or three hours. But since "CAAir" opened for business on Monday morning, it has proved remarkably effective. Many passengers have actually had a better experience than the intended Monarch flight, thanks to the extra legroom and luxury leather seats of Qatar Airways and Canada's Air Transat.
Abta delegates will argue for hours about what caused the demise of an airline that had done so much to extend travellers' horizons. Sharm el Sheikh undoubtedly played a part. Until October 2015, Monarch had a flourishing business to Egypt's premier resort, which solved the problem of "what do we do with all these Airbuses through the winter?". But after the loss of 224 lives on a Russian charter jet was blamed on lax security at Sharm el Sheikh airport, the Government banned UK airlines from flying there until security was beefed up.
With Tunisia also off limits, and a much-diminished appetite for Turkish holidays, Monarch deployed those planes and crews into the already crowded western Mediterranean. Fares plummeted: for much of August, flights to Ibiza cost as little as £20. Loss-leader fares like that are common in the deep low season of a lean winter; in a month when airlines are supposed to make handsome profits, they spelt disaster for the weakest link in the aviation chain.
Ferocious competition between airlines has been hugely to the benefit of British travellers; we enjoy lower fares and wider choice than any other nation in Europe. But survival of the fittest comes at a cost – to Monarch staff, and the three-quarters of a million people who had bought flights in good faith from a now-defunct airline. They are having to find, and fund, alternative flights and get acquainted with the intricacies of Air Travel Organisers' Licence (Atol) refunds, Section 75 credit-card claims and the debit card Chargeback scheme to get their Monarch money back.
The debate on consumer protection is a traditional Abta convention fixture. The constant refrain is that seat-only sales by airlines should carry Atol protection – pushing up fares on the likes of easyJet and Ryanair with the £2.50 levy, even though the chance of either airline going bust in the next year is tiny.
I shall urge the industry instead to focus on how to provide a softer landing when a travel company fails, to ease the distress that thousands have suffered this week. But I don't expect to be thanked for saying so.
Register for free to continue reading
Registration is a free and easy way to support our truly independent journalism
By registering, you will also enjoy limited access to Premium articles, exclusive newsletters, commenting, and virtual events with our leading journalists
Already have an account? sign in
Register for free to continue reading
Registration is a free and easy way to support our truly independent journalism
By registering, you will also enjoy limited access to Premium articles, exclusive newsletters, commenting, and virtual events with our leading journalists
Already have an account? sign in
Join our new commenting forum
Join thought-provoking conversations, follow other Independent readers and see their replies