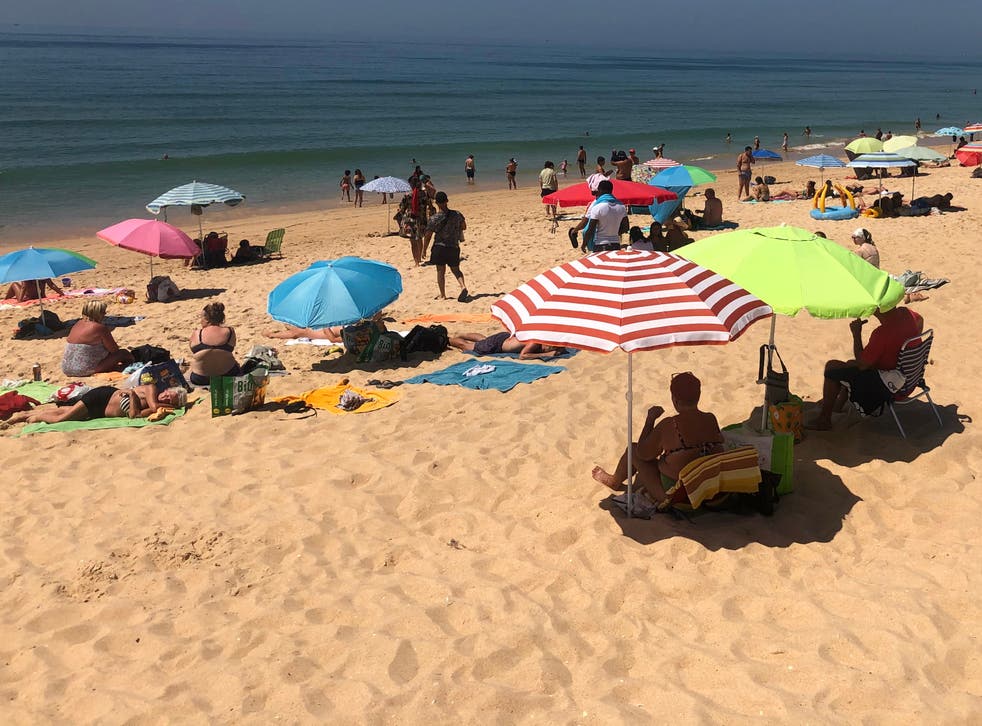 Portugal to be taken off the UK's 'red list' of high-risk nations
Portugal is set to be removed from the government's "red list" of countries from which travel is severely restricted – raising hopes that British holidaymakers may be able to visit from 17 May, when the ban on international journeys may be lifted.
The transport secretary, Grant Shapps, is expected to announce on Monday that the only European nation on the high-risk list of countries will be removed.
The remaining 32 nations comprise the UAE, Brazil, South Africa and other countries mainly in Latin America and southern Africa.
Portugal has been on the red list since it was launched on 15 January because of the nation's strong links with Brazil – source of a "variant of concern".
But case numbers in Portugal have fallen swiftly. The rate of new Covid infection is currently around one-seventh lower than in the UK.
Tourism officials in Portugal hope British holidaymakers will be able to visit without undue restrictions from 17 May, the date announced by the prime minister as the earliest for international leisure travel to begin.
Paul Charles, chief executive of The PC Agency and a campaigner for summer travel, said: "It's overwhelmingly good news for UK consumers that Portugal will be taken off the red list from this Monday.
"It paves the way for smoother travel from May onwards.
"Portugal has done a good job at reducing rates. The likes of Italy and Greece need to get a grip on their rates over the next month if they are to have a good summer."
A spokesperson for theDepartment for Transport said: "Decisions to introduce or remove countries from the red list are in direct response to the latest scientific and medical data showing an increased risk to UK public health and community transmission.
"As with all our coronavirus measures, we keep the red list under constant review and our priority remains to protect the health of the UK public."
For almost all of the past year, the UK has applied travel restrictions to arrivals from Portugal, but red list rules are particularly draconian.
Red list status has been wrongly described as a "travel ban" or a "flight ban". Daily arrivals from locations such as Abu Dhabi, Dubai and Johannesburg are continuing – but they may carry passengers only outbound from the UK, not inbound.
People with the right to reside in the UK are able to travel back from red list countries, but they must make circuitous journeys that increase risk of infections to themselves and the people they encounter on the journey.
On arrival in England they must undergo hotel quarantine for 11 nights, at a cost for a solo traveller of £1,750.
Anyone who has travelled from Portugal will be expected to complete their hotel stay despite the relaxation of rules for new arrivals.
Labour has called for mandatory hotel quarantine for all arrivals from abroad, as Scotland currently requires.
At present all holidays within and beyond the UK are banned, and a new Declaration to Travel must be completed by anyone seeking to leave the country for essential reasons.
The government says: "You must not travel, including abroad, unless you have a legally permitted reason to do so. It is illegal to travel abroad for holidays." The ban will be reviewed on 12 April and may be lifted for some destinations on 17 May.
Writing in The Times, the commentator Matthew Parris describes the UK as "sliding into a foreigner-fearing fortress mentality".
"To rest and relax on a distant beach somewhere is neither frivolous nor without reward," he writes.
Join our new commenting forum
Join thought-provoking conversations, follow other Independent readers and see their replies