Ryanair: Among the 400,000 passengers whose flights are grounded? Know your rights
'We messed up in the planning of pilot holidays. We're now working hard to fix that'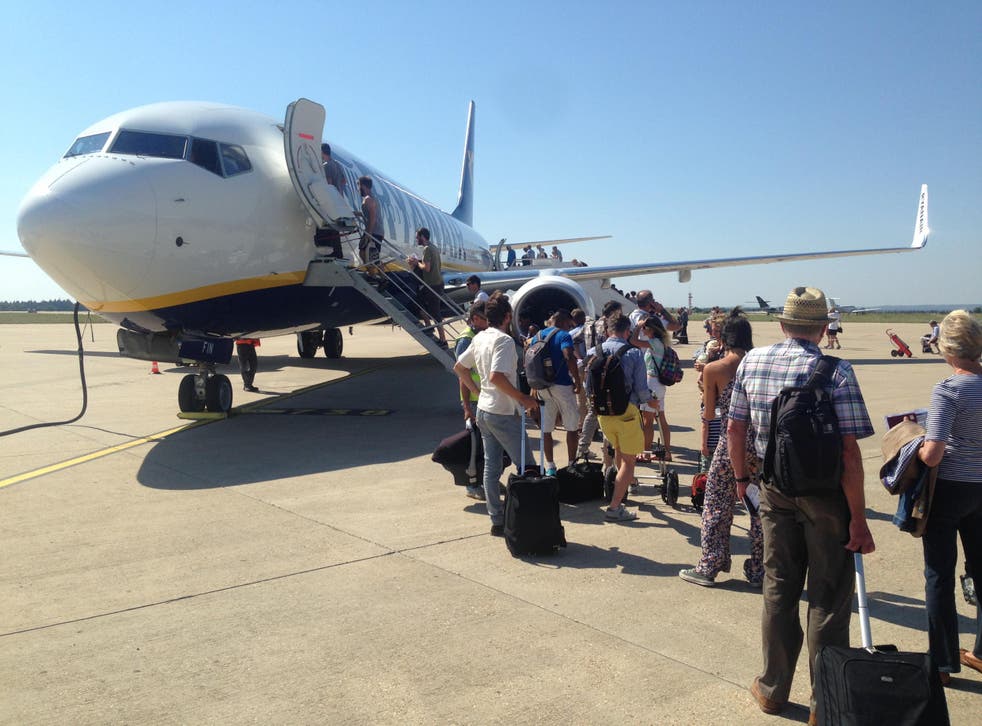 Up to 400,000 Ryanair passengers could see their flights cancelled over the next six weeks as the airline plans to cut as many as 50 departures a day.
Ryanair says the mass cancellations are being made in a bid to improve its system-wide punctuality, and has apologised "to the small number of customers affected by these cancellations".
Our travel correspondent explains these unprecedented circumstances, and your rights.
What's the background?
The airline says it is cancelling "up to 50" flights a day until the end of October because its punctuality has slipped from nine out of 10 flights to eight out of 10 over the past fortnight. The reason: staff shortage. Ryanair's marketing director, Kenny Jacobs, said: "We have messed up in the planning of pilot holidays and we're working hard to fix that."
The "tighter crewing numbers", said to be a result of a new leave calendar, means pilots and cabin crew need urgently to take vacations.
"By cancelling less than 2 per cent of our flying programme over the next six weeks, we can improve the operational resilience of our schedules and restore punctuality to our annualised target of 90 per cent," says the airline. It claims that by having standby aircraft ready it will improve timekeeping.
What is actually happening?
On each of Saturday 16 and Sunday 17 September, more than 80 Ryanair flights were cancelled. Mr Jacobs said that there was "a slightly higher number this weekend as we begin to implement these cancellations". As a result, on each day, as many as 15,000 Ryanair passengers were told shortly before departure that their plane has been cancelled. They were then asked to choose between claiming a refund or rebooking their flight.
On Sunday evening, Ryanair published its cancellation plans for Monday, Tuesday and Wednesday, 18-20 September. A further 164 flights have been cancelled, potentially affecting 30,000 passengers.
Is my flight likely to be affected — and how will I know if it is?
According to cases seen by The Independent, the amount of notice initiially given was typically between six and 48 hours. The airline will publish cancellation notices for flights on Thursday 21 September and possibly a few days beyond on Monday 18 September."
Some passengers say they were given contradictory information about cancellations, or found out their flight was cancelled only when they went online to check in.
If you booked through an agent, you may need to check your flight online to ensure it is still operating.
We are travelling early in October and are concerned our flight may be cancelled either outbound or inbound. Can we cancel, get a refund and rebook with another airline?
If you pre-emptively cancel and book with someone else, there is no mechanism for a refund unless your flight is one of those cancelled. I calculate the airline is currently grounding one in 40 flights (2.5 per cent of the schedule), so the chances are high that your flights will go ahead as normal.
My flight has been cancelled. How can I get where I need to be?
You are entitled under EU rules to "rerouting, under comparable transport conditions, to your final destination at the earliest opportunity". Unfortunately what exactly "the earliest opportunity" means has not been properly tested and defined in court.
Many passengers are being told they may need to wait several days before they can be flown to their destination. But the Civil Aviation Authority (CAA) tells me airlines are obliged to book you on a rival airline "where there is a significant difference in the time that a reroute can be offered on the airline's own services". The CAA does not define "significant"; easyJet, Britain's biggest budget airline, insists that if it can get you to your destination within 48 hours then it will not allow a switch to another airline.
I believe that it would be difficult for any airline to argue that making you wait more than two days isn't a "significant difference". So if Ryanair refuses to book you on, for example, British Airways or easyJet, you could buy a new ticket and then seek to recoup the cost from the Irish airline. But I must stress there is no absolute guarantee you will be able to get your money back.
Ryanair has rebooked me two days late. What do I do about finding somewhere to stay?
Happily there's no confusion over the duty of care. "Passengers shall be offered free of charge (a) meals and refreshments in a reasonable relation to the waiting time; (b) hotel accommodation in cases where a stay of one or more nights becomes necessary," say the EU rules.
The airline is obliged to provide these, but if it does not, you should keep all receipts to claim back the cost later (and note that "refreshments" do not include alcohol).
The Independent has heard reports of some passengers being told by airport staff that they are entitled to only one night's accommodation, which is not true. The airline's obligation extends for as long as it takes to get you to where you need to be.
What about compensation?
Ryanair is obliged to pay €250 cash compensation for each passenger on a cancelled flight of up to 1,500km, rising to €400 for longer flights. The only way the airline can dodge this liability is if it tells you of the cancellation at least two weeks ahead; or, if it gives you a week's notice and finds another flight that gets you to your destination less than four hours after the scheduled time of arrival; or if gives you less than a week's notice but puts you on a flight that arrives less than two hours after you were supposed to get there.
But Ryanair told me the cancellation is "beyond its control". Does that mean it doesn't have to pay compensation?
The only grounds for not providing compensation are "extraordinary circumstances which could not have been avoided even if all reasonable measures had been taken". Since the airline has conceded "We messed up in the planning of pilot holidays", it would be difficult for Ryanair to argue that cancellations brought about by its own administrative changes were caused by "extraordinary circumstances".
Both my outbound and inbound flights have been cancelled by Ryanair. Can I claim compensation for each?
The airline may argue that, since you could not reach your destination, the inbound cancellation did not affect you. But it's worth a try.
How do I claim compensation, and how long will I have to wait?
You do not need to use a claims-handling firm, which will take at least one-third of the compensation; instead, fill out the online form. Ryanair's record in paying compensation when it accepts it is at fault is fairly good, with claims routinely paid in a week or less.
Bear in mind, though, that the number of claims will soar as a result of all the cancellations, so processing times are likely to be long.
I have a non-cancellable hotel booked at my destination, which I now cannot use. Will Ryanair cover the cost?
No. Payments for independently booked hotels, car rental, etc, are consequential losses for which Ryanair is not liable. If they are part of a package holiday, bought in a single transaction, then the tour operator should refund them. Otherwise travel insurance, if you have it, may cover your losses.
It is better in any event, of course, not to incur losses. So it is worth talking to the hotel/car rental firm to see if they will waive the charge or allow you to postpone to a future date.
If I book a flight now for later in the autumn, can I be sure it will operate?
There is no absolute certainty that any specific flight on any airline will operate: all manner of problems, from air-traffic control strikes to bad weather, can ground a plane. While Ryanair has not yet revealed any cancellations beyond Wednesday 20 September, it is fair to assume that the airline has a good idea about some future cancellations — for example, flights that are currently lightly booked. It may be that these are taken off sale to prevent any further passengers buying a ticket. Conversely, if ad hoc decisions are being taken close to departure, there could be a risk of cancellation for fresh bookings.
Something to declare: Ryanair fees; the sound of France; Bob Dylan's world

Show all 2
How much is this going to cost Ryanair?
If 400,000 passengers have their flights cancelled, the total liability in compensation payouts is likely to be around £100m, though past experience suggests by no means everyone will claim. In addition, the airline is obliged to pay for hotels and meals for stranded passengers, and flights on other airlines.
What exactly has the airline said?
This is the airline's statement on Friday 15 September in full.
"Ryanair today (15 Sept) announced that it would cancel 40-50 flights daily for the next six weeks (to the end of October) to improve its system-wide punctuality which has fallen below 80 per cent in the first two weeks of September through a combination of ATC capacity delays and strikes, weather disruptions and the impact of increased holiday allocations to pilots and cabin crew as the airline moves to allocate annual leave during a 9-month transition period (April to December 2017) to move the airline's holiday year (currently April to March) to a calendar year (Jan to Dec) from 1 January 2018 onwards.
"Ryanair has operated at record schedule and traffic levels during the peak summer months of July (12.6m guests) and August (12.7m guests) but has a backlog of crew leave which must be allocated before 31 Dec 2017 in order to switch to a calendar leave year (as required by the IAA) from 1 Jan 2018 onwards.
"These tighter crewing numbers and the impact of ATC capacity restrictions in the UK, Germany and Spain, as well as French ATC strikes and adverse weather (thunderstorms) have given rise to significant delays in recent weeks. Ryanair's on-time performance has declined from 90 per cent to under 80 per cent over the past two weeks, a figure that is unacceptable to Ryanair and its customers.
Ryanair's Michael O'Leary tells Theresa May to start delivering on Brexit
"By reducing its scheduled flying programme over the next six weeks by less than 2 per cent (of its over 2,500 daily flights), the airline will create additional standby aircraft which will help restore on-time performance to its 90 per cent average. Ryanair apologises sincerely for the inconvenience caused to customers by these cancellations. Customers will be contacted directly about this small number of cancellations and offered alternative flights or full refunds.
"Ryanair's Robin Kiely said: 'We have operated a record schedule (and traffic numbers) during the peak summer months of July and August but must now allocate annual leave to pilots and cabin crew in September and October (while still running the bulk of our summer schedule). This increased leave at a time of ATC capacity delays and strikes, has severely reduced our on-time performance over the past two weeks to under 80 per cent. By cancelling less than 2 per cent of our flying programme over the next six weeks, (until our winter schedule starts in early November) we can improve the operational resilience of our schedules and restore punctuality to our annualised target of 90 per cent.
"'We apologise sincerely to the small number of customers affected by these cancellations, and will be doing our utmost to arrange alternative flights and/or full refunds for them.'"
Register for free to continue reading
Registration is a free and easy way to support our truly independent journalism
By registering, you will also enjoy limited access to Premium articles, exclusive newsletters, commenting, and virtual events with our leading journalists
Already have an account? sign in
Register for free to continue reading
Registration is a free and easy way to support our truly independent journalism
By registering, you will also enjoy limited access to Premium articles, exclusive newsletters, commenting, and virtual events with our leading journalists
Already have an account? sign in
Join our new commenting forum
Join thought-provoking conversations, follow other Independent readers and see their replies