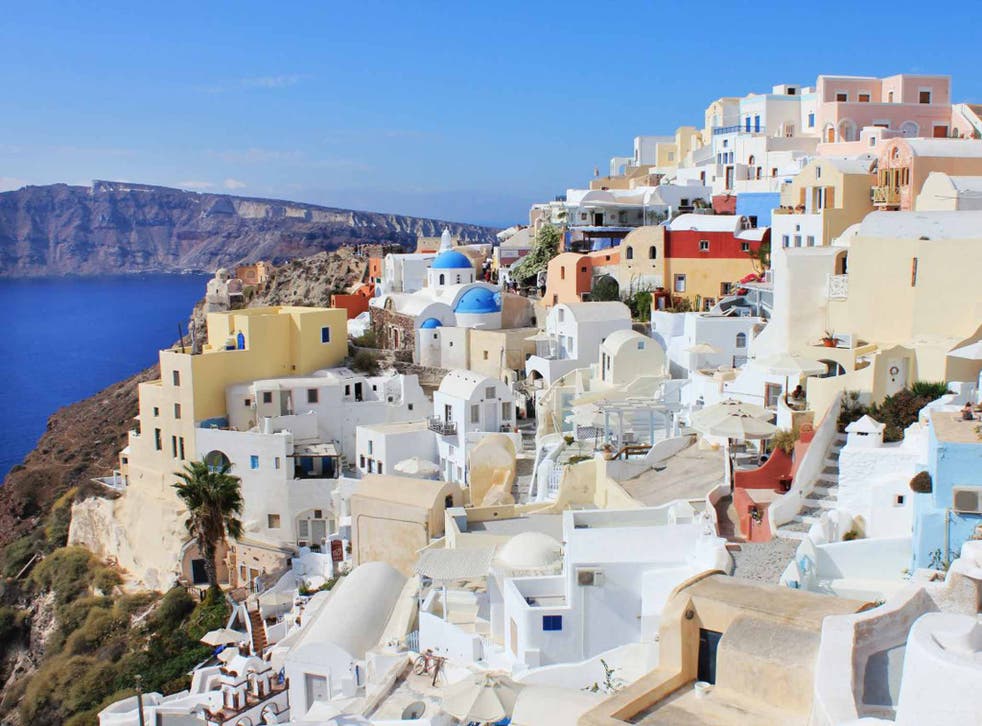 Travel news - live: Vaccinated travellers head off for Europe amid new quarantine exemption rules
New rules came into effect at 4am
Thousands of travellers arriving in the UK are encountering drastic changes in self-isolation rules.
The main change for British passengers who have been fully vaccinated by the NHS is that they no longer need quarantine for 10 days when arriving from "amber list" countries – such as Spain, Italy, Greece and the US.
The first beneficiaries were aboard British Airways flight 262 from Riyadh in Saudi Arabia, which touched down just 33 minutes after the 4am change in rules. Two more flights from amber list locations, Lagos and New York, had arrived by 6am.
The first ferry to arrive from an amber list location was Stena Line from Hook of Holland to Harwich, which docked at 6.30am.
Passengers must still provide a negative coronavirus test result before departure to the UK, and pre-book a post-arrival PCR test.
1626714550
Greece Covid cases down 11 per cent
The data analyst Tim White, who tweets as @TWMCLtd, reports "great news from Greece". He says Covid-19 cases are down 11 per cent today, with "just 1,834 cases"
Relative to the Greek and British populations, that would correspond to a rate of 11,000 in the UK.
But he reports a 133 per cent week-on-week rise in Italy, with 2,072 new cases and seven deaths.
Serbia's new infection cases have nearly doubled from 118 to 227, while Switzerland is also up 90 per cent today, with 1,560 new cases.
Simon Calder
19 July 2021 18:09
1626712737
Prime minister declines to name date for when UK will accept foreign vaccines
On the day when people vaccinated against coronavirus by the NHS became able to travel to the UK from amber list countries without quarantine, the prime minister has declined to say when other nations' vaccines may be accepted.
Dozens of foreign countries accept NHS certification of UK-administered vaccines, but the government has yet to reciprocate.
At the 5pm briefing, Boris Johnson said: "We're working with partners around the world to understand the efficacy of their vaccines and have mutual recognition for all efficacious vaccines as fast as possible."
Besides making it difficult for families and partners from amber list countries to join loved ones in the UK, the ban on foreign vaccines is also preventing a re-start of inbound tourism.
Jonathan Van Tam, the deputy chief medical officer, said: "There is a great deal of awareness amongst my policy colleagues in government about this, and there's a lot of work being done to sort this out.
"But it has to be done in a rational, careful way and it has to be fair for all. "We're working as hard as we can to get there."
Simon Calder
19 July 2021 17:38
1626710810
Eastern Airways launches Southampton-Dublin flights
Eastern Airways, the UK's regional airline, today launched its long-awaited flights between Dublin and Southampton.
The inaugural flight took off today, 19 July, to coincide with international travel opening up again in Ireland.
The return of this popular service, formerly operated by Flybe, has been continually set back due to the pandemic. But, as travel restrictions ease, Eastern Airways can now re-establish the route, which will initially have four services a week operating on Monday, Thursday, Friday and Sunday.
Fares start from £63.99 one way including 15kg checked baggage allowance.
Roger Hage, GM for Eastern Airways, said: "We are delighted to see Southern Ireland open up again to international travel which will provide essential connectivity for businesses and tourism as the economy starts to recover as well as allowing family and friends to reconnect.
"The Dublin service is a much welcomed addition for our continued plans at Southampton airport and compliment Belfast-City on Northern Ireland we also operate in an ever expanding South-Coast network."
Helen Coffey
19 July 2021 17:06
1626709703
Airline capacity up 8 per cent
As vaccinated travellers celebrate the opportunity to visit far more countries form the UK without needing to quarantine on return, the schedule analysts OAG says that airline seat capacity in western Europe has increased by 8 per cent week-on-week – with much of it driven by demand from British passengers
John Grant of OAG reports 1.2 million extra seats this week. Many of these are from the United Kingdom where 400,000 additional seats were added as travel restrictions are eased, at least for today," he said.
Global airline capacity 30 per cent below the same week in July 2019.
The UK is faring far worse than many other major countries. It has slipped from third place to 13th in terms of airline seat capacity, behind France, Germany, Italy and Spain.
Simon Calder
19 July 2021 16:48
1626708462
Travel industry calls for investigation into why traffic light methodology is being withheld
The Travel Industry Alliance (TIA) has today written to Huw Merriman MP, chair of the Transport Select Committee, urging that transport secretary Grant Shapps be called before the committee to explain why the government refuses to publish the methodology and data behind the classification of countries under the traffic light system.
TIA chair, Danny Callaghan, said: "The refusal to publish this is particularly frustrating because all the actual data is in the public domain – case rates, vaccination rates, etc. – yet one would think we were asking for state secrets or confidential sources.
"It is of huge importance that consumers and travel professionals have visibility on what drives an individual destination's grading. The easing of restriction for double-vaccinated UK residents visiting amber destinations was a welcome small step, but has now created a whole new problem for the travel industry. Up until now customers have tended to look at green-list destinations with the knowledge that, should the destination become amber, they would have to self isolate at home and take several PCR tests.
"However, the 'opening' of amber destinations presents a whole other level of risk to consumers, as there is no amber-to-red watchlist, or amber to amber-plus as it now appears, and the difference in restrictions between being a double-vaccinated Brit coming back from an amber country and coming back from a red country are huge."
He added: "We urgently need visibility on whether an amber country is at the 'green end' of the scale or verging on red."
Helen Coffey
19 July 2021 16:27
1626706668
Ireland celebrates status as only hassle-free destination for Brits
Ireland today became the only hassle-free overseas destination for vaccinated travellers from Great Britain.
The republic has lifted its requirement for testing and self-isolation for visitors from England, Wales and Scotland – providing they have completed a course of vaccination.
"If you have valid proof of vaccination, no travel-related testing or quarantine will be necessary," the government says.
Until midnight, arrivals from Great Britain had to provide a negative PCR test result, and quarantine for at least five days.
Read the full story here:
Vaccinated travellers from Great Britain to the republic need not self-isolate nor undergo tests in either direction
Simon Calder
19 July 2021 15:57
1626704268
Denmark adds nearly all of UK to its red list
Denmark has classified most of the UK as a "red region" in its latest travel update.
As of 4pm on 17 July, only Wales remains an "orange" area.
Only travellers with a "worthy purpose" may enter Denmark from England, Scotland and Northern Ireland.
They must also take a PCR test 72 hours prior to entry; take another test on arrival; and self-isolate on arrival for 10 days (with the option to test to release after four days).
These restrictions apply regardless of the traveller's vaccination status.
Unvaccinated arrivals from Wales must submit to the same rules, but fully vaccinated Welsh travellers can enter Denmark for all purposes, without the need to self-isolate.
Helen Coffey
19 July 2021 15:17
1626700385
Three quarters of Brits say traffic light system has put them off going abroad
Nearly eight in 10 UK travellers (78 per cent) claim the traffic light system has made them reconsider booking a holiday abroad this summer, following the government's recent decision to switch the Balearics from green to amber, according to new research.
According to research from booking.com, 47 per cent of Brits say confusion about the constantly changing status of countries makes it very unlikely that they will holiday abroad this year, with staycations appearing to be front of mind for most travellers. All of the top 10 most searched for destinations for summer are now based in the UK, which is over twice as many as 2020.
The new research, compiled after the government's latest green list announcement, also found that 56 per cent don't want to take the risk of travelling abroad while the pandemic is ongoing, particularly given that domestic travel currently appears safer and easier.
Booking.com Regional Manager, Ryan Pearson, said:"We have always said that international travel will rebound slower than domestic travel and whilst our new research shows that many British holidaymakers are feeling uncertain about the traffic light system, we do believe that a classification, such as this one, is needed.
"However, consistency across the board is also required in order to restore confidence amongst those people who are still feeling nervous about travelling overseas. Nevertheless, it is really encouraging to see travel reopening and people across the nation exploring the world once more, albeit closer to home at first."
Helen Coffey
19 July 2021 14:13
1626695258
Holidaymakers scramble home from Balearics to beat quarantine deadline
British holidaymakers have paid thousands of pounds to race back from the Balearic Islands before they joined the UK's amber list, triggering mandatory quarantine.
The Spanish islands, which include holiday favourites Mallorca and Ibiza, were previously on the government's green watchlist, meaning arrivals from there could forgo self-isolation.
But on 14 July, the Department for Transport announced the islands would be downgraded as of 4am on 19 July.
Read the full story here:
Father and son paid more than £1,000 to get back before deadline
Helen Coffey
19 July 2021 12:47
1626693580
Dozens of flights land from amber list nations
Dozens of flights have landed at UK airports from European "amber list" nations after the 4am relaxation of rules for fully vaccinated passengers.
Travellers who have had both jabs from the NHS, and waited a further two weeks, no longer need to self-isolate when arriving from more than 150 medium-risk countries.
The first flight to touch down was Wizz Air's 7.15am arrival at Luton from Craiova in Romania.
But all passengers aboard the first Air France flight from Paris, which landed at Heathrow at 7.55am, are required to quarantine: France was placed in a special category, "amber plus," late on Friday night. It effectively means that the previous rules, requiring self-isolation for all arrivals, remain in force for everyone arriving from France.
Simon Calder
19 July 2021 12:19
Register for free to continue reading
Registration is a free and easy way to support our truly independent journalism
By registering, you will also enjoy limited access to Premium articles, exclusive newsletters, commenting, and virtual events with our leading journalists
Already have an account? sign in
Register for free to continue reading
Registration is a free and easy way to support our truly independent journalism
By registering, you will also enjoy limited access to Premium articles, exclusive newsletters, commenting, and virtual events with our leading journalists
Already have an account? sign in
Join our new commenting forum
Join thought-provoking conversations, follow other Independent readers and see their replies