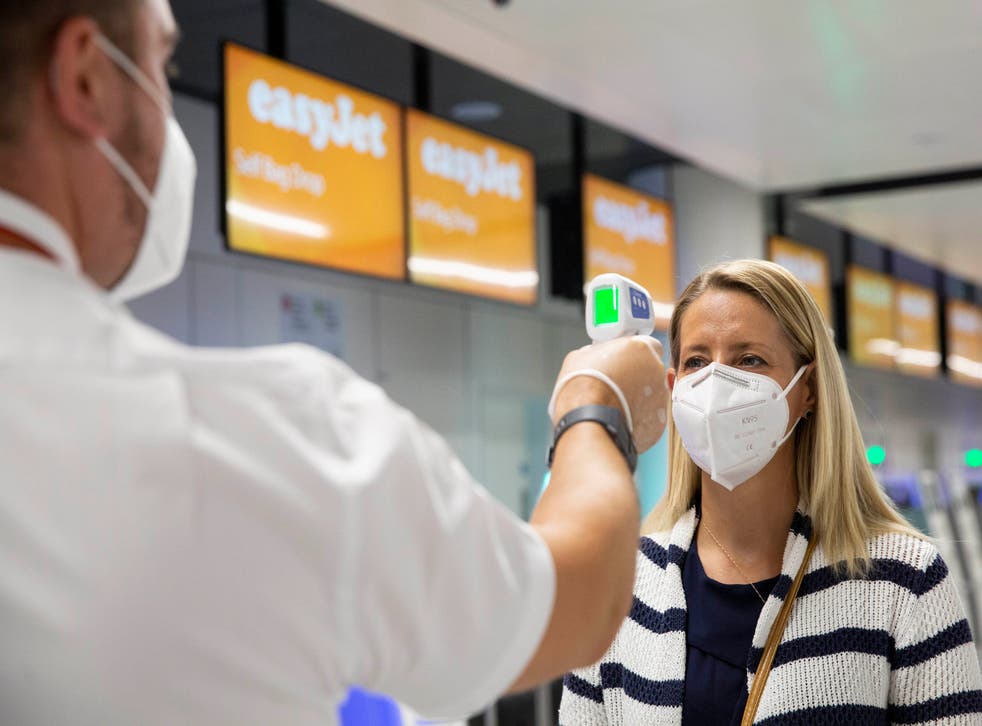 What travel rules are in place from 17 May?
International leisure travel is finally legal again in England
Helen Coffey Comments
International leisure travel is finally legal again in England.
Jetting off on a foreign holiday is now possible under a traffic light system, with countries classified as green, amber or red and prescribed restrictions to match based on the risk of arrivals importing new Covid-19 infections.
Although holidays are no longer prohibited, there are still myriad hoops travellers must jump through, including pre-departure and post-arrival coronavirus tests taken within a certain timeframe. The government is currently advising that Brits should not be visiting amber or red countries for recreational purposes.
Great swathes of the economy are also reopening, with indoor socialising permitted again for the first time in months.
Here's everything you need to know.
Can I travel within the UK?
Largely yes – this was permitted prior to 17 May, with travel between England, Wales and Scotland already allowed.
However, Northern Ireland's current guidance relating to the Common Travel Area (United Kingdom, Republic of Ireland, Isle of Man and Channel Islands) states: "You should not travel in or out of Northern Ireland except where it is essential to do so.
Grant Shapps explains 'traffic light' system for foreign travel
"If you are arriving into Northern Ireland from within the Common Travel Area and you plan to remain here for at least 24 hours, public health advice is that you should self-isolate upon arrival for 10 days, unless you are exempt."
Can I stay at a hotel or B&B?
Yes: from 17 May, B&Bs, hotels and other tourist accommodation with shared facilities can reopen in Wales and England. In Scotland, this has been the case since 26 April. Northern Ireland's current timeline suggests that hotels and B&Bs are not slated to reopen until 24 May.
Can I stay over at a friend's house?
From 17 May in England, the government guidance states: "Indoors, the rule of six or two households will apply – we will keep under review whether it is safe to increase this." This indicates you can stay overnight with up to five others from outside your household, or alongside one other household of any size.
It may be possible to stay with bigger groups after the next easing of restrictions, set to be 21 June.
Can I go abroad on holiday?
Foreign holidays are legal in England as of 17 May. However, travel is only permissible under a fairly onerous traffic light scheme. The government has classified countries as green, amber or red based on the risk of reimporting Covid infections, with restrictions of varying severity to match.
The Departure for Transport warns against travelling to amber or red countries on holiday. Only 12 destinations made it onto the initial "green list", many of which are off limits due to the fact that their own borders are currently closed to Brits (we're looking at you Australia).
World news in pictures

Show all 50
The only mainstream summer holiday destination to be labelled green is Portugal. Other possible trip destinations are Gibraltar, Iceland and Israel, though all have their own entry requirements. Check the Foreign Office website for the most up-to-date information.
Will I have to quarantine when I return from abroad?
That depends on where you're arriving from. If it's a green country then no, unless you test positive for Covid-19.
Those returning from an amber country must quarantine at home for 10 days – although they can cut this down to five days if they opt to pay for an extra test under the government's test-to-release scheme.
Red country arrivals face the most stringent requirements: they must pre-book an 11-night stay at a government-mandated quarantine hotel, at a cost of £,1750 for a solo traveller (rates are lower for couples and families staying together).
Will I have to pay to get tested when travelling internationally?
Absolutely. First up, you may have to take a test in order to enter the country you're travelling to. Different destinations have different testing requirements, with some happy to accept a lateral flow test, and others insisting on a PCR test that has been administered by a professional (rather than a cheaper home testing kit). These usually have to be taken with a set timeframe prior to arrival, such as 72 hours.
The one exception to this is Spain, which announced last week that British tourists would be free to enter the country without a negative PCR test from 20 May.
Citing the UK's vaccine roll-out and declining infection rate, she said that the testing requirement for entry would be abolished from this date.
However, Spain remains on the government's amber list, and current advice states that Brits should not be visiting amber or red countries for recreational purposes.
Next, all travellers, no matter where they're coming from, must present a negative coronavirus test result before departing for the UK. This can be lateral flow, rapid antigen or PCR. Passengers from green list countries must then pay to take one PCR test within two days of arriving into the UK.
Amber travellers must book (and pay for) a package of two PCR tests in advance of arrival, to be taken on days two and eight of quarantine. They may also opt to pay for an extra test on day five, which, if negative, allows them to end self-isolation early. This can be a PCR test or a Lamp test from a government-approved provider.
And red listers must also take a PCR test on days two and eight of quarantine, although this is included in the price of the hotel package (along with an airport transfer and all meals).
How much will testing cost?
This currently varies wildly. Although the average test of a PCR test in the UK is £120, many travel companies and airlines are now partnering with testing providers to offer discounted rates to customers. The best-value deal so far looks to be Tui, which is offering testing packages from £20 for green list holidaymakers.
Click here to see The Independent's list of Covid test deals.
Register for free to continue reading
Registration is a free and easy way to support our truly independent journalism
By registering, you will also enjoy limited access to Premium articles, exclusive newsletters, commenting, and virtual events with our leading journalists
Already have an account? sign in
Join our new commenting forum
Join thought-provoking conversations, follow other Independent readers and see their replies