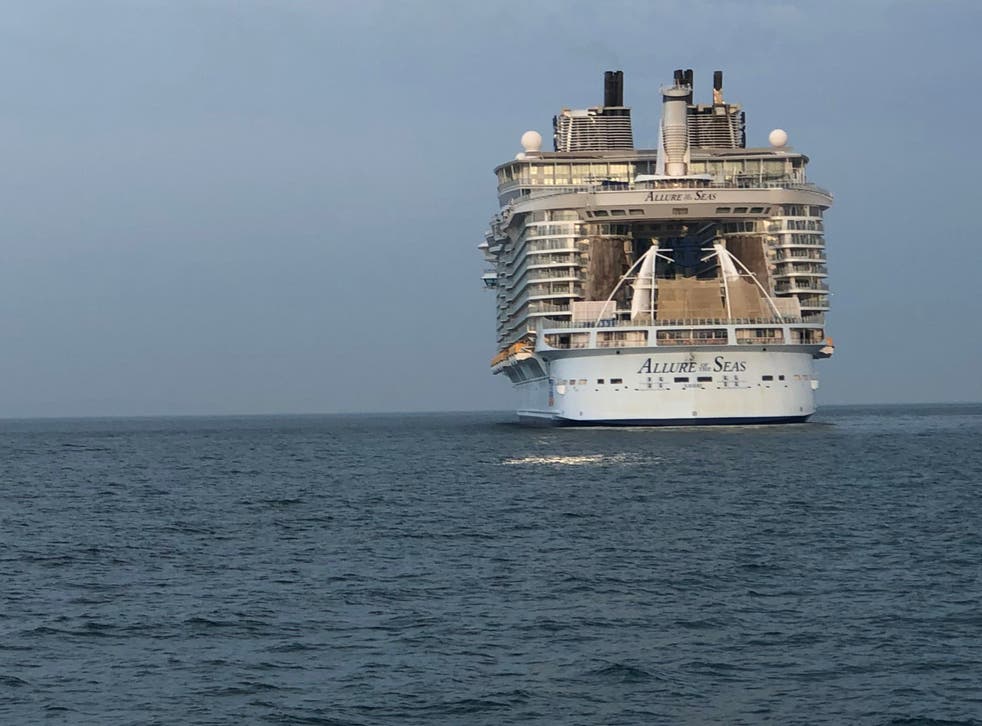 Domestic cruises to begin on 17 May, says minister
Exclusive: Announcement made after Boris Johnson says there is 'security and certainty' about reopening dates
Cruise lines will be able to restart domestic voyages on 17 May, a group of MPs have been assured.
The maritime minister, Robert Courts, appeared at a virtual meeting of the All Party Parliamentary Maritime and Group (APPMPG).
He told MPs that the government is working with the home nations to get UK-wide domestic cruising up and running. Meanwhile, voyages between English ports look likely to restart on the earliest date proposed for easing many travel restrictions.
Mr Courts said the domestic move would help the cruise industry restore confidence and demonstrate the robustness of their protocols for passengers and crew.
Crew members will be required to be tested and to undergo two weeks' quarantine onboard the ship before passengers are allowed to board,The Independent understands.
The group promptly tweeted: "Robert Courts announces the reopening of the domestic cruise market in England on 17 May at tonight's APPMPG meeting."
The announcement follows days after P&O Cruises, the leading British cruise line, cancelled all its international voyages for the summer and said it would instead run short cruises around the UK.
Almost all cruises worldwide ended a year ago as the coronavirus pandemic took hold. A Foreign Office warning against travelling on international cruises has been in force since early March 2020.
But the travel advice, which has the effect of banning such voyages from the UK, does not apply to domestic cruises.
A Department for Transport spokesperson said: "We are committed to restarting cruise travel when it is safe to do so, and we are working closely with the sector to prepare for a safe and successful restart.
"The restart of domestic cruises in England will be aligned with the wider resumption of the domestic tourism and indoor hospitality sectors. 
"As set out in the prime minister's roadmap, the earliest possible date for this step is 17 May."
Saga Cruises has indicated it will allow only passengers who have completed a course of vaccinations to board.
The APPMPG meeting took place three hours after the prime minister appeared to confirm that holiday travel will be possible from that date.
Cruise virus risks: when to travel to minimise them
Since announcing his "roadmap" Boris Johnson had always maintained that the dates of 12 April and 17 May were the earliest for, respectively, reopening self-contained accommodation in England and restarting international travel.
But the Downing Street briefing, Ben Kentish of LBC asked the prime minister: "You said that the roadmap would be guided by the data, at the moment it's guided by data that's overly pessimistic.
"We know the vaccine rollout's been better: vaccines are more effective, the number of people in hospitals is at the lower end of what's predicted in those models.
"If it's truly guided by data, will it be assessed at regular intervals to make sure that we're not prolonging resumption of normality?"
Mr Johnson's response appeared to confirm that lifting restrictions would happen on those dates. 
"I think people would really rather trade some urgency and some haste in favour of security and certainty about those dates that we have set out," he said.
Register for free to continue reading
Registration is a free and easy way to support our truly independent journalism
By registering, you will also enjoy limited access to Premium articles, exclusive newsletters, commenting, and virtual events with our leading journalists
Already have an account? sign in
Register for free to continue reading
Registration is a free and easy way to support our truly independent journalism
By registering, you will also enjoy limited access to Premium articles, exclusive newsletters, commenting, and virtual events with our leading journalists
Already have an account? sign in
Join our new commenting forum
Join thought-provoking conversations, follow other Independent readers and see their replies