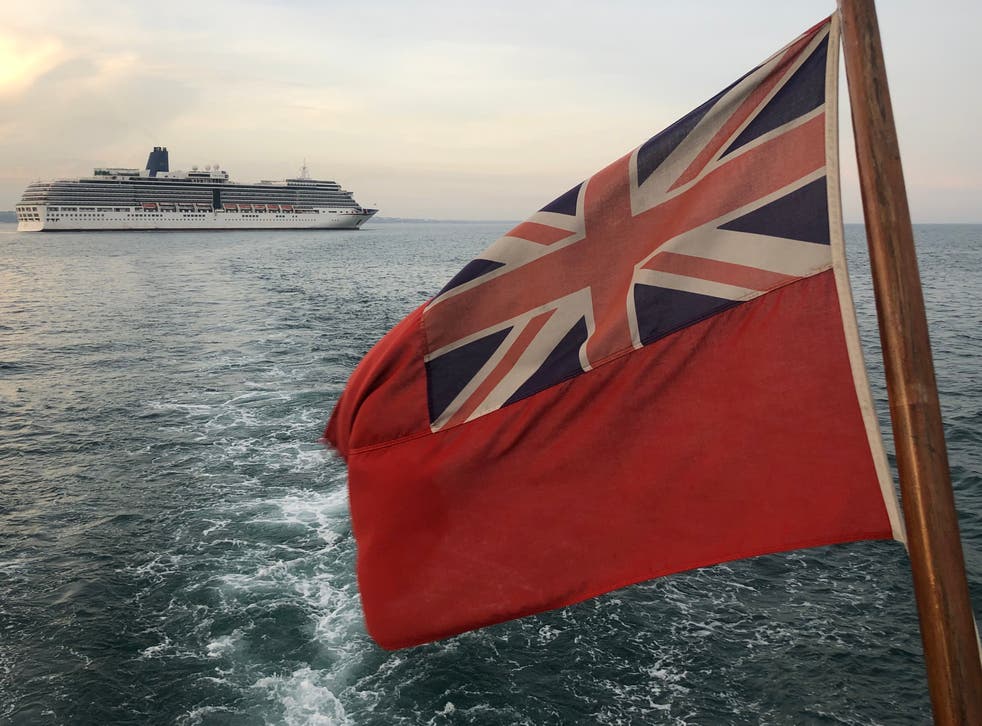 When will it be possible to go on a cruise again?
Maritime minister has hinted domestic cruises will restart from 17 May
In early February2020 , images of the stricken cruise ship Diamond Princess – which became a Covid hotspot in its own right – showed the ease with which coronavirus transmitted onboard a vessel packed with thousands of passengers and crew.
She was quarantined off Yokohama in Japan, and at one stage had the highest number of Covid-19 cases anywhere outside China.
As the virus crisis developed early in 2020, cruise ships became pariahs. Some were sailing for weeks in search of a port that would allow them to disembark distressed and often ill passengers.
On 12 March 2020, the Foreign Office took the unprecedented step of warning against cruise ship travel – effectively banning cruise lines from carrying British passengers.
While the government says it will "continue to review its cruise ship travel advice based on the latest medical advice", there is no sign of imminent easing of the prohibition on international voyages.
Yet cruise firms are gearing up for the summer ahead, with hundreds of sailings on offer to UK travellers – and hints that sailings within England at least could resume by 17 May.
This is what you need to know.
Are any cruises sailing anywhere right now?
Yes, though the vast majority of the 270 sea-going ships that were in service worldwide before the pandemic are immobile.
Before the coronavirus crisis, cruise ships took around 30 million holidaymakers, efficiently and affordably, around the sights of the world each year.
The pandemic has hit every aspect of the extremely complex logistics of a cruise operation, with a labyrinth of restrictions on the movement of people and vessels.
Some ships have become tourist attractions in their own right with trips out to see them at anchor.
In the Mediterranean, MSC Cruises has been running a series of Italian coastal and island cruises, with some calls in Malta, more or less continuously since August.
Days in port are strictly controlled. The company says: "Shore excursions are carried out in a 'protected' manner following our strict protocols, meaning that guests do not come into contact with people who have not also been subject to health and safety checks."
It is not possible for passengers to wander off on their own; when this has taken place, the offending guests have been offloaded.
In addition, some very limited cruising has taken place in locations such as French Polynesia, Norway and the Canary Islands, but the continued imposition of travel restrictions – and occasional cases of coronavirus onboard – has made a coordinated restart impossible so far.
When will cruising resume at scale?
No one knows – which is one reason why cruise lines are enthusiastically marketing voyages for 2022 and even 2023.
Royal Caribbean International says it plans cruises on its new ship, Odyssey of the Seas, from Haifa in Israel, from May 2021. The voyages will be limited to a limited itinerary from Haifa in Israel to the Greek islands of Rhodes, Santorini and Mykonos, as well as the capital, Athens, and Limassol in Cyprus.
Only residents of Israel will be allowed on board as passengers.
The company says: "Royal Caribbean will be the first to offer fully vaccinated sailings, where both crew and guests above the age of 16 will be vaccinated against Covid-19."
As an illustration of the many problems confronting cruising, Odyssey is currently docked at Bremerhaven and it is unclear when she will be released for planned sea trials after an outbreak of shipyard workers.
What about the UK?
The UK government has effectively banned "normal" tourism, including cruising, until 17 May at the earliest.
But at a meeting of the All Party Parliamentary Maritime and Group (APPMPG) on 8 March 2021, the maritime minister, Robert Courts, appeared to confirm that cruise lines will be able to restart domestic voyages on 17 May.
The minister told MPs that the government is working with the home nations to get UK-wide domestic cruising up and running. Meanwhile, voyages between English ports look likely to restart on the earliest date proposed for easing many travel restrictions.
P&O Cruises, the most prominent UK-focused cruise firm, has cancelled all its international cruises for the summer of 2021. In their place, the company is planning a series of short UK voyages.
Paul Ludlow, president of P&O Cruises, said: "These sailings will leave from our home port in Southampton and sail around UK coastal waters enjoying the summer sunshine."
Details have yet to be released – presumably while the cruise line assesses the extent to which voyages to the UK nations, and possibly Ireland, may be possible.
Fred. Olsen Cruise Lines has cancelled all its voyages for the first half of 2021, and plans at present to resume on 1 July with a sailing from Rosyth in Scotland to France and Spain. The following day, its ships depart from Liverpool and Dover to Iceland and France respectively.
Even in countries where coronavirus has had a limited impact, such as Australia, the first Princess sailings will not start until 23 October – with a two-day journey from Sydney to Melbourne.
What are the main impediments to a large-scale restart?
On the supply side: a combination of logistics and travel restrictions.
Logistically, the complexity of the cruise industry, involving crew and customers from across the world, and voyages typically calling at many destinations, has made it particularly vulnerable to the tangle of restrictions surrounding the coronavirus pandemic.
In addition, cruising's image problem means that opening up hundreds of ports and entire countries to ships is likely to take much longer than closing.
On the demand side: many of the prime demographic for cruises are older travellers who may well wish to avoid what the US health body, CDC, calls the "very high" risk of Covid-19 on cruise ships. It recommends "all people avoid travel on cruise ships, including river cruises, worldwide".
In addition: "It is especially important that people with an increased risk of severe illness avoid travel on cruise ships, including river cruises."
The organisation urges: "Passengers who decide to go on a cruise should get tested 3-5 days after your trip and stay home for 7 days after travel. Even if you test negative, stay home for the full 7 days.
"If you don't get tested, it's safest to stay home for 10 days after you travel."
The Cruise Lines International Association disagrees with the CDC's "very high risk" assessment, saying: "Cruise lines go to great lengths to support the health and wellness of all onboard.
"From cleaning practices to passenger screening and public health inspections, cruise lines work vigorously to keep passengers and crew healthy."
Will I need a "vaccine passport" to get back onboard?
Yes, at least on some cruise lines.
Saga says while its crew will be tested, rather than vaccinated, passengers must have had both jabs: "All guests must be fully vaccinated against Covid‑19 at least 14 days before sailing with us."
In addition, Saga passengers will be tested for coronavirus before boarding.
Crystal has also said it will demand evidence of vaccination from passengers. 
The World's Largest Cruise Ship in Numbers
How different will cruising be when it starts again at scale?
MSC Cruises, which has gained experience since restarting cruising in the Mediterranean last summer, has some robust protocols in place.
All passengers and crew undergo a swab antigen test before boarding, with daily temperature checks – and, for passengers, a second test during the voyage.
For social distancing purposes, passenger capacity is limited to 70 per cent. "The use of masks is mandatory in public areas (except for restaurants, bars and when sitting on the sun deck)," MSC says.
Royal Caribbean warns: "Health and safety protocols, guest conduct rules, and regional travel restrictions vary by ship and destination, and are subject to change without notice.
"Due to evolving health protocols, imagery and messaging may not accurately reflect onboard and destination experiences, offerings, features, or itineraries. These may not be available during your voyage, may vary by ship and destination, and may be subject to change without notice.:
At the very least you can expect temperature and rapid Covid checks at the terminal prior to boarding; some social distancing on board; enhanced cleaning; and reduced capacity.
At ports of call, cruise lines may insist on "official excursions only".
How will the risk of infection from crew be managed?
There will be a regime of testing and on-board quarantine.
Crew members are likely to go will be required to be tested and to undergo two weeks' quarantine onboard the ship before passengers are allowed to board,The Independent understands.
Long-stay crew are likely to be tested on board every week.
What happens if someone tests positive while on a cruise?
Cruise firms are making plans. The basic idea will be to set up a "hot zone" in the medical centre exclusively for Covid cases, so that the rest of the operation – including medical services for non-Covid conditions – can continue unaffected.
Additional medical staff are being recruited to help manage any outbreak.
Viruses being brought onboard are nothing new. The US CDC says: "Cruise ship conditions amplify an already highly transmittable disease."
According to CDC data over the past decade, serious virus outbreaks aboard cruise ships with calls in the US have been happening an average of once a month.
What is the long-term outlook for cruising?
One view is that there are likely to be fewer ships, visiting fewer countries and with fewer people on them. And given the cruel arithmetic of Covid-19, those passengers may well be significantly younger. 
But Julia Lo Bue Said, chief executive of Advantage Travel Centres, believes the nature of cruising could actually enhance safety and therefore its appeal.
"It's the one product provider who has a full end-to-end solution. They have control of that full end-to-end process," she said.
"In future we'll find there's even more rigour on a cruise ship. They've invested so much in making sure their people, their staff, their customers are all tested."
Register for free to continue reading
Registration is a free and easy way to support our truly independent journalism
By registering, you will also enjoy limited access to Premium articles, exclusive newsletters, commenting, and virtual events with our leading journalists
Already have an account? sign in
Register for free to continue reading
Registration is a free and easy way to support our truly independent journalism
By registering, you will also enjoy limited access to Premium articles, exclusive newsletters, commenting, and virtual events with our leading journalists
Already have an account? sign in
Join our new commenting forum
Join thought-provoking conversations, follow other Independent readers and see their replies