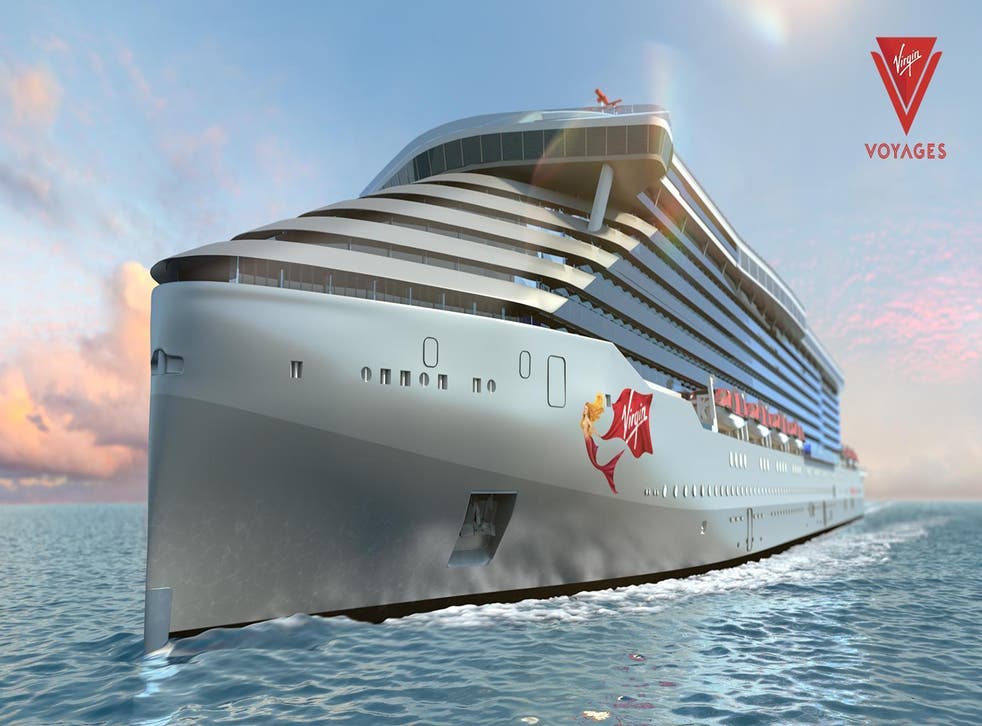 Virgin Voyages: Richard Branson launches adults-only cruise line
Virgin Voyages launches in 2020 as a 'transformational' experience for adults
Old people. Screaming kids. Couples desperate to talk to anyone but each other. Cruises get a bad rap. But Sir Richard Branson thinks there's a gap in the market – and this week, he announced the launch of adults-only cruises, marketed entirely at young professionals.
Virgin Voyages – which Branson unveiled at the dockyard in Genoa this week – will launch in 2020. The cruises will be strictly over 18s and "adult by design", with a strong focus on things that will appeal to a younger crowd.
So what do younger cruisers want? Photo ops, for starters – where cruise ships traditionally start with indoor cabins, and balconies are seen as luxuries, 93 per cent of the rooms will have an ocean view, and 86 per cent a balcony.
Other details are being kept under wraps for now, but CEO Tom McAlpin has promised a "sophisticated ship and a transformational experience", with "rejuvenating day-life" and "exciting nightlife" – possibly millennial buzzwords. Interiors will be less cruisey and more lifestyle-focused, curated by designers who've worked on the hipster Ace hotel chain and Virgin Atlantic Upper Class. It will reflect "the craftsmanship and materiality inspired by super yachts," McAlpin told Condé Nast Traveler.
Virgin Voyages are building three ships from scratch for the venture at a cost of $2.55 billion. The first will take off from Miami in 2020, with a planned 2,700 passengers and 1,150 crew.
Branson once envisaged a cruise line for under-30s, he told Condé Nast Traveler, though he has now focused on a more curated, adults-only pitch. "The industry is trying to be all things to all people, and we want to create a cool experience, more romantic, a more transformational experience," he said.
Branson is not the first to try and pitch cruises to a younger market. U by Uniworld will launch its first "millennial cruise" in April, repurposing two river cruise boats to appeal to younger people, and adding wine and painting classes, mixologist courses and silent discos. NCL, meanwhile, is adding a 1000ft race track for electric cars to its Norwegian Bliss ship from June. And, as the Independent reported in August, Aqua Expeditions is turning its hand to boutique and festival cruises along the world's greatest rivers.
Can't wait to cruise with Sir Richard? It may be three years away but Virgin Voyages is already taking sign-up deposits for $500 via its website. Should the ship (and routes) not live up to your standards closer to the time, you can cancel without penalty.
Register for free to continue reading
Registration is a free and easy way to support our truly independent journalism
By registering, you will also enjoy limited access to Premium articles, exclusive newsletters, commenting, and virtual events with our leading journalists
Already have an account? sign in
Register for free to continue reading
Registration is a free and easy way to support our truly independent journalism
By registering, you will also enjoy limited access to Premium articles, exclusive newsletters, commenting, and virtual events with our leading journalists
Already have an account? sign in
Join our new commenting forum
Join thought-provoking conversations, follow other Independent readers and see their replies