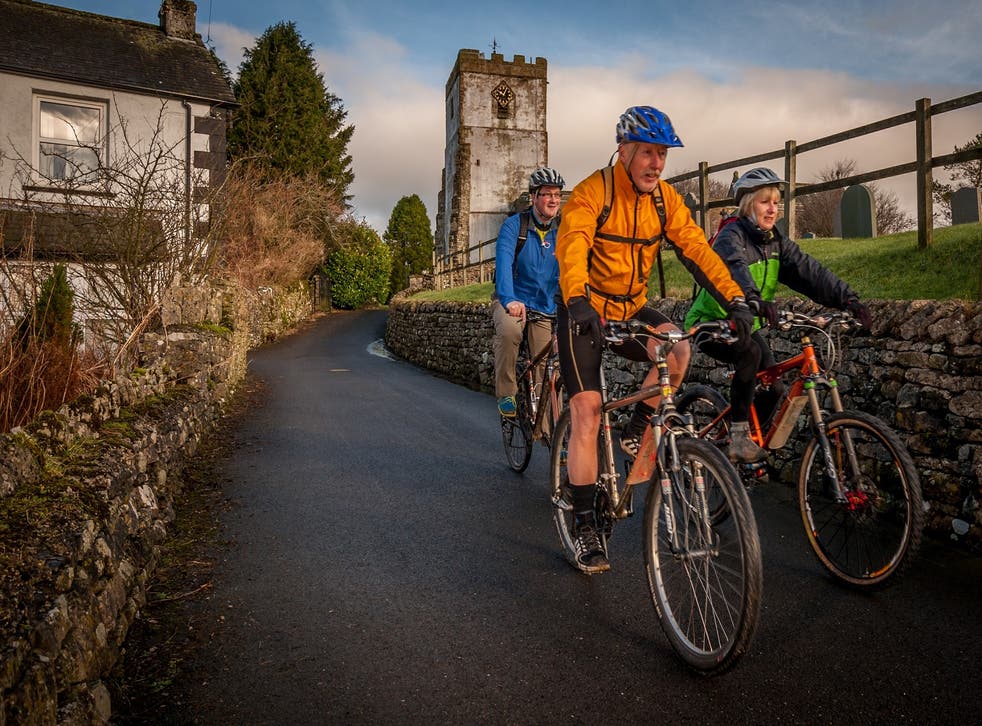 Explore the Lake District's quiet corners by bike on the new Lakes and Dales Loop
The 190-mile cycle route shows Ellie Ross a different side to Cumbria
Ellie Ross
Friday 04 March 2016 12:48 Comments
I am only a few hours into my four-day cycle around Cumbria when I begin to wonder just what I've let myself in for. Battling head-on winds and hills, I'm forced to rise out of the saddle, pushing down on the pedals with all the force my legs can muster. It's slow and steady progress – but at least I have the chance to take in my beautiful and constantly changing surroundings: rust-coloured fells stretch as far as I can see; a red kite wheels overhead and Herdwick sheep raise their teddy-bear faces to watch me roll past.
I'm riding the Lakes and Dales Loop, a 190-mile cycle route around the Lake District National Park, which will officially open next week. It is part of Cumbria's See More campaign, aimed at reducing the proportion of visitors who come by car. The beauty of this circular course is that it goes around, rather than through, tourist-heavy parts of the Lakes, avoiding narrow roads that can become jam-packed in summer months. So far, I've passed just a few cars and no other cyclists.
I start my circumnavigation at Penrith, a town that's easily accessible by train. The plan is to head clockwise, cycling roughly 50 miles a day up hill and down dale with overnight stops in Dent, Rusland Pool and Gosforth, returning to Penrith on day four. Standing outside the Limes Hotel waiting to depart, I'm apprehensive about the distance – and inevitable saddle soreness – ahead. Happily, my guide, John Walsh, from cycle holiday specialist Saddle Skedaddle, greets me with a smile that lays my worries to rest. The hybrid bike he has brought for me has panniers for essentials – but anything else will be dropped at my hotel.
We set off from Penrith, with its medieval castle, over the River Eden and down into Appleby, a town known for its creamery and horse fair. John, who is originally from Cockermouth, admits cycling in Cumbria is "undulating" – and I see what he means when we are confronted by the Howgill Fells.
Fellwalker Alfred Wainwright famously described them as looking like a herd of sleeping elephants, and they loom as large as gentle giants in front of my handlebars.
"This hill has some rudeness," says John, referring to the punishing gradient ahead and advising me to bend my elbows to maintain a low centre of gravity. I press on uphill past fell ponies, focusing on the distant view of the Lowgill Viaduct. The short, frequent climbs can feel incessant – but at the top I'm rewarded with good views, a sense of achievement and a thrilling downhill. After my first day's eight-hour slog, I arrive in Dent with weary limbs.
The next morning brings pewter skies – and one of the toughest climbs in the ride as we crawl out of Dent towards Barbondale. Without the barrier of a car window, I can hear birdsong, smell fresh air and feel the exhilaration of that bracing wind. We stop in Kirkby Lonsdale, where, I meet cycling guidebook author and Cumbria county councillor Nick Cotton, whose ideas for the course of the Lakes and Dales Loop formed over several years. He tells me he wanted to create a "tough" ride that sticks to the outskirts of honeypot areas such as Windermere, Ambleside and Keswick. "I think of it like a doughnut. Gritty cycling around the outside and the glorious 'jam' of the Lakes in the middle."
The next afternoon, after freewheeling through the russet-coloured Dunnerdale Fells, we reach a junction at Santon Bridge. John gives me a choice: we continue to our hotel, or turn right for Wast Water, England's deepest lake. I still have some energy, so we turn right. The only traffic is a flock of Herdwick sheep, and as we approach, a startling panorama comes into view – craggy ochre cliffs tumbling into a pool of petrol blue. We cool our feet in the water as John points out the surrounding contours: Great Gable, Red Pike and Scafell Pike, England's highest mountain.
On our final day, I catch glimpses of more lakes: Ennerdale Water, Crummock Water, Bassenthwaite Lake and Loweswater, glinting in the distance. We press on climbing north into Cockermouth before turning east for the final 35-mile stretch. As the sun begins to set, I make out the familiar outline of Penrith Castle, marking the end to a challenging but rewarding new discovery of the Lakes.
The ten best cycling accessories

Show all 10
Getting there
Ellie Ross travelled with Virgin Trains (0871 977 4222; virgintrains.co.uk) which serves Penrith from London Euston, Birmingham, Preston, Edinburgh and Glasgow. Advance fares from Euston start at £16.50. Saddle Skedaddle (0191 265 1110; skedaddle.co.uk) offers cycling breaks from £245pp including two nights' B&B and train station collection. Bike hire extra.
Staying there
Limes Country Guest House, Penrith (limespenrith.co.uk). Doubles from £64, B&B. The George & Dragon, Dent (thegeorgeanddragondent.co.uk). Doubles from £90, B&B. Rusland Pool Hotel, Haverthwaite (ruslandpool.co.uk). Doubles from £80, B&B. Gosforth Hall (gosforthhall.co.uk). Doubles from £130, B&B.
More information
Register for free to continue reading
Registration is a free and easy way to support our truly independent journalism
By registering, you will also enjoy limited access to Premium articles, exclusive newsletters, commenting, and virtual events with our leading journalists
Already have an account? sign in
Join our new commenting forum
Join thought-provoking conversations, follow other Independent readers and see their replies