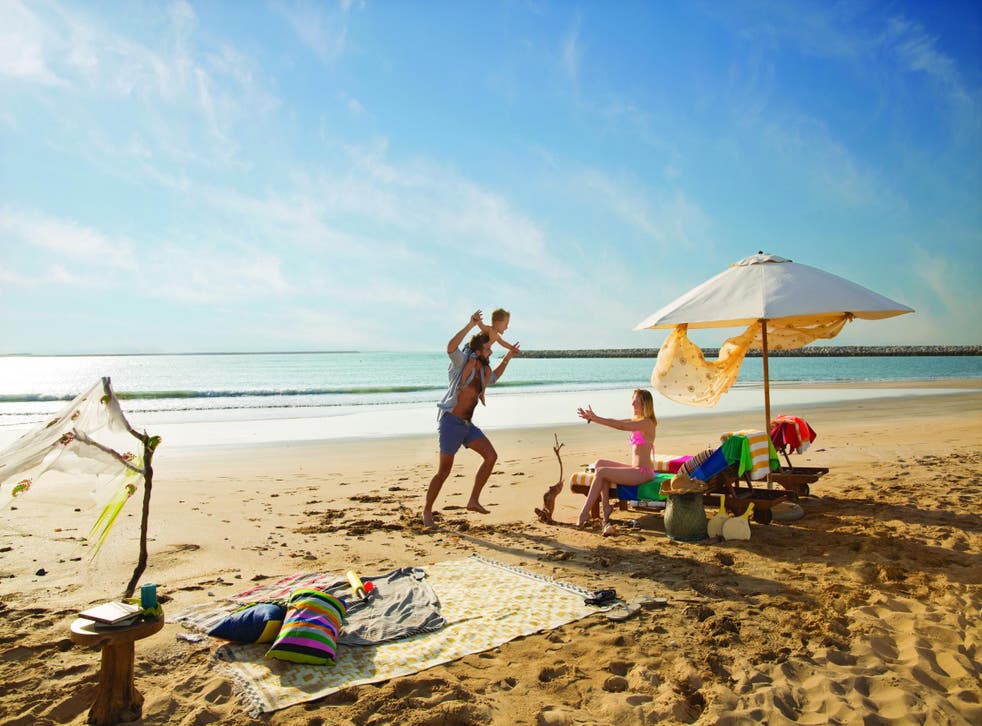 Why you should visit the picturesque Ras Al Khaimah
Whether it's unspoiled sandy beaches, scenic hikes or fun-filled water sports you're after, this emirate has a lot to offer holidaymakers
Thursday 01 February 2018 16:13
Mountains, deserts and miles of white-sand beaches, and some of the best hiking in the Middle East: Ras Al Khaimah never fails to surprise its visitors.
A 45-minute drive from Dubai International Airport and bordering the kingdom of Oman, this emirate was once seen as a charming day trip from other parts of the UAE, but increasingly it has become a destination in its own right and one that still offers copious amounts of peace and tranquillity to its visitors. At night, you can head to an oasis and sleep under the stars before waking up to a traditional Bedouin breakfast.
Ras Al Khaimah, however, is best-known for its outdoor activities. You can explore the desert either by horseback, camel or as part of a 4WD safari. And, at 1,934 meters, the majestic Jebel Jais is the highest mountain peak in the UAE and when there's rainfall, its valleys – known locally as wadis – are filled with plants and streams.
Temperatures on the mountains can be up to 10 degrees lower than the rest of the UAE – especially useful in summer months. Jebel Jais and the surrounding Hajar mountain range offer a wide choice of walks and bicycle trails. It will soon also become home to the world's longest zip line.
For an adrenaline-packed day, you'll find the region's first commercial Via Ferrata. Translated as "iron path", instructors will take you along more than 1km of track that incorporates a steel cable so climbers can do it in safety. It takes about four hours to complete but there are also three ziplines to speed your descent over gullies and sheer rock face. A gentler hike for families is Wadi Showka, which leads to a dam that's filled with water in January and February. Should you not want to hike, new roads allow you to drive through the mountains with plenty of places to stop.
There's history in this emirate, too. You'll find hill forts to explore; the tribes around Dhayan successfully fought off a British invasion from one in the 19th century and the watchtowers built among the palm trees have been meticulously restored. The village of Khatt has thermal springs infused with minerals and temperatures of up to 40 degrees; again in the winter months, it's a very popular destination and there are changing rooms and lockers for visitors.
The undulating terracotta deserts of Ras Al Khaimah also hold ancient oasis, for this is one of the most fertile parts of the United Arab Emirates. Once places for the Bedouin people to tend animals, some have become overnight camps and now offer visitors the chance to sleep in luxury tents or spot gazelles and oryx. Camping options range from charming and low-key to ultra luxurious. Thanks to exceptionally low light pollution and minimal cloud cover, it's a fantastic way to see the constellations at night.
Ras Al Khaimah's 64km of coastline is also special. Alongside a cluster of luxury hotels are miles of unspoiled sandy beaches and mangrove forests. In the cooler months of the winter, rare green turtles shelter here. But whatever time you visit, there are more than 700 species of fish to be found – and there are a number of specialist dive operators to take you to the best sites. Pearl fishing is still a way of life here.
If you want to stay above water, you can choose between wakeboarding, parasailing, flyboarding and other activities. The Iceland Waterpark features lazy rivers and slides that incorporate both the white knuckle and family-friendly – a different type of oasis in a very ancient land.
To find out more about holidays to Ras Al Khaimah, head here