Refugee crisis: Where is your compassionate Conservatism now, David Cameron?
The Prime Minister is running to catch up with public opinion instead of leading it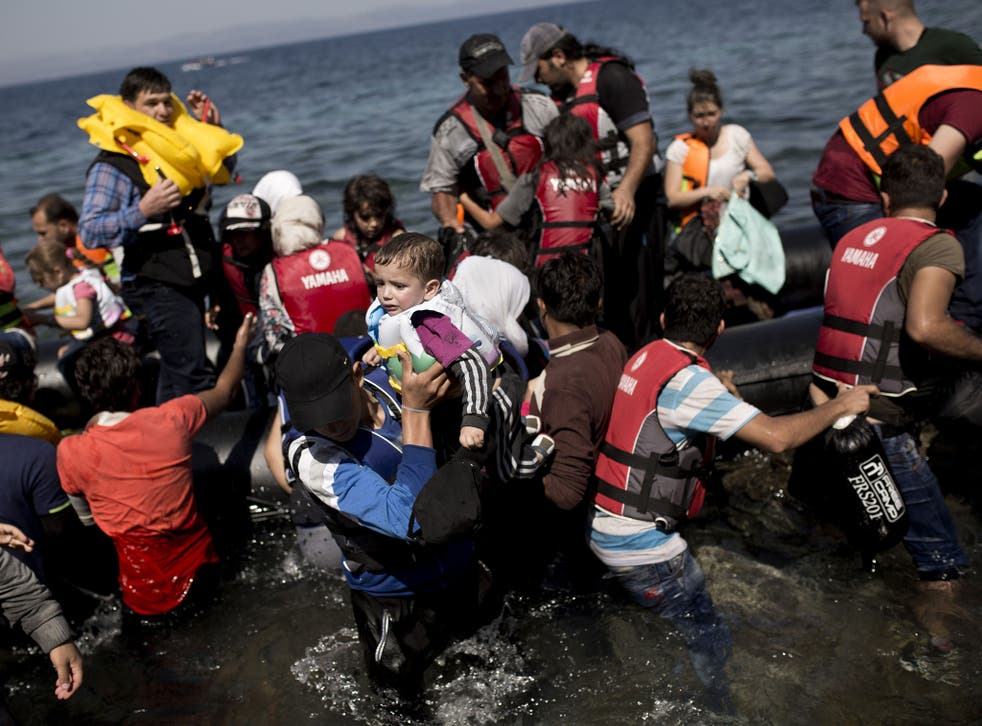 On Boxing Day in 2013, I wrote about the Coalition government refusing to join a United Nations scheme to allow refugees from the civil war in Syria to live in rich countries. "No room at the inn," was The Independent's front page headline.
After a series of articles by my colleague Jamie Merrill and I, and growing pressure from politicians and aid groups, David Cameron bowed to strong behind-the-scenes lobbying by Nick Clegg and climbed down. The Deputy Prime Minister announced that 500 of the most vulnerable refugees would be allowed into Britain. But Cameron refused to join 16 nations in the UN scheme.
The U-turn took the issue out of the headlines. There was little controversy five months later when we revealed that only 24 Syrians had been given sanctuary. Ministers then explained that the 500 refugees would now be admitted over a three-year period.
When the Syrian refugee crisis hit the front pages again this June, the new Conservative Government raised the 500 figure to up to 1,000. So far, only 216 have arrived from the camps in countries bordering Syria under the UK's go-it-alone resettlement scheme.
This pattern of behaviour was repeated after the refugee crisis finally cut through to the public when the haunting photograph emerged of three-year-old Aylan al-Kurdi lying dead on a beach in Bodrum, Turkey.
Cameron announced on 7 September that Britain would take up to 20,000 Syrians. A dramatic departure but again, our old friend "up to" is there. It could give the Government an escape hatch to accept fewer. Again, a headline-grabbing figure is not as immediate as it looks; this one will be achieved over the next five years. Officials insist the intention is to admit 400 Syrians a month from the refugee camps from next month. But given that only 216 have arrived in 20 months since the original U-turn, there is scepticism that such a rate will be maintained. Again, an act of "compassionate Conservatism" seems to have been dragged out of a reluctant Cameron by damaging headlines. Again, he was running to catch up with public opinion instead of leading it.
Again, Britain will act in splendid isolation, working with the UN but eschewing the EU's scheme to accept a total of 160,000 refugees. I am told that Angela Merkel had private doubts about the European Commission proposals but knew instantly when the pictures of Aylan flashed around the world that Germany would have to sign up. A revealing difference between the British and German leaders.
EU officials acknowledge Cameron's intellectual case that advertising a scheme welcoming refugees would encourage more of them to head for Europe. But morally and politically, the EU had to act. Although Hungary opposes compulsory quotas, other central and eastern European nations seem to be softening in order to show solidarity. They recognise what Merkel describes as "the biggest challenge" facing Europe she has known – bigger than the eurozone crisis which almost forced Greece out of the single currency.
The refugee crisis - in pictures

Show all 70
But Britain has dismayed its EU partners by shunning the refugees scheme, citing its opt-out on asylum policy. "Technically right, politically wrong" is the view that predominates in Brussels.
Cameron can point proudly to the UK providing more than £1bn of humanitarian relief – mostly for the refugee camps in Jordan, Lebanon and Turkey – a much better record than other EU countries. Despite the scenes on our television bulletins, only 0.3 per cent of the 4 million Syrian refugees have reached Europe, Cameron aides say. He can deflect accusations of populism by reminding us that he has stuck to his pledge to keep overseas aid spending at 0.7 per cent of gross national income.
It is true that, on migration, the Prime Minister must juggle very different demands from the public, Conservative MPs and the EU. He faces pressure from the same three directions as he renegotiates Britain's EU membership terms ahead of the In/Out referendum he intends to call next year.
Although Cameron aides insist that migration and the new EU deal are "two distinct issues", that is not how things are seen in Brussels: in a 28-member club, everything is linked. Cameron's decision on refugees will harm his prospects of winning concessions in the renegotiation. "There is a lot of finger-pointing going on," one government source admitted.
Cameron would like to hold his referendum next spring or by next autumn at the latest. But recent events could force a delay. First, the EU's existential crisis on migration means that other leaders may be reluctant to fiddle with the annoying "British problem" while the Treaty of Rome burns. Second, there is no mood to go the extra mile for a country that refuses to take part in the EU's refugees programme.
"Cameron's stance is going to backfire badly," one Brussels insider said. The man proposing the quota scheme is Jean-Claude Juncker, who said Cameron's lonely opposition to him becoming European Commission President last year was "forgiven but not forgotten". Juncker's allies say he is not minded to grant Cameron any special favours.
When the Prime Minister attends the next EU summit on 15 October, he will be looking for progress on a new agreement for Britain. But his counterparts will have their minds firmly on the refugee and the migration crises.
Cameron should temporarily waive Britain's opt-out on asylum and take part in the EU quota scheme – as Ireland has already done by agreeing to accept 4,000 Syrians. "It would buy a lot of goodwill and transform the landscape for the British talks," said a diplomat from another EU nation. A good deal would make the referendum more winnable.
It would be good politics and compassionate Conservatism, meeting Cameron's desire to react to the migration crisis with both "head and heart". But it almost certainly won't happen. Why? Because Tory MPs and Nigel Farage would run riot.
Join our new commenting forum
Join thought-provoking conversations, follow other Independent readers and see their replies