The bravery of women like Asma Jahangir shines through Pakistan's murky history
Some might question the point of standing up to oppression in such an obviously dysfunctional nation, yet the laws repealed are testament to what can be achieved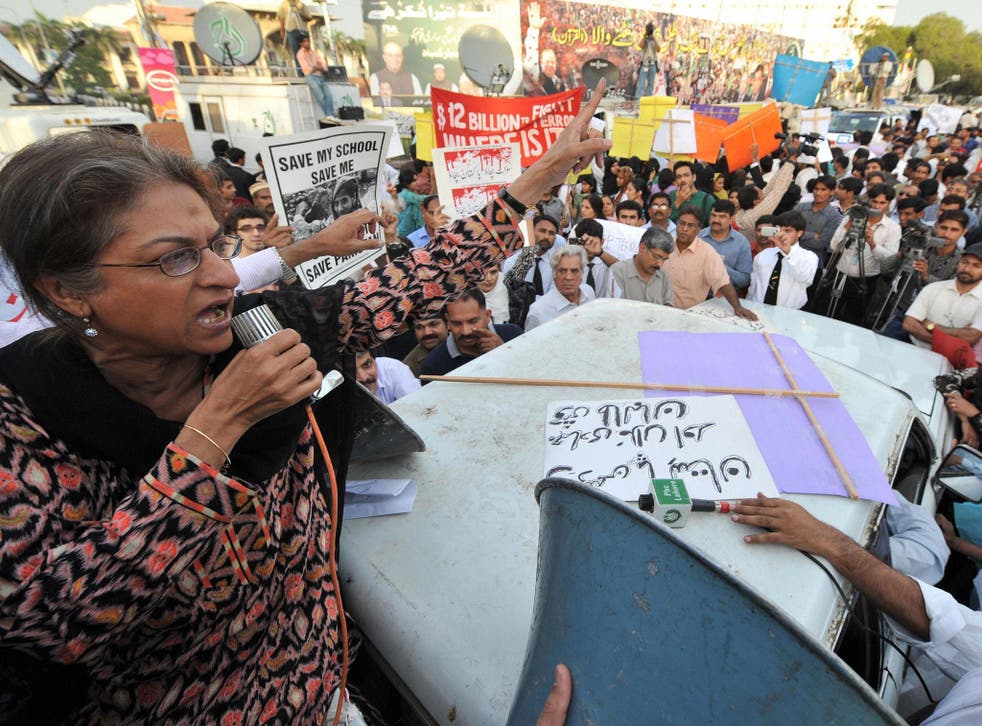 It is not surprising Pakistan's spy agency plotted to kill Asma Jahangir. What is more surprising is that she exists at all, that she has survived to the grand old age of 61, and that she has never contemplated giving up.
The lawyer from Lahore has been a thorn in the side of the Pakistani establishment for more than 30 years, and for the same period of time she has been the first and often the last line of defence for battered wives, Christians maliciously accused of blasphemy, rape victims, women splattered with acid, people disappeared by the military. She was co-founder, often in tandem with her sister, Hina Jilani (a High Court judge), of Pakistan's first law firm established by women, of Women's Action Forum, a pressure group to change Pakistan's discriminatory laws, of the Pakistan Human Rights Commission, which she heads.
The assassination plan by Pakistan's powerful and shady ISI, revealed in secret US files leaked by Edward Snowden, is only the latest in a long line of plots on her life. The proximate trigger for this one was her criticism of brutal tactics used to suppress unrest in Balochistan province. She learned of the plot last year, and her reaction was typical of her: rather than go to ground, hire bodyguards or slip out of the country she went on one TV programme after another to denounce it. Perhaps that is why it was shelved.
That sort of ballsy, no-nonsense approach has been her style ever since she was a teenager denouncing the military dictatorship which put her campaigning father in jail and confiscated the family's land. Others might question the point of standing up to oppression and persecution in such an obviously dysfunctional nation as Pakistan, where generals and fundamentalists have been trying to hijack the nation's destiny practically since independence day. Yet the fact that she still lives and works, that the speaking of her name is enough to strike fear into the religious fanatics, and that thanks to her numerous lives have been saved and wicked laws repealed is ample testimony to what one supremely courageous person can achieve.
Two of her most famous cases bear repetition. Safia Bibi was a blind 13-year-old girl who became pregnant after being raped by her employers. For this wicked offence in 1983 the court sentenced her to flogging, three years' prison and a fine. The verdict was overturned after Asma took on the case.
After anti-Islamic graffiti was found on a mosque wall in 1993, a 14-year-old Christian boy called Salamat Masih was charged with blasphemy, even though he was illiterate. Under the old British law, causing religious offence carried a maximum two-year jail term, but in 1986 a specifically anti-Islamic law replaced it, carrying mandatory sentences of life imprisonment or death. Salamat was duly sentenced to death. Asma took on the case and won it two years later. Her role infuriated the fanatics who demonstrated outside court day after day, smashing up her car, assaulting her and threatening to kill her. Like everything else that her courage has provoked, she took it in her stride.
The courage of Pakistan's women is a remarkable thing, running like a golden seam through the nation's murky story from the foundation up to the present. Fatima Jinnah was the sister of Mohammed ali Jinnah, Pakistan's founding father: surviving him by many years, she challenged the man who became Pakistan's first military dictator, Ayub Khan, for the presidency and many believe she was robbed of victory by underhand means. She died two years later; it has been persistently rumoured that she was strangled in her bed.
The latest in this line of heroines was in what she calls her "second home town", Birmingham, this week, to open the city's new library. Like Asma Jahangir, Malala Yousafzai understood the risks she ran by defying the Pakistani Taliban and campaigning for girls to be allowed to go to school, and like Asma she did break her stride. One might think the knowledge that powerful, well-connected religious maniacs are plotting one's assassination could dampen one's enthusiasm for life. In the case of Asma and Malala it seems to have had the opposite effect.
Art Vs taboo. Art wins
We are used to the fact that the over-riding aim of contemporary art is to shock and that ambitious artists will do almost anything to achieve that, but it's clear that there are in fact limits, even in what claims to be a taboo-free zone. Can we imagine any London gallery hosting an installation that would lead to it being called "Jew in a Box"?
It was part of an exhibition this summer at the Jewish Museum in Berlin – "The Whole Truth – everything you ever wanted to know about Jews" – in which a Jewish person sat in open-fronted plexiglass box each day, answering visitors' questions about Jews and Judaism.
Germany's Jewish cohort has never recovered from the Holocaust, and now amounts to a mere 0.3 per cent of the population. Ignorance of the subject is correspondingly striking.
The idea is suggestive. The religious beliefs of people from communities other than one's own often seem mysterious, but this was a useful approach which could perhaps be extended to other believers, including atheists.
Join our new commenting forum
Join thought-provoking conversations, follow other Independent readers and see their replies