Why is football exempt from Tory profit-hungry ideology?
Please send your letters to letters@independent.co.uk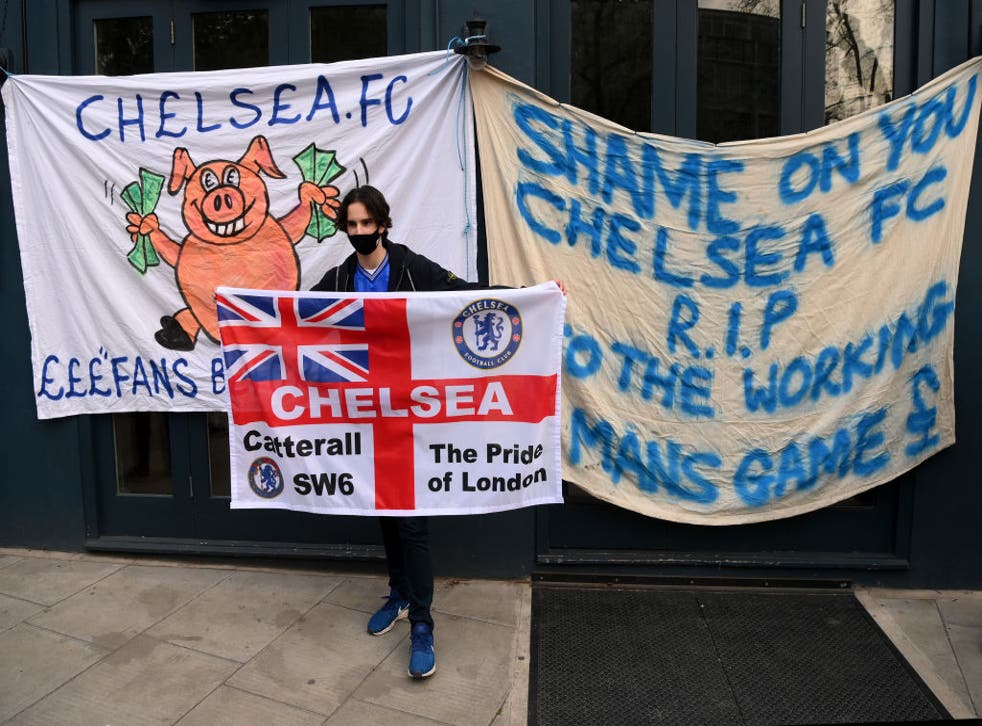 Since 1979 and the election of Margaret Thatcher as prime minister, the Tories, driven by an ideology that puts the accumulation of profit above everything, have privatised many things.
The list is long: British Petroleum, government council housing, British Aerospace, Cable & Wireless, the British Sugar Corporation, Britoil, the National Freight Corporation, Amersham International, Associated British Ports, British Shipbuilders, British Transport Hotels, British Telecom, Jaguar, Enterprise Oil, Sealink Ferries, British Gas, the National Bus Company, British Airways, the British Airports Authority, Rolls-Royce, Rover (trucks), Royal Ordnance (armaments), Royal Dockyards, British Steel, Rover, National Express (buses), the 10 regional water agencies, Short Brothers (aviation), the National Grid and the 12 regional electricity distribution firms, Girobank, National Power, PowerGen, Scottish Power, Scottish Hydro, Forth Ports, Trust seaports, motorway service stops, British Technology Group, Northern Ireland electricity,  British Rail, British Coal, London Bus Services, British Energy (nuclear power), AEA Technology (nuclear research), National Air Traffic Services, Qinetiq (defence technology), British Nuclear Fuel, UKAEA Ltd (environmental management), the Tote, Royal Mail and the Eurostar rail service.
Under the Tories, private companies have played an ever-expanding role in the provision of education, probation, the detention of asylum seekers, and in the national road network.
And every day sees more of the NHS devoured by profit-hungry private companies.
Yet, in the wake of the Super League fiasco, Tory culture secretary Oliver Dowden insists: "We will not have our national game taken away from us for profit." 
Sasha Simic
London
Good riddance Super League
Although I am out of touch with football — having not followed the game for over 30 years — I must heartily congratulate our government for finally doing something in the interest of ordinary people by opposing the European Super League!
Robert Boston
Kent
Over overtime
I was disappointed, yet unsurprised, to read that home workers did two-thirds more unpaid overtime in 2020, according to a new study from the ONS.  
Since the outbreak of the pandemic, the line between personal and professional has blurred beyond recognition. However, it is down to business leaders to encourage employees to switch off and prioritise wellbeing.
I appeal to organisations of all sizes to implement and communicate detailed support strategies to help staff adjust to remote working. They must take responsibility and ensure that, while flexible and agile work is key, there is a cut-off point.
Training, collaboration, and leading by example will all be critical in encouraging employees to remain productive, while also keeping mental health front of mind. It's time for businesses and their leaders to step up and protect their most valuable asset. If they fail to do so, the remote work revolution doesn't stand a chance.
David McGeough
Dublin
Press briefings
Now that the press briefings in the room we have paid £2.6m for are not to take place, and the Cop26 summit is not to take place until November, for what precisely is Ms Allegra Stratton currently being paid from the public purse a salary of more than £100,000 per annum?
Perhaps the principle of having to work to earn payment from public funds does not apply in Johnson's 'Chumocracy'.
John Lewis
Address supplied
Silvertown Tunnel
We urge Grant Shapps, the transport secretary, and Sadiq Khan, the mayor of London, to take emergency action to review the Silvertown Tunnel project, by cancelling the Development Consent Order and/or freezing work while an inquiry is conducted.
Since the DCO was issued, the UK parliament and Greater London Authority have declared a climate emergency. Long-term transport projections have changed due to the pandemic. So it would be foolhardy to press ahead with an infrastructure project that can only contribute to the UK's excessive greenhouse gas emissions – and skew London's transport system further towards roads, exacerbating local air pollution problems.
With the Cop26 talks coming up in Glasgow in November, the government is correctly reviewing the licensing of a new deep coal mine in Cumbria. The Silvertown project, like the mine, risks undermining the UK's efforts to address climate change.
The climate emergency requires that total emissions be reduced swiftly in this decade. Transport emissions are a major part of the problem: they are rising while emissions from other sectors are falling. This can not be addressed mainly by electrification. Transport strategy needs to prioritise modal shift and public transport, not further expansion of the unsustainable road network.
Professor Joanna Haigh distinguished research fellow, Imperial College London
Kevin Anderson professor of energy and climate change, Tyndall Centre, School of Engineering, University of Manchester
Dr Jaise Kuriakose lecturer in energy and climate change, University of Manchester
Julia Steinberger professor of social ecology and ecological economics, University of Leeds
Dr Rachel Aldred professor in transport, director of the Active Travel Academy, Westminster University
Professor John Whitelegg fellow in transport and climate change, Foundation for Integrated Transport
Professor Tim Jackson director, Centre for the Understanding of Sustainable Prosperity, University of Surrey
Professor Matthew Paterson research director, Sustainable Consumption Institute, University of Manchester
Dr Ian Mudway senior lecturer in respiratory toxicology, Environmental Research Group, Imperial College London
Plus 42 other signatories.
Join our new commenting forum
Join thought-provoking conversations, follow other Independent readers and see their replies