As the Russia investigation continues, the focus has intensified on Ukraine
It is Paul Manafort, one of Donald Trump's presidential campaign managers, who is most immediately in the firing line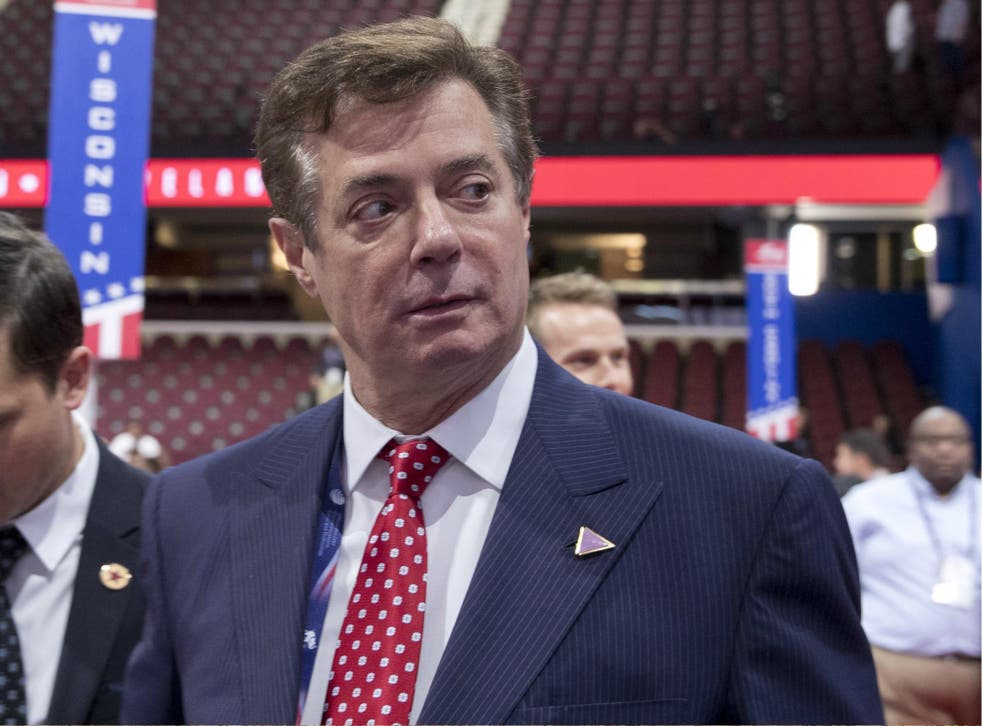 A hearing took place last week in Kiev on Andrii Artemenko's efforts to have his citizenship restored. A day later John Bolton, the former American envoy to the UN, and a staunch Donald Trump supporter, told an international conference in the city that he expected some of the people around the US President to go to prison. Investigations into Paul Manafort, meanwhile, are looking at his activities in Ukraine.
The Ukrainian connection in the Trump affair is under increasing scrutiny. Mr Artemenko, an MP, is a relatively unfamiliar name in the expanding and colourful cast of those now entangled. But his links with Donald Trump's personal lawyer, Michael Cohen, and Felix Sater, a criminal and former business associate of Trump, has become important in establishing whether the Kremlin was actively seeking to influence American policy.
Mr Artemenko has been accused of treason by the government of Petro Poroshenko and stripped of his citizenship. That came after revelations that he reportedly gave details of a secret plan to Mr Sater and Mr Cohen to be passed on to the Trump White House which would, in effect, formalise the dismemberment of Ukraine. The proposal was that sanctions against Russia would be lifted in return for Moscow leasing the Crimea for an unspecified amount of time.
World news in pictures

Show all 50
Mr Trump had stated during his election campaign that he may accept the Kremlin's annexation of Crimea. Mr Artemenko delivered his plan to Mr Cohen who passed it on, it has been claimed, to Michael Flynn, a former Lieutenant General, who was then Mr Trump's National Security Adviser. Mr Flynn was himself forced to resign over his contacts with the Russian government and is now the subject of an inquiry over that as well as over lobbying for Recep Tayyep Erdogan's Turkish government.
It is Mr Manafort who is most immediately in the firing line with his work as Mr Trump's campaign manager as well as that of Viktor Yanukovych, Ukraine's pro-Moscow President who was overthrown in the revolution of four years ago and fled to Russia, being examined.
It has been revealed that Mr Manafort was secretly wiretapped by the FBI and has been told by prosecutors that he may face indictment over alleged violations of tax laws, money laundering, and lobbying for a foreign power. Federal agents working for Special Investigator Robert Mueller, who carried out an early morning raid at his apartment in Alexandria, Virginia, have taken away documents and computer files which include, it is believed, details of his work for President Yanukovych.
A number of Mr Manafort's associates have been subpoenaed by Mr Mueller's team. They include the heads of two consulting firms, Mercury Public Affairs and the Podesta Group, who worked with Mr Manafort in Ukraine.
The biggest names involved in the Trump-Russia investigation

Show all 17
Ukraine's Anti-Corruption Bureau, set up under Western supervision, has allegedly discovered secret accounts, the so-called "black ledger", supposedly showing that in a period of five years, between 2007 and 2012, when Mr Manafort received $12.7m from Mr Yanukovych's Party of Regions. Officials hold that the money was part of an illegal clandestine system which had been used to pay off a number of figures. Mr Manafort has insisted that he had not received the money.
Human rights groups in Ukraine also want to question Mr Manafort about killings during the Maidan protests in Kiev in 2014. Eugenia Zakrevska, a lawyer representing families of victims, is part of a team seeking information on who was complicit in President Yanukovych's ordering security forces to open fire on demonstrators.
The lawyer's demands for explanation spring from the hacking earlier this year of the iPhone of Mr Manafort's daughter, Andrea, with around 300,000 messages published in the dark web. One of the texts sent to her sister Jessica said: "Don't fool yourself. That money we have is blood money." It continued "You know he has killed people in Ukraine? Knowingly, as a tactic to outrage the world and get focus on Ukraine. Remember when there were all those deaths taking place. A while back. About a year ago. Revolts and what not. Do you know whose strategy that was to cause that, to send those people get them slaughtered."
Jared Kushner says he had no improper conduct with Russian officials after appearing before Senate
In another text she said: "He is cash-poor right now. And now Ukraine is late in paying him."
No evidence has been presented that Mr Manafort was responsible for deaths and Andrea Manafort has refused to comment on the texts. Ms Zakrevska, however, wants Mr Manafort "to clarify the allegations contained in the text messages and to contact us with any information you may have about events that occurred in central Kiev between 18 and 20 February 2014".
Mr Artemenko, according to a New York Times report "emerged from the opposition" organised against President Poroshenko by Mr Manafort and was instigated in putting together the "peace deal" by figures close to Vladimir Putin. This is denied by the MP who complains that "anyone who has a personal opinion in Ukraine is automatically named a Russian spy. I don't have such connections with Russia, that is the reason why I tried to involve the Trump administration on this issue and not the Kremlin."
Mr Artemenko had spent two and half years in jail in Kiev in the early 2000s for alleged embezzlement. The charges were, he said, politically motivated and later dropped. Depriving him of his citizenship now, he maintains, is an act of vindictiveness by President Poroshenko.
Donald Trump and Theresa May trade good wishes at the UN
But the man Mr Artemenko chose to help him get his plan to the Trump administration boasts of the sheer extent of his Russian connections. Felix Sater, born Felix Sheferovsky in Russia, whose family emigrated to the US when he was six, had declared that he could get the Kremlin's backing to make Mr Trump the US President.
"Our boy can become President of the USA and we can engineer it ... I will get Putin on this programme and we will get Trump elected," he emailed Mr Cohen, a lifelong friend. Another excited email to Mr Trump's lawyer said "Can you believe two guys from Brooklyn are going to elect a President?"
Mr Sater's connections were enough to ensure that Ivanka Trump got to seat on Putin's chair at the Presidential office in the Kremlin. He had chaperoned her and Donald Jr on a trip to Moscow at the request of Mr Trump. Ivanka recalls the trip included "a brief tour of Red Square and the Kremlin" and this may have involved sitting at President Putin's desk.
Trump's attacks draw stern stares in the UN General Assembly
Mr Sater was jailed in 1991 for slashing a man with a broken cocktail glass (a margarita) and he was also convicted for involvement in an investment scam in which Russian and American organised crime groups targeted the elderly, some of whom were Holocaust survivors. On that occasion he avoided a potential sentence of 20 years, paying a £25,000 fine instead. He also became a federal informer. According to prosecution documents he supplied highly valuable material on al-Qaeda, Russian organised crime, the American mafia and foreign governments.
Mr Artemenko, Mr Sater and Mr Cohen met at a Manhattan restaurant earlier this year where, according to Mr Artemenko and Mr Sater, the Ukraine plan was discussed at length and Mr Cohen offered to take it to Michael Flynn. The New York Times reported that he subsequently delivered it personally, in a sealed envelope, to the President's National Security Adviser. Mr Cohen later denied this account. The newspaper stands by its story, saying that he had acknowledged what he had done to its journalists.
Mr Flynn was forced to resign soon afterwards. Investigators now have obtained a copy of the Artemenko plan. Prosecution lawyers are said to be considering whether it constituted a covert attempt by a foreign power to influence US policy.
Mr Artemenko feels he has been caught in the crossfire between Mr Trump and "the liberal media". He will continue with his "Roadmap for Peace", he says, and strive to regain Ukrainian nationality – his birth right. A source close to him refused to say whether or not he has agreed to meet Robert Mueller's investigators.
Register for free to continue reading
Registration is a free and easy way to support our truly independent journalism
By registering, you will also enjoy limited access to Premium articles, exclusive newsletters, commenting, and virtual events with our leading journalists
Already have an account? sign in
Join our new commenting forum
Join thought-provoking conversations, follow other Independent readers and see their replies