Many families are still struggling with in-work poverty – but the majority of companies still refuse to pay the real living wage
There are still 5.5 million jobs across the UK that are paying less than the real living wage; that's one in five workers struggling with a life on low pay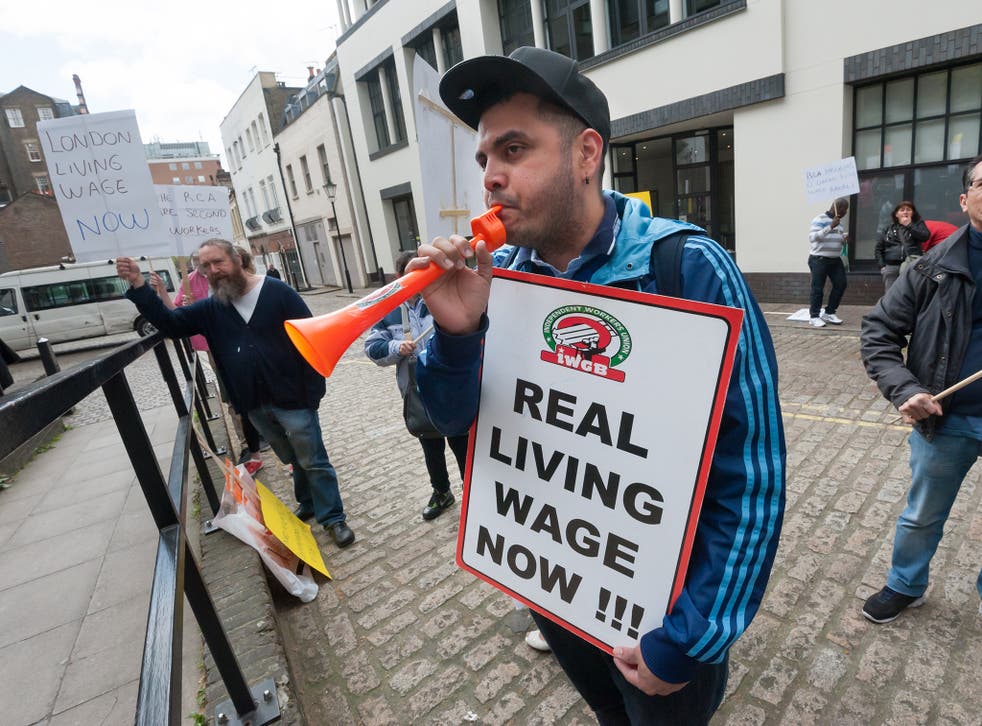 At least 150,000 people received a pay rise yesterday as rates for the real living wage, a voluntary scheme undertaken by an increasing number of UK employers, rose to £8.75 in the majority of the UK, and £10.20 in London. This is up by 30p an hour across the country and 45p an hour in the capital.
Unlike the minimum wage, the living wage rates are independently calculated each year based on the real cost of living in the UK and London. They consider what's needed for a basic but decent standard of living and that's why they're higher than the minimum wage, currently £7.50 per hour for people aged 25 and over.
In-work poverty is today's story. New research from KPMG has shown the grim reality that there are still 5.5 million jobs across the UK that are paying less than the real living wage; that's one in five workers struggling with a life on low pay. More than two thirds of children in poverty have at least one parent that is in work.
John McDonnell promises living wage under next Labour government
With rising inflation and stagnant wages, it is the lowest paid workers who are really feeling the squeeze. This can mean skipping meals, finding it difficult to pay bills and working multiple jobs just to make ends meet with no time for family or friends. The need for a real living wage is more pressing than ever.
Today's pay rise will provide welcome relief for thousands of employees and that's thanks to the 3,600 living wage employers across the UK who have made a public commitment to fair pay and voluntarily chosen to go further than the legal minimum and pay a wage that meets the cost of living. Crucially this includes onsite contractors like cleaners, caterers and security guards who are often the hidden face of low pay.
And the living wage movement is booming – over a thousand new employers have signed up with the Living Wage Foundation this year. Heathrow Airport is the latest big employer, and is now the first living wage airport, providing a pay rise for 3,200 workers.
Living wage employers now include over a third of the FTSE 100 – huge household names IKEA, Aviva, Nationwide, Chelsea and Everton Football Clubs and Google – as well as thousands of small businesses. Thanks to the leadership of campaigners and employers, over the last 15 years the living wage movement has put £613m back into the pockets of low paid workers.
Living wage employers set an example for others to follow – with millions of workers still struggling with a life on low pay, we urge other businesses to sign up.
Great businesses know that, even during these tough times, not only is fair pay the right thing to do, but the living wage also brings real business benefits.
In a survey from Cardiff Business School published earlier this year, nine out of ten accredited living wage employers reported real benefits including improved retention and reduced absenteeism, enhanced reputation, improved recruitment and increased staff morale and motivation.
This proves that fairly rewarding your workforce and ensuring that everyone can live with dignity and respect is good for employees and their families, good for society and good for business.
The living wage campaign began among cleaners in East London over 15 years ago. Today, let's continue to fight for their simple idea that for a fair day's work you should be able to earn a wage that you can live on.
Katherine Chapman is director of the Living Wage Foundation
Join our new commenting forum
Join thought-provoking conversations, follow other Independent readers and see their replies