There's no getting around the fact that, come the big day, Christmas puddings are as divisive a choice as whether or not to watch the Queen's speech. It's tradition, but it's not for everyone. 
So thankfully, whether you're a traditionalist looking for the perfect fruity pudding, or an eager-to-please host seeking a show stopper for your guests, this year's haul of Christmas puddings has something for everyone. 
Rich and indulgent, a classic Christmas pudding should have the right balance of juicy fruit, warming booze and an appealing mix of sweetness and spice. 
And though there are of course plenty of traditional Christmas puddings on the market, retailers have got wise to the fact that adding a twist, or additional flavours can help lure defectors to the table. This year, metallic finishes, hidden centres, fruit sauces and extravagant garnishes abound.
Having tasted our way through an ungodly number of puds, here's our run down of this year's best. 
1. Lidl Snowy Lodge Luxury Cherry & Pecan Topped Christmas Pudding with Glacé Orange Slices, 907g: £7.99, Lidl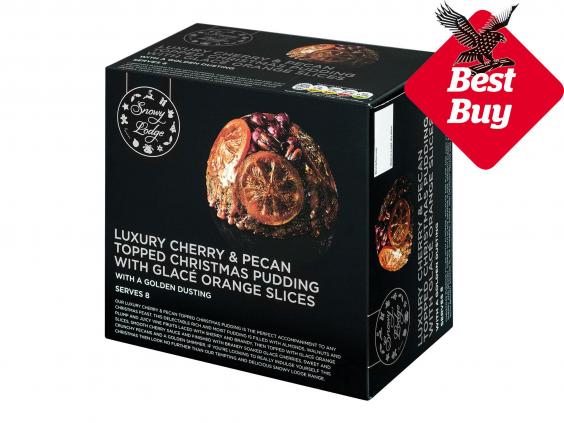 Sticky, indulgent and absolutely packed with fruit, this decadent little pud pleased even those who claimed not to like Christmas pudding, while still feeling very traditional. The crunch and sweetness of the pecans served as a welcome contrast to the tart cherries, while the sherry and brandy-laced pudding itself had a luxurious, warming texture. A light golden dusting further added to the feeling of luxury. 
2. Marks and Spencer The Collection Belgian Chocolate & Orange Star Christmas Pudding, 907g: £12, Marks and Spencer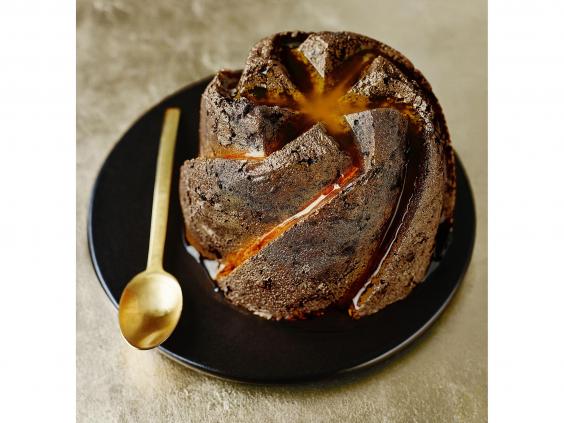 If you're catering for some – whisper it – non-pudding lovers alongside traditional Christmas pudding fans then this fancy-looking specimen may be the perfect compromise. Though the base recipe is pretty traditional, combining juicy vine fruits with zesty orange peel, the subtle addition of silky Belgian chocolate throughout, and a zingy orange clementine sauce will please those who find regular Christmas pudding a little too intense. With a gold dusting and distinctive star shape, it scores high in the looks department too.  
3. Heston from Waitrose Persian Spiced Christmas Pudding, 800g: £14, Waitrose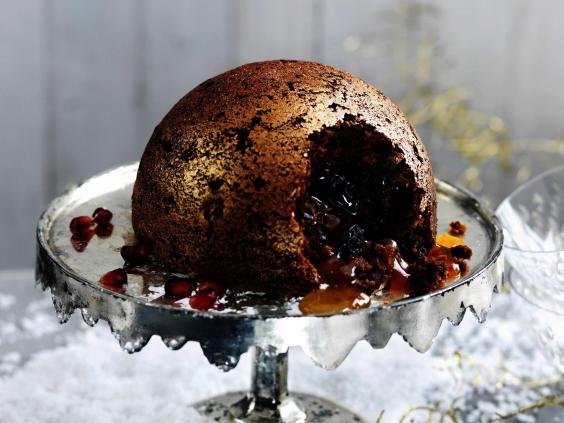 This boozy brute smells like Christmas on a plate. From the off, this pudding impressed with its inviting aroma and oddly satisfying, pert, rounded shape. In fact, the only decoration and hint that this pud is up to something naughty is its dense golden dusting. However, inside you'll find a combination of apricots, pomegranate liqueur, pistachios, caramelised orange and middle eastern spices. Make sure you cut through to the centre to reveal a gooey honey and rose butter centre.  
4. Taste the Difference, Cognac Laced 18 Month Matured Christmas Pudding, 450g: £6, Sainsbury's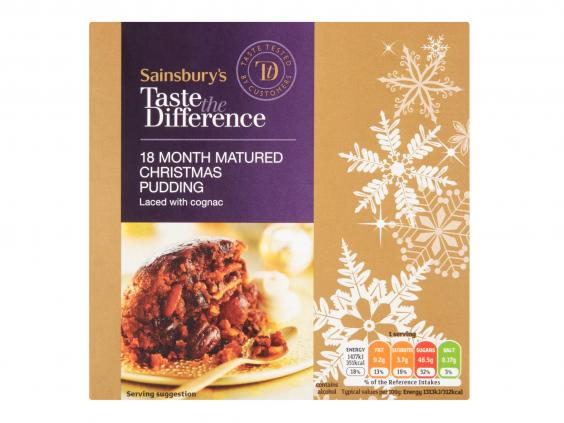 No golden dusting or sauces needed here. This long-aged pudding has been soaking in a no-nonsense, knock-your-socks-off blend of cider, cognac, sherry, brandy and rum for 18 long months, meaning by the time it arrives on your table, it's ready to party. But that's not to say that intimidating combination is too overpowering. Instead this silky smooth pudding has a comforting heat alongside generous quantities of nuts and mixed fruit. It's as classic as a pudding can be, and certainly one for the grown-ups. This one will serve four, so you might need two if you have a Christmas crowd. 
5. Harrods Marron Glacé Christmas Pudding, 650g: £34.95, Harrods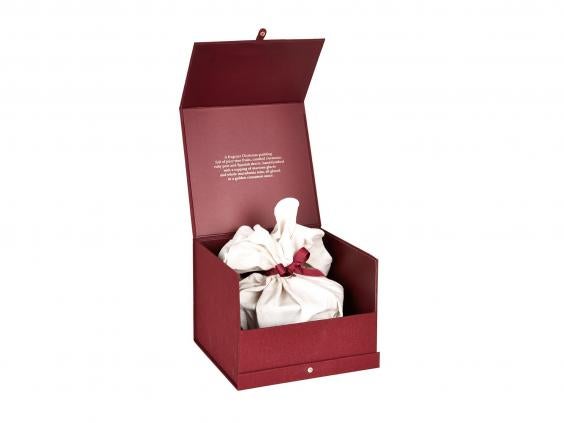 If you're going to blow the budget, you should probably do it with a pudding that comes in its own rather glorious but totally over-the-top presentation case. Happily the beauty of this not-so-little treat runs deeper than just appearances. While the very juicy pudding itself was positively busting with ruby port and Spanish sherry, it was still somehow perfectly balanced with an appealing topping of marrons glacés, candied chestnuts, macadamia nuts and a golden cinnamon sauce. You certainly get what you pay for with this one. 
6. Morrisons The Best Port & Orange Christmas Pudding, 800g: £7, Morrisons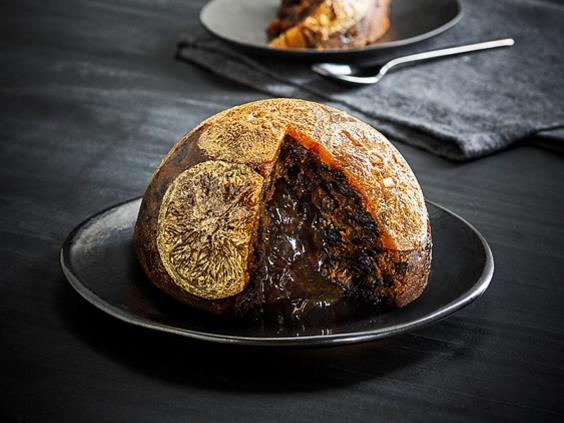 Orange is certainly 'a thing' when it comes to this year's Christmas puddings. And following the more-is-more school of thought, this Morrisons pudding packs the flavour in with orange segments, as well as a hidden port and orange sauce centre. A little goes a long way, though citrus fans will love it. 
7. Snowy Lodge Luxury Silver Topped Christmas Pudding, 907g: £8, Lidl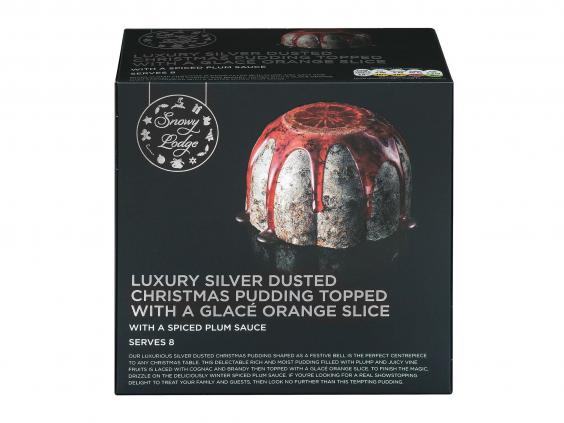 If you want to set your pudding alight, or you're a die-hard custard fan, then perhaps this sparkly, silver-finished pud isn't for you. Though its sweet, sugar plum pouring sauce sure isn't fire friendly, it certainly gives this pudding a rich, tangy fruitiness that sets it apart the others. 
8. Selfridges Selection Vintage Christmas Pudding, 800g: £22.99, Selfridges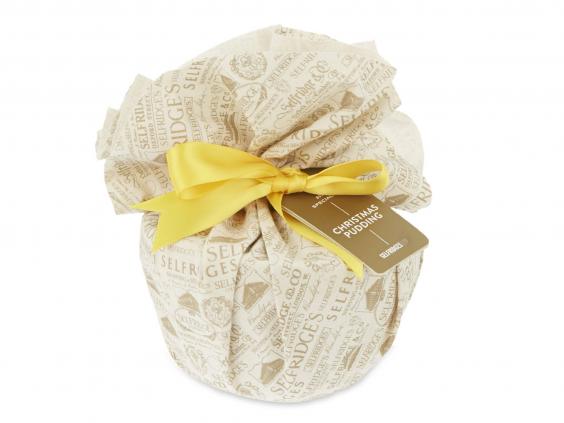 The choice of booze used in this pud makes it a little different. In fact, the lashings of dark rum and stout, combined with a sponge made with ground almonds, apples and a flurry of spices lends this pud quite a distinctive sophistication. Our only criticism? We found this pudding a little dry, though that's nothing a generous dollop of custard couldn't fix. 
9. Marks and Spencer The Collection Intensely Fruity Christmas Pudding: £12, Marks and Spencer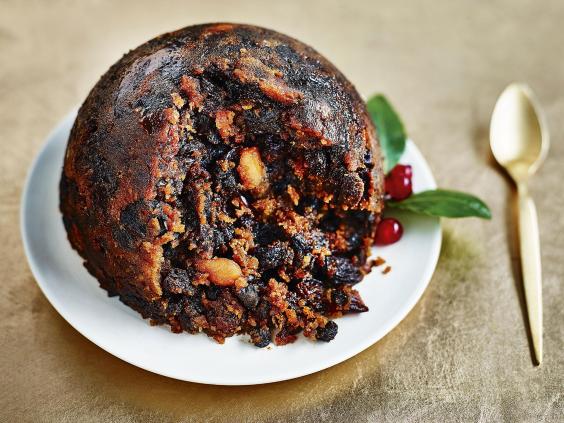 Juicy and packed with vine fruits, nuts and brandy-soaked cherries, this is as traditional as it gets. But what really impressed us about this pudding – alongside its silky-smooth texture – was that it managed to get the balance between fruit and booze spot-on. Though laced with brandy, cognac, port and stout, this pudding never felt overpowering. One for those who appreciate a classic. 
10. Cole's Black Forest Christmas Pudding, 454g: £6.99, Red Moped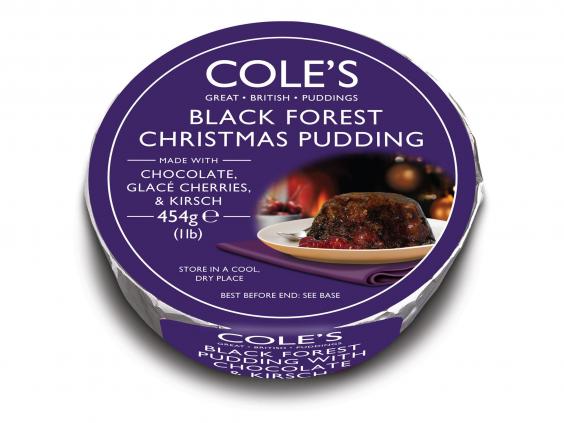 Here's another pud for those who want to mix things up a little, from going down a purely traditional route. This pudding from Cole's is laced with generous amounts of silky chocolate, glacé cherries, and kirsch, but unlike other "novelty" puds on the market, these ingredients are scattered throughout the pudding itself rather than resting on top, leaving you free to pour the brandy butter, custard or set it alight. Whatever floats your boat. And aside from the obvious additions, the pud itself still tastes pretty traditional. Everyone's happy. Though with the pudding a little on the small side, you may want two if you're catering for six or more.
11. Co-operative Food Irresistible Richly Fruited Christmas Pudding: £1.50, 100g/ £5.00, 454g, Co-operative Food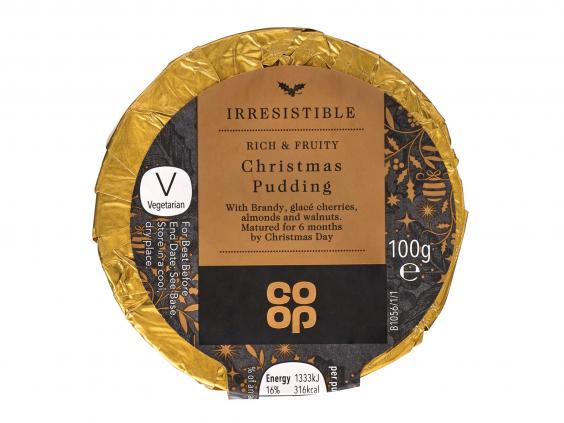 Crunchy, zesty, rich and as a cute as a button, these mini puds are perfect for lone pudding lovers, or those that need some strict portion control. Matured for six months in brandy, these puds may be small but they still pack a punch. And though a bigger 454g version is also available, for the convenience, and reasonable price, we think these minis are a winner.
12. Aldi Exquisite Vintage Christmas Pudding, 907g: £9.99, Aldi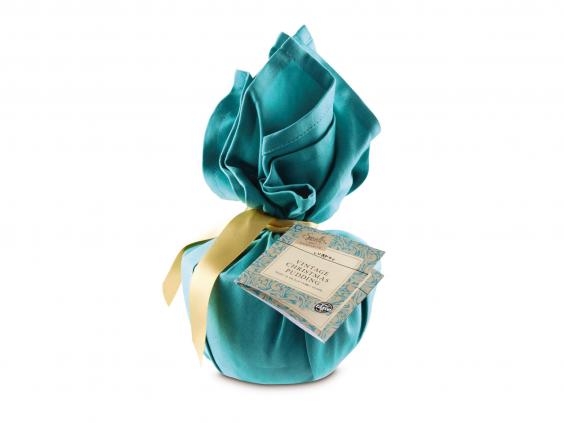 Top marks to Aldi all-round for this gorgeous little treat, which comes from an old family recipe from luxury pudding maker, Berries. Firstly, it looks great, from its beautiful wrapping through to the glossy, fruit-topped pudding itself. And secondly, it tastes divine. Butter-based, and stuffed with Californian raisins, Turkish sultanas, Vostizza currants, all soaked in sherry and cognac, it's juicy and warming, the way a good pudding should be.
13. Wilkin & Sons Ltd Christmas Pudding, 454g: £9.99, Red Moped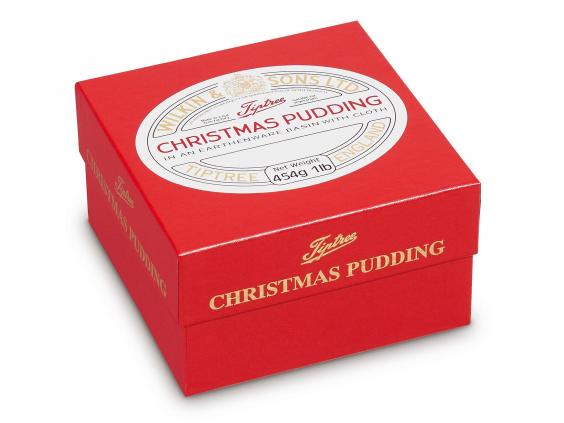 Boxed, and packaged in an earthenware basin, famed jam makers Wilkin's knows how to make a good first impression with this traditional pudding. And fans of its preserves will be happy to know this pudding contains a generous amount of Wilkin's thick cut 'Tawny' Orange Marmalade. That means this pudding is super juicy, with a melt-in-the-mouth richness. One thing to note is that these puddings are recommended steamed, so factor that in when allowing time to prepare. 
The Verdict: Christmas puddings 
Representing incredible value for money, Lidl's Snowy Lodge Luxury Cherry & Pecan Topped Christmas Pudding, came out on top for both its handsome looks, as well as its superior taste. 
IndyBest product reviews are unbiased, independent advice you can trust. On some occasions, we earn revenue if you click the links and buy the products, but we never allow this to bias our coverage. The reviews are compiled through a mix of expert opinion and real-world testing