Balsamic vinegar can sell for as much as a couple of hundred quid an ounce (none of those here, thankfully) or as little as Aldi's Solesta at 99p for 500ml. The original balsamic vinegars are the best and still today are only made in Reggio Emilia and Modena, Italy, using traditional methods, with the entire production process overseen by a special certification agency. The result is glossy and syrupy, with a velvety texture and a rich, complex taste. You can spot them by their "Denominazione di Origine Protetta" – or DOP – stamp.
"Condimento" balsamic vinegars are the ones that haven't met the DOP standards for maturity or have been made outside of Modena and Reggio Emilia. Nevertheless, they are still made with the same traditional method and are usually much cheaper and better value for money. Then there are the balsamics with "Indicazione Geografica Protetta" (IGP) stamps, which guarantee that they're made from grape varieties commonly found in Modena – though the grapes can be grown anywhere – and are processed there. These are hugely variable, but are generally sweeter and work well in salads and sauces.
Not sure which type to opt for? Consider your budget, how often you'll use it and what you'll use it for.
1. Selection Artisan: £24.99, selfridges.com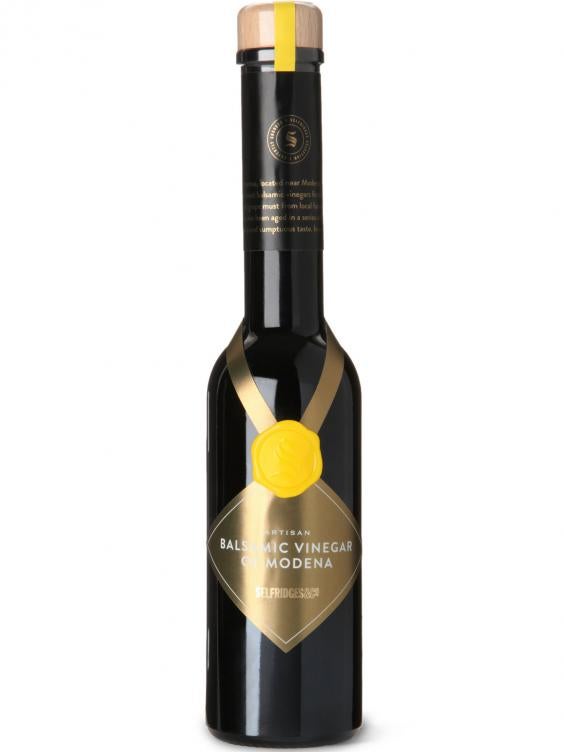 Thicker than many and more luxurious, too, this is especially good drizzled over salads or as a vegetable marinade. It is made using traditional methods by the family firm of La Vecchia Dispensa in a village in the foothills of the Appenines, not far from Modena.
2. Solesta: 99p, aldi.co.uk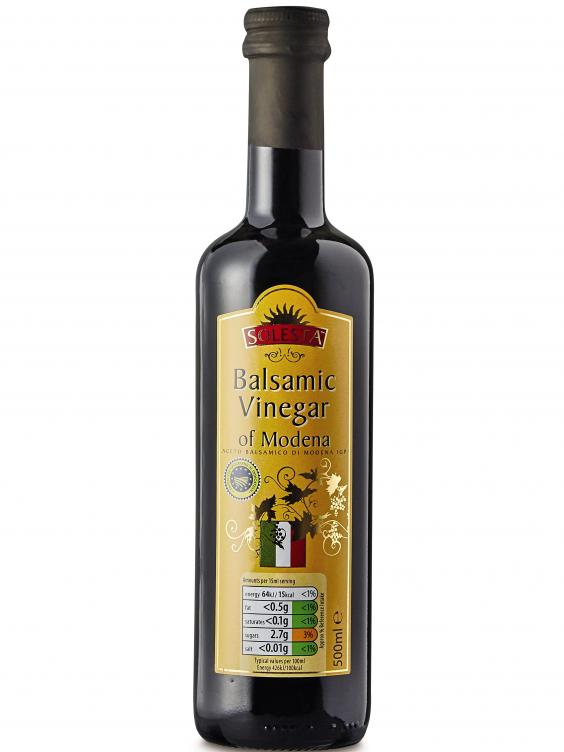 This richly coloured vinegar won gold at the Grocer Own Label awards earlier this summer, yet it costs less than a quid. It smells gorgeous and has a tangy, fruity flavour. The consistency is thin, which makes it better for bread dipping than for salad dressings.
3. Finest Balsamic Vinegar of Modena: £6, tesco.com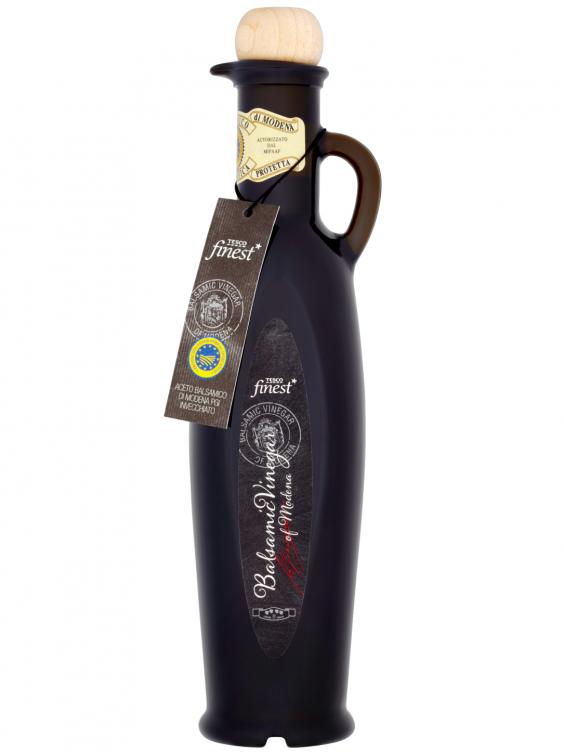 Made from the juice of crushed Emilia Romagna grapes, which is aged in small oak barrels, this well-balanced, intense vinegar hails from a 250-year-old family business. It goes a treat on salads, as well as in sauces.
4. Balsamic Vinegar from Modena Light: £7.75, carluccios.com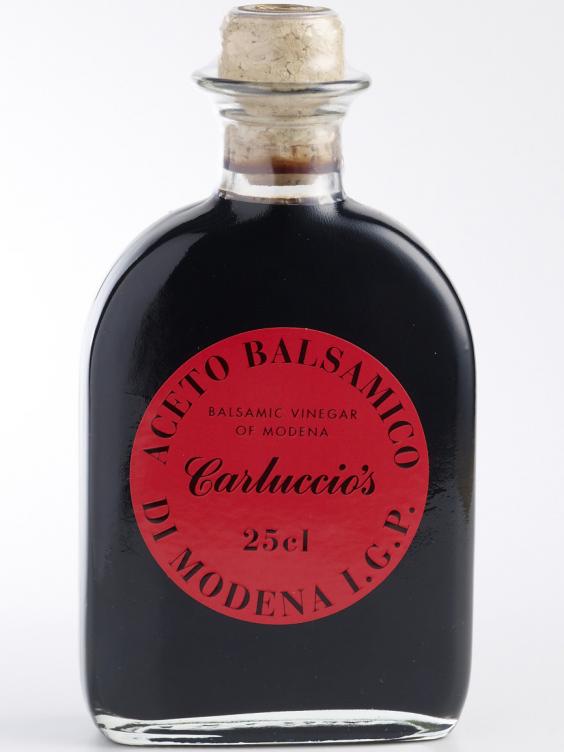 Carluccio's sells three great balsamics - aged, thick and this thinner one - all made in Emilia Romagna, with local, top-notch ingredients. The light version is a quality everyday choice that's perfect in marinades, vinaigrettes and sauces; we found that it transformed dishes in way that others didn't.
5. Due Vittorie Balsamic Vinegar 12 Year Old Tradizionale: £49.99, ocado.com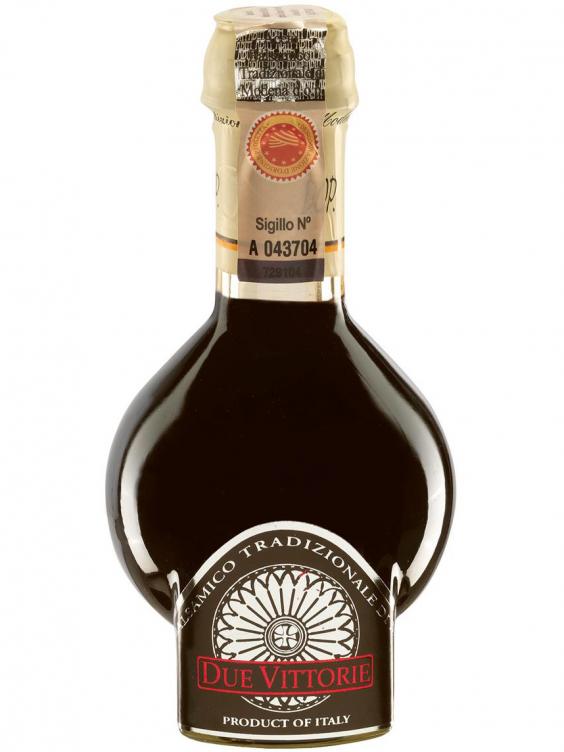 You'll have to be a serious foodie to fork out this much for a mere 100ml, but it's a huge treat for enthusiasts or for special occasions. Aged for over 12 years in small barrels made of different woods according to traditional methods, it's so thick and luxurious it's almost glaze-like.
6. Taste the Difference Balsamic Vinegar of Modena: £6, sainsburys.co.uk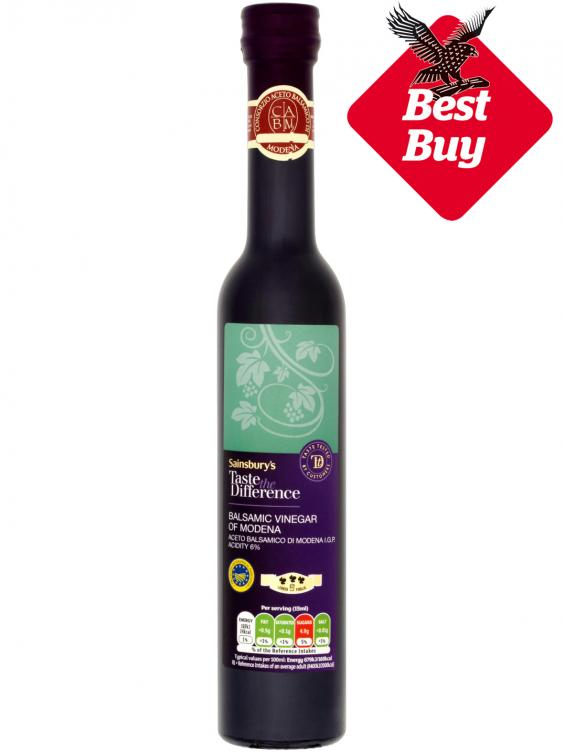 We liked this one drizzled over meat and fish, and it's great for giving gravies and sauces a bit of oomph, too. It's treacle-like and luxurious, with deep, complex flavours, and fantastically aromatic. In a blind test, we expected it to be twice the price.
7. Leonardi Speciale 8 Year: £15.95, harrods.com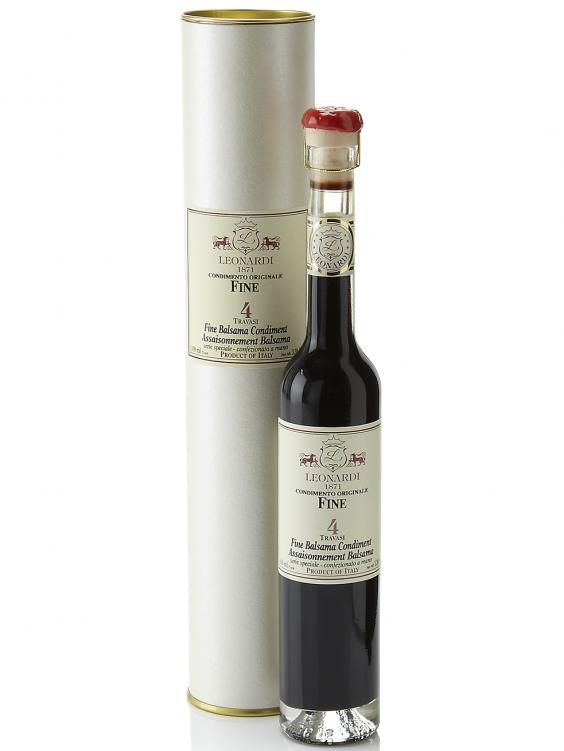 This one, which is exclusive to Harrods, is made by a company that has been producing balsamic vinegars since 1871. Aged for eight years, using meticulous and traditional hand production and ageing methods, it is intense and rich and makes a great partner to breads, cheese, meats, salads -  and even fruits and vanilla ice cream. We love the packaging, too.
8. Organic Balsamic Vinegar of Modena: £2.70, waitrose.com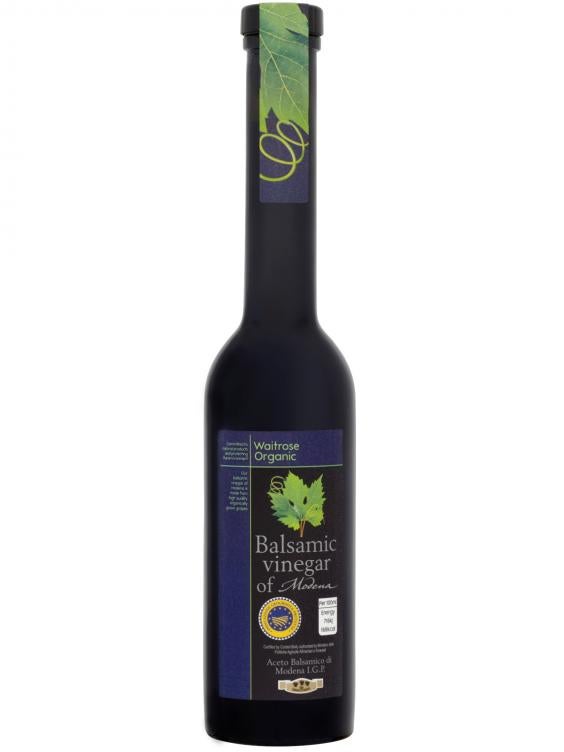 Great for cooking with, this is a fabulous daily staple to keep on the worktop. Made with no added colouring or sugar, it's one of the least sweet of our round-up and is lovely splashed in stews, sauces and salads or just mopped up with some ciabatta.
9. Balsamic Vinegar: £1.49, morrisons.com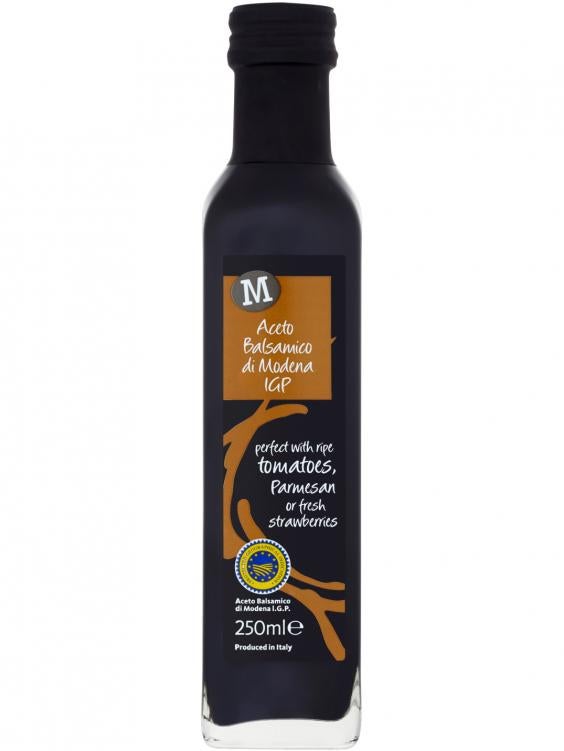 Another bargain, this one is matured in oak and chestnut barrels in Modena to give it a smooth, rich flavour. It's well-balanced, particularly for the price, with sweet and sour notes, and a nice one to drizzle over a salad with olive oil or to add to sauces for a richer flavour.
10. Gold Label: £25, fortnumandmason.com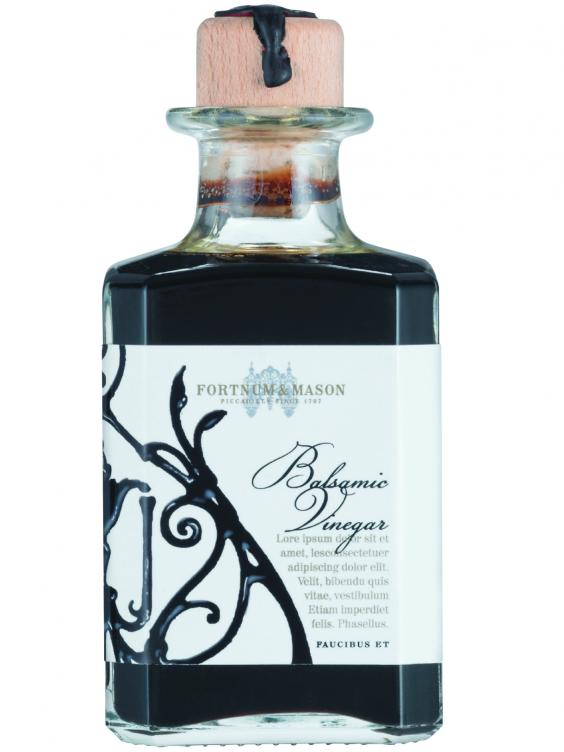 This decadent and versatile vinegar makes the best salad dressing ever and is excellent over strawberries and basil for pudding. It's made by a 100-year-old, small-scale family business in Castelvetro di Modena, Italy, which uses locally sourced ingredients, as well as local wood for the barrels.
Verdict:
Aldi's Solesta is a steal for under a quid; an award-winning, aromatic and tangy offering, it makes a great partner to delicious bread. For something more traditional, we think Due Vittorie Balsamic Vinegar 12 Year Old Tradizionale is absolutely delicious, while Sainsbury's Taste the Difference offering tastes like it should be twice the price.
IndyBest product reviews are unbiased, independent advice you can trust. On some occasions, we earn revenue if you click the links and buy the products, but we never allow this to bias our coverage. The reviews are compiled through a mix of expert opinion and real-world testing
Reuse content