A good ambient bedside light can help you relax and get your eyes adjusted for night time. If you like to read in bed, an adjustable option could work for you – the best ones operate smoothly and can be positioned as you like. If suiting your bedroom scheme is more of a concern, our list includes a variety of types and styles. Check whether any required fittings are included, and whether the type of bulb needed is easily available. 
1. Urbanara Avintes Lamp: £35, Urbanara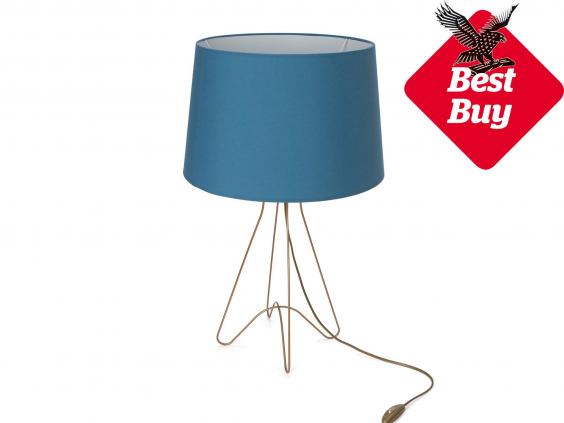 The Avintes lamp is a well-priced but stylish beside option that combines a coloured shade with a wrought iron base. Made by a small Portuguese manufacturer, there's impressive material quality here. The shade is 100 per cent cotton and antistatic so it won't collect dust. It takes a 40W E27 lightbulb, which isn't included. There are charcoal grey and green versions of the shade too. 
2. Zara Lotus Flower Lamp: £89.99, Zara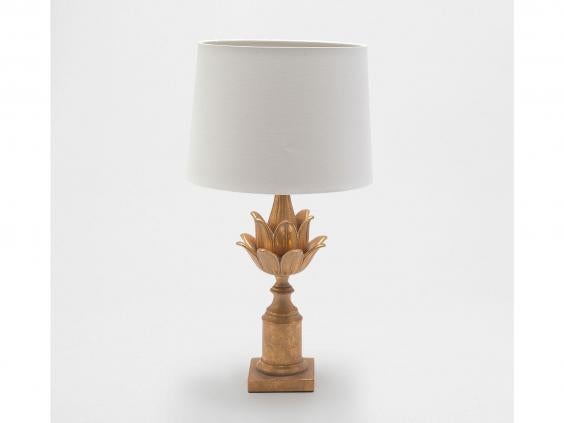 Zara's eastern-inspired bedside light has an antique gold finish and comes with a cotton shade. The unusual lamp brings a bit of vintage luxury to the bedroom, but is well equipped for the modern day. It takes a 60W bulb and has a transparent cord with in-line switch. It's dainty enough for a small bedside table, but would work on a small desk or dressing table too.
3. Living by Christiane Lemieux Flo Light: £45, House of Fraser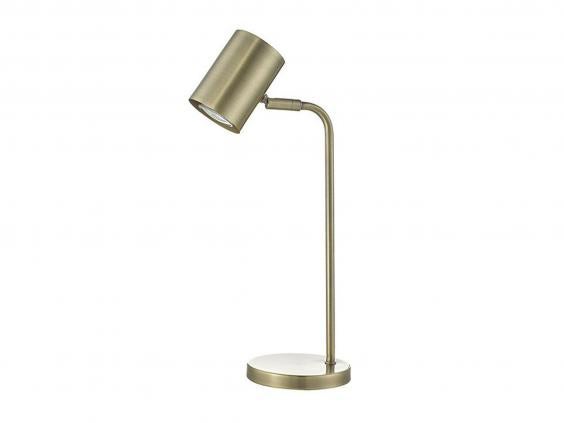 This is a small and simple lamp that's great for those who like to read in bed. Flo has a brass outer body and an angled head that directs light onto a small space for focus. The price is reasonable too – great if you are buying a matching pair. The table lamp is 41cm tall, and there's a floor lamp version too. 
4. Habitat Lyss Table Lamp: £16, Habitat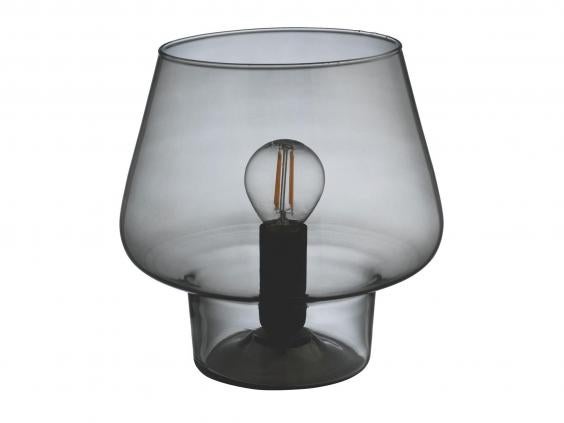 This budget retro-style smoked glass lamp is made to show off the bulb, so make sure you choose a good one. Habitat suggests an E14 halogen mini-globe bulb (£2.99) designed to give an ambient glow, rather than directional light. At 19cm high, the Lyss table lamp is on the petite side, but should come in handy for small bedrooms. It comes in an opaque white version too. 
5. Pooky Nellie Table Lamp: £90, Pooky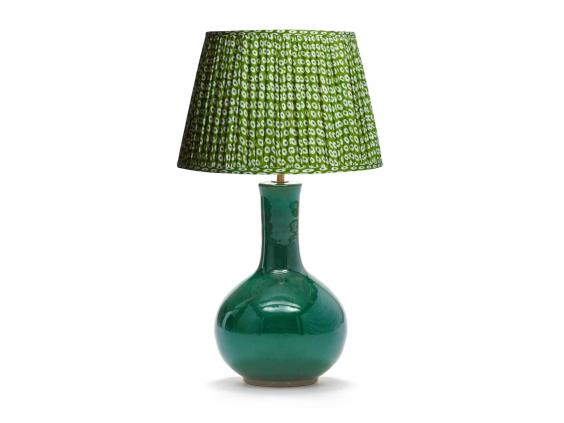 Pooky's Nellie lamp is made of ceramic with a coloured glaze, which comes in emerald green, red or blue. There's a choice of pleated cotton lampshades to go with the base, which range from £42-70. All are in a contrasting style that makes for a very unusual lamp. It fits a B22 bayonet bulb and comes with a three-cord braided flex. 
6. The White Company Mini Mercury Bottle Lamp: £95, The White Company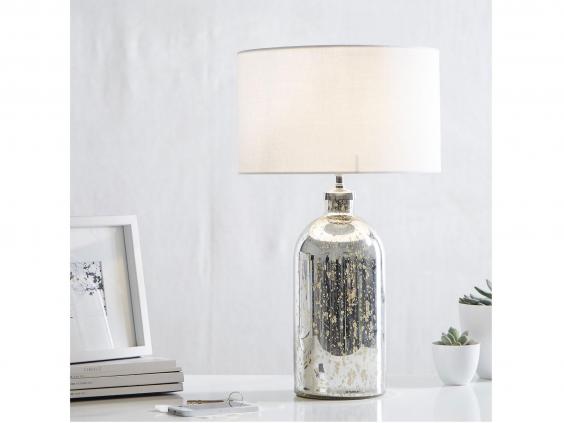 The White Company's luxury lamp has a white linen shade and a mouth-blown glass base, designed to look like an antique bottle. The silver finish is the standout feature, and there are other pieces in the bedroom range to match. It takes a 60W bulb (not included), giving a good level of illumination for the bedside, or living room table too. 
7. Loaf Moonshot Lamp: £145, Loaf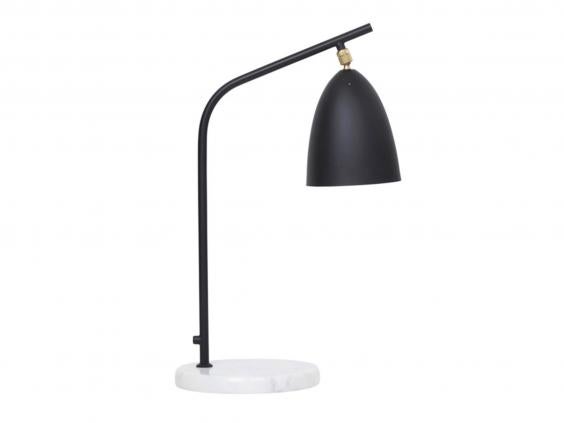 A quality matte-black finish gives the simple silhouette of this lamp its wow factor. It has a contrasting base of solid white marble. The head is adjustable with a smooth ball and socket joint, making it a cinch to move around to your required position. There's a smart braided black cable with an inline switch. Loaf recommends an E27 bulb, which is not included. 
8. Conran Monty Table Lamp: £60, Marks & Spencer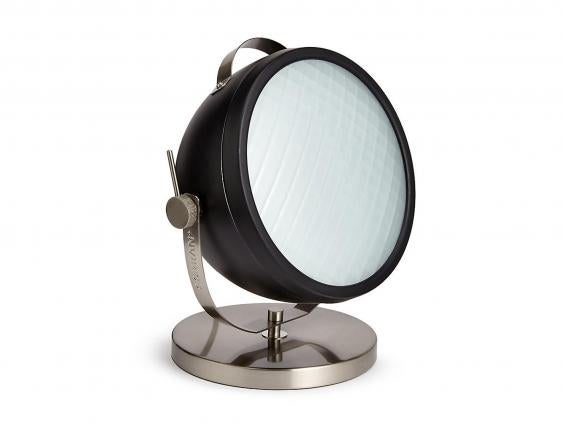 This product's moveable headlamp is really meant for a home office, but at 30cm high, it's small enough to make a great addition to the bedside table too. Moving the handle on top of the lamp makes it swivel, allowing you to control the lighting atmosphere in your bedroom. The glass is patterned, meaning light is refracted to give a glow rather than a bright glare. 
9. Wrong.London Turn On Lamp: £99, Really Well Made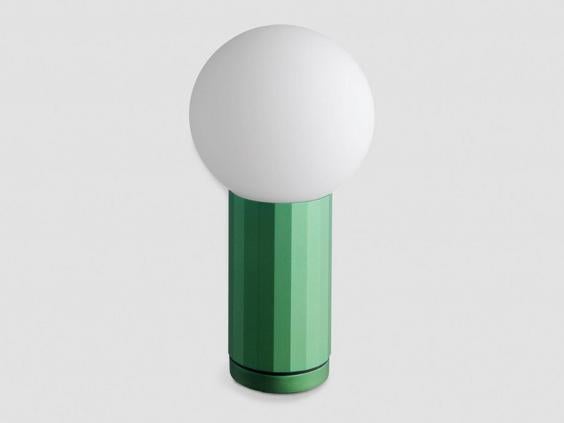 This is a compact modern bedside lamp made of and aluminium and opal glass. Turning the faceted base acts a dimmer switch, the more you turn the brighter the lamp gets. There's a choice of four anodised finishes in black, green, orange and natural aluminium. The lamp is fitted with a long-lasting LED bulb, and has a 3m cable.
Verdict
Urbanara's reasonably-priced Avintes lamp matches a traditional fabric shade with a sturdy wrought iron base. It's functional too – the antistatic cotton won't attract dust. For something more unusual, the Turn On lamp is simple and striking in a range of colours.
Reuse content