As summer fades and thoughts return to school and work, it could be time to give the desk at home an upgrade. Whether you are after something compact for the kids' bedroom, or have something grander in mind for the home office, our 10 best gives some timely inspiration. 
Wood surfaces are warm to work on, but care is required to keep them scratch-free and looking pristine. Metal and glass are cooler, but less comfortable alternatives. 
If lack of storage is a problem in your home, look for desks that have drawers or shelves built-in, or come with the option of adding matching cabinets to grow with your needs.
1. House Doctor Metal Desk: £280, Smallable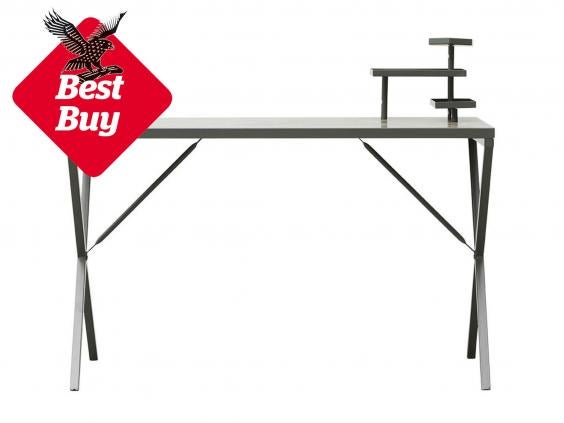 This powder-coated metal desk by Danish brand House Doctor comes complete with a stack of geometric storage trays for tidying away smaller items. It has a slim profile of bent metal elements and has a decent-sized desktop measuring 120cm x 60cm. The desk looks most dramatic in black, but there's also a khaki option for a warmer feel.
2. John Lewis Hamilton Simple Desk: £150, John Lewis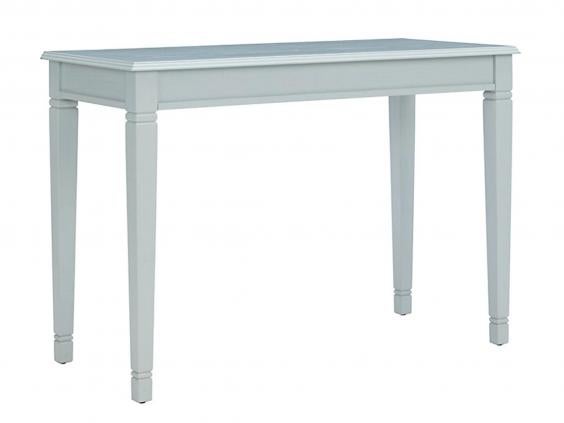 The price of John Lewis's Hamilton desk reflects its simple nature – there's no inbuilt storage or overly fancy details here. But in solid ash and with hints of traditional joinery, it still cuts an elegant figure. The desk is compact, measuring 110cm x 50cm, and perfect for turning a spare nook or space under the stairs into a cosy study. It comes painted in a light duck-egg blue. 
3. Urban Outfitters Ryerson Desk: £400, Urban Outfitters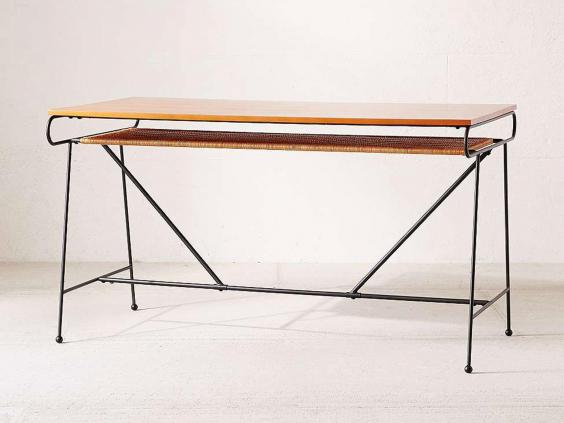 Ryerson is a generously sized desk with a 1970s vibe that would make a stunning centrepiece for a study. A thin black metal frame supports a wood top that measures 141.5cm x 72.5cm – meaning there's plenty of space for your laptop, books and papers. A large rattan shelf underneath helps keep things tidy and adds an unusual touch. There's a matching chair (£250), too. 
4. Harto Hyppolite Desk: £604, Mintroom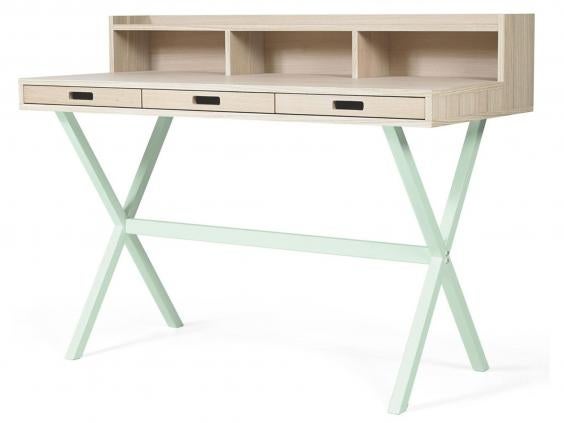 This chic workstation from French brand Harto packs in a lot of storage. It has the feel of an antique writing desk, with three drawers built into the desktop, and three compartments above for storage. A long thin shelf along the top makes a good space for ornaments. The legs come finished in a choice of seven bright colours, and the top measures 120cm x 55cm.
5. Habitat Albion Drawer Oak Desk: £350, Habitat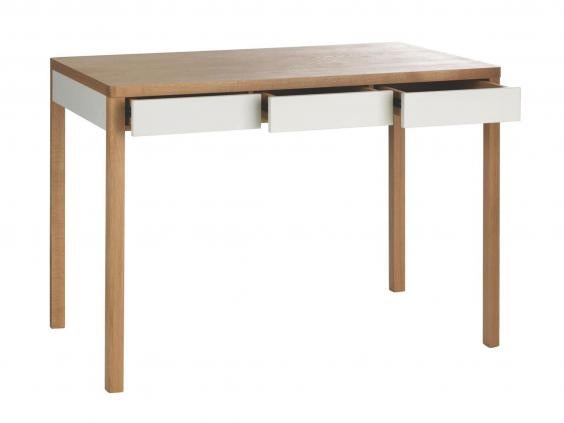 Habitat's solid-looking Albion table is made in lacquered oak and oak veneer, with three contrasting white drawers. It looks good alone as a compact desk (measuring 113cm x 66cm) but can also be part of a larger home office set-up with other parts of the Albion range, which includes a number of colourful cabinets and wall shelves. 
6. Swoon Editions Brody Desk: £279, Swoon Editions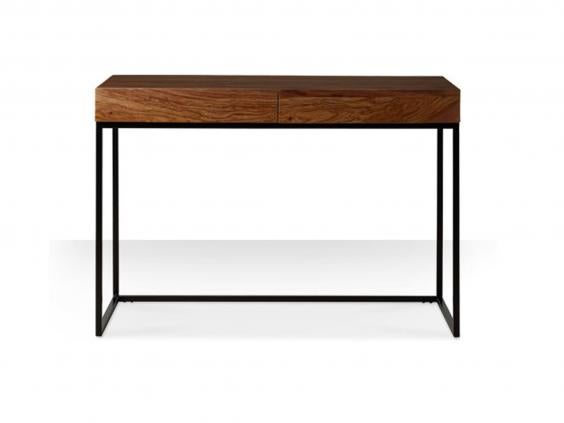 Made in India, the Brody desk combines a luxurious rosewood top with a black powder-coated iron frame. Its simple rectangular style lets the materials do the talking – the two drawers open subtly from underneath, without the need for handles. Its small dimensions, 110cm x 50cm, mean it has potential to make a smart hallway table or console too. 
7. Blu Dot Stash Desk: £395, Heals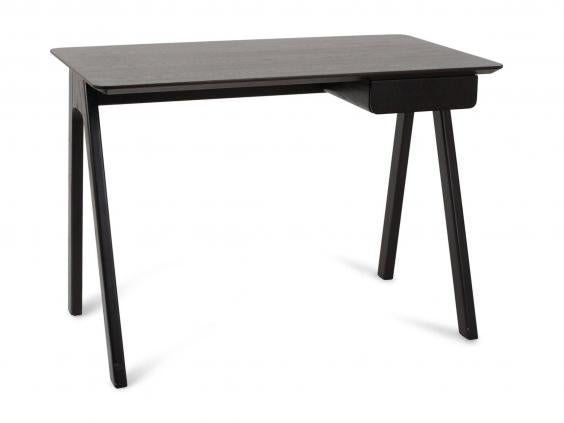 The Stash desk is modern and minimal in style, but curved edges give it a friendly look. The top is stained ash, a great durable surface to work on, and the legs are painted. There are two colour options, natural ash with white legs or graphite stained ash top with graphite painted legs. There's one slim drawer under the top that can be fixed either on the left or right to suit.
8. Perky Yellow Formica Desk: £295, Winter's Moon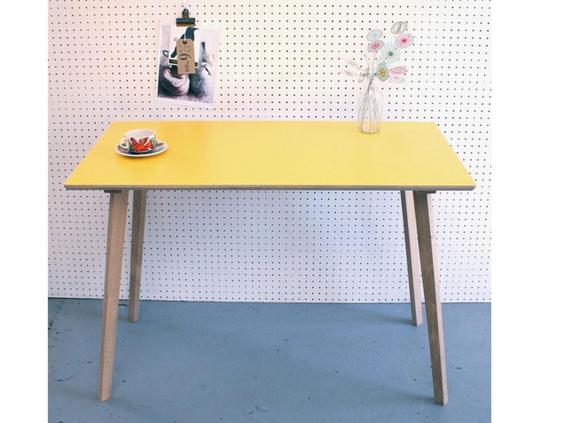 Formica, as you probably remember from school dinner tables and retro kitchen worktops, makes a great resistant surface. This desk gives the material a modern twist, combining it with a birch plywood top and solid European oak legs. As well as bright yellow, the top comes in grey and teal. At just 108cm x 59cm, it's one of the smallest on our list. 
9. Loaf Scratch Desk: £440, Loaf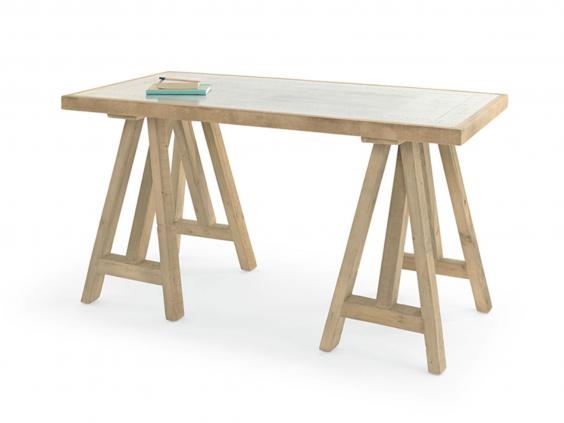 Unlike wooden desks, which can be ruined by scratching and stains, this desk is designed to look better through everyday wear. A galvanised zinc top is framed by sturdy fir wood – small brass nails give it a vintage look. There's a choice of two trestle legs – "can-can", which fits the desk square giving more legroom – and angled "pins" for a more traditional look. It measures 140cm x 70cm.
10. Maisons Du Monde Helsinki Desk: £399.90, Maisons Du Monde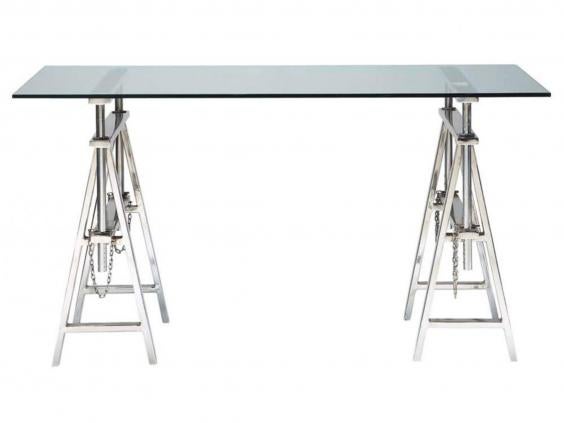 The Helsinki desk has a 12mm thick tempered glass top, making it a strong but elegantly slim surface for working on. The top rests on two chrome-plated "sawhorse" legs that are adjustable up to 80cm in height. With industrial materials and a long 150cm width, this desk is suited to serious business and would look great as the centrepiece of a dedicated home office.
Verdict
Habitat's Albion desk is a smart combination of storage and surface in neutral finishes and colours that should serve well over time. It's well priced for the size, and has the option of further storage by adding other pieces from the range. More unusual is House Doctor's metal desk, with striking angles and shapes that should make it a talking point. 
Reuse content