When the nights draw in, we find we spend more time hunkered down at home. It is that time of year when we want rooms to be as cosy and comfortable as possible. Whether they are slung over a chair for impromptu snuggling, or used as decoration on a sofa or bed, wool throws and blankets can help with this. They add texture, warmth and colour to a room – and can transform furniture from unremarkable pieces to the stars of a space.  
We've looked for woolly creations by brands and independent designers who are proud of the provenance of their collections and whose designs and patterns stand-out from the pack. Here you will find pieces hailing from Sussex to Scotland to Scandinavia, with wool sourced both in the British Isles and from farer-flung places to access the finest natural materials (the Himalayas and New Zealand to name two). We found these creations by meeting designers and makers at trade shows, as well as scouring independent shops, high street stalwarts and taking recommendations from interiors experts. We also paid a visit to the Campaign for Wool's brilliantly innovative Wool BnB. Yes, woolly English breakfast is a thing now. 
1. Bronte by Moon Herringbone Throw: £89, John Lewis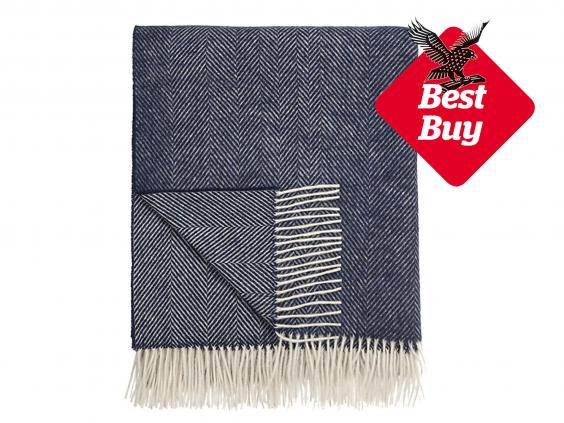 Bronte by Moon's Yorkshire-made throws are a great price for 100 per cent merino lambswool. We like the best-selling herringbone design that goes with everything and comes in a range of easy-to-match colours, including navy. There is also an alpaca-new wool blend and a natural, un-dyed new wool version. 140cm x 185cm. 
2. Anna-Lisa Smith Alex Throw: £189, Anna-Lisa Smith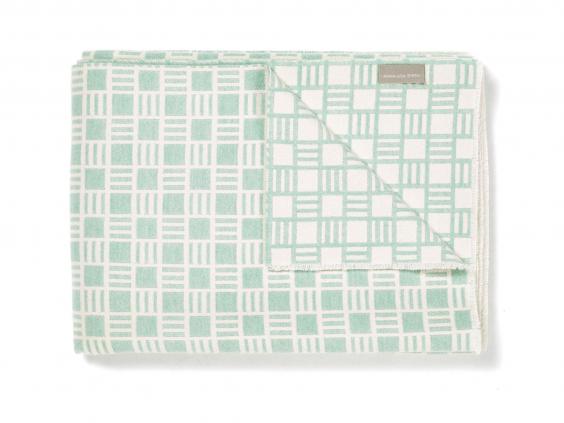 We came across Anna-Lisa Smith's throws during London Design Festival and were taken with the minimal but eye-catching throws and cushions in the kind of colours that can transform a room; rich blues and orange, as well as calm-inducing pastel grey and yellow. The Alex in mint is now one we want for our bedroom. Woven in Lancashire from soft merino and hand-finished in West Yorkshire, the square design feels super-contemporary but will work in any room. 130cm x 180cm.
3. Melanie Porter Alice Throw: From £420, Melanie Porter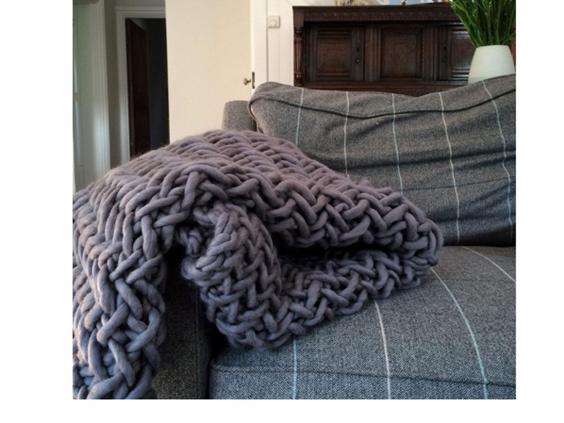 Melanie Porter's throws take the idea of a chunky knit to the next level. Knitted with giant needles in merino wool in herringbone stitch, they're thick, warm and seriously striking. They come in three different sizes as standard – from sofa throw size up to king-sized bed cover – but you can get other dimensions on request. They are made to order and can be in any colour. The shade shown here is slate (allow 10-14 days). 
4. Melin Tregwynt Vintage Star Throw: £145, Gilbert & Rose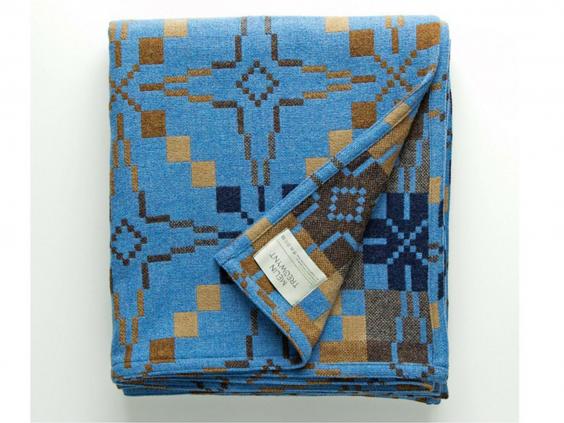 104-year-old Melin Tregwynt makes its pure wool throws in the company's family-owned mill in Pembrokeshire. The Vintage Star is a 1950s design from its archives, given a 2016 update in the form of new colours. We saw the blue version at the Campaign for Wool's Wool BnB and fell for its vibrant charms, but there are 12 colours to choose from. As well as a 150cm x 180cm throw, it comes in various sizes and in cushion form. 
5. Eleanor Pritchard Sourdough Throw: £266, Heals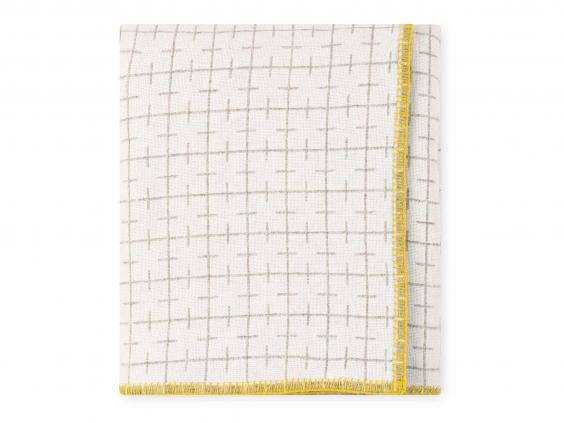 We have long been fans of Eleanor Pritchard's woven designs. They are reversible geometric patterns that are super-striking yet understated enough to work in most rooms. They feel contemporary, while paying quiet tribute to mid-century design. This new "Sourdough" throw is a case in point. Cream on one side and oatmeal on the other, it's versatile but the yellow stitching gives it a "finished" look that works brilliantly in the bedroom or to adorn a sofa. At 160cm x 210cm, it will fit a double or king-sized bed. There is also a cushion in the range. 
6. Green Grove Weavers Kelly Throw Spectrum: £130, SCP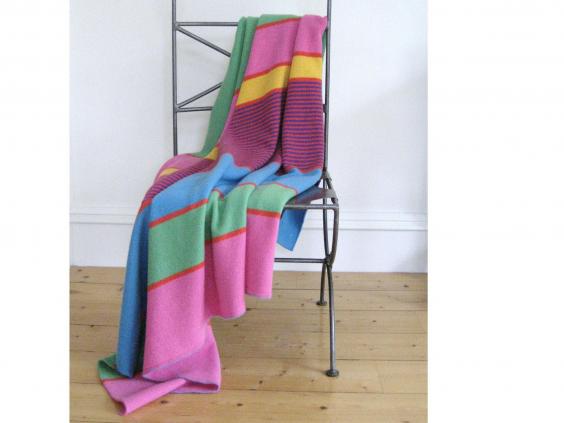 We met Green Grove Weavers at Decorex and it was the bright Kelly throw that caught our eye. Designed in Strathspey in the Scottish highlands and made from soft merino wool, we love this pink, peppermint, sky blue and yellow throw that will be a real conversation starter. If you want something less bright, there is a similar grey-hued version. 140cm x 170cm.
7. Anta Barra Supersoft Throw: £220, Anta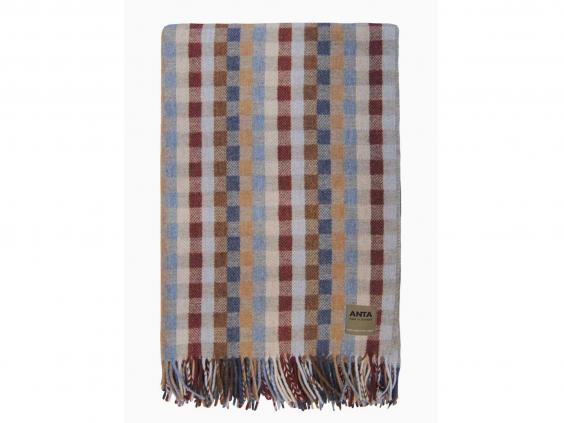 Here's another Scottish entry, but this time in the earthier tones reminiscent of the landscape north of the border. This 100 per cent lambswool throw in a checked pattern is made in Anta's factory in the highlands. At 150 x 215cm, it is large enough to work on a double or king-sized bed. If you like matching interiors, the same pattern comes in cushion, rug and occasional seat form. There is also a darker version in brown, mossy and burgundy hues. 
8. Wallace Sewell Emmeline Throw: from £260, Wallace Sewell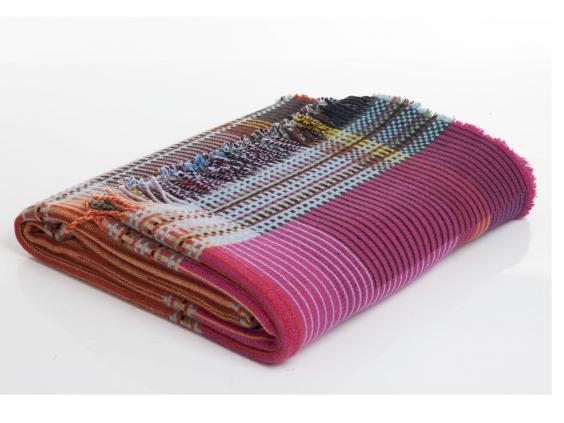 Wallace Sewell's bold, colourful woven throws are just what you want to snuggle up in as the mercury drops. Designed on handlooms in the London and Dorset studios, then woven in a family-run mill in Lancashire, they are striking British-made pieces. There are a range of different weaves to choose from, all with varying weights, thicknesses and textures. Our pick is the soft pinstripe lambswool throw that come in five colour combos. With fuchsia and brick red running through it, as well as oranges and yellows, this one will add a bit of warmth to a room in more ways than one. Comes in two sizes (115cm x 195cm and 195cm x 220cm).
9. Hilary Grant Blanket Wave Mustard and White: £120, Hilary Grant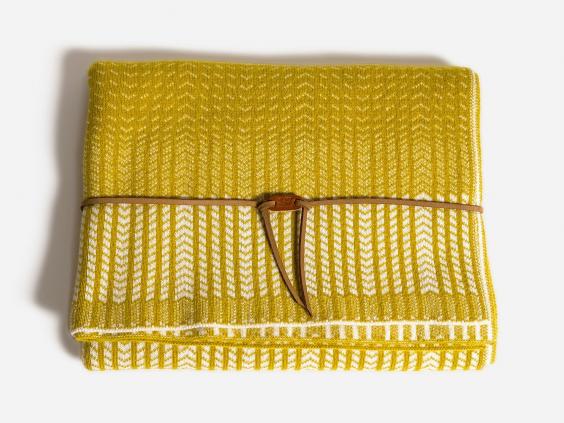 Another spot at the Campaign for Wool's Wool BnB, Hilary Grant's lambswool blankets are designed in the studio in Orkney and then knitted and hand-finished in the Scottish Borders. The mustard "wave" design has a really contemporary feel and is super-soft for lambswool. Style it either predominantly mustard, or flipped over for a majority cream pattern. We think this one would look a treat combined with some mid-century or Scandi-style furniture. At 85cm x 199cm, it's not as wide as some, but is ideal for snuggling up in on the sofa or using to add a pop of colour to an armchair. 
10. Klippan Inez Throw Aqua: £84, Heals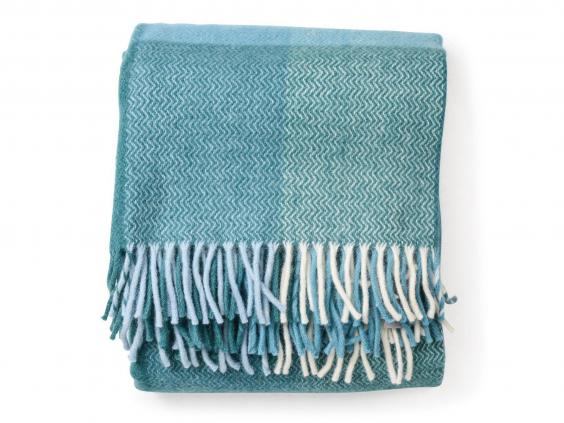 Our love affair with Scandinavian interiors shows no sign of cooling off. Swedish brand Klippan makes some well-priced, soft  100 per cent lambswool pieces in simple but eye-catching designs. Cream and blue hues might not be what you traditionally associate with winter, but it will add a bit of colour to a room. 130cm x 200cm.
11. Mourne Textiles Monochrome I Tweed Emphasize Throw: £195, Trouva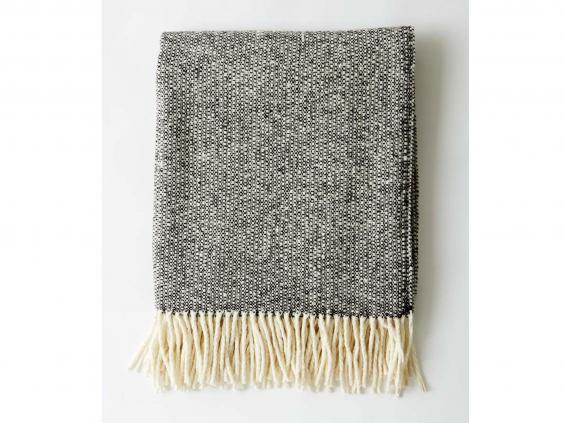 When we think of a brand that celebrates the natural qualities of wool, we think of Northern Irish Mourne Textiles. This merino wool option is described as a "wild spun yarn" from Donegal. That means you get to see some natural dappling in the wool and each throw is unique. There are various takes on versatile monochrome, including this one, with a pleasing contrast between the black flecks and the cream purled fringe. It's big enough to work on a double bed at 150cm x 200cm.
12. Gillian Weir Bespoke Cashmere Throw: From £450 for a 2ply cashmere blend, Gillian Weir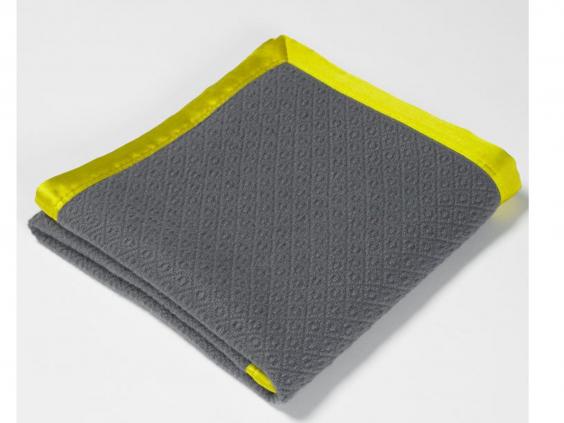 So we might all not get invitations to winter on super yachts (ours must have got lost in the post) but Gillian Weir, suppliers to the super-rich on their gin palaces and private jets, can make you a bespoke cashmere throw for your home. Each piece is hand-dyed and hand-woven. First you choose your colour – there are 45 to pick from or the team can colour match for you – then you pick from 12 different weaves and three weights. All are custom-made so you can get your throw any size you like, then choose you finish; there are eight tassel options as well as silk trims. Allow 6-8 weeks for delivery. 
13. Heal's Merino and Cashmere Throw: £130, Heals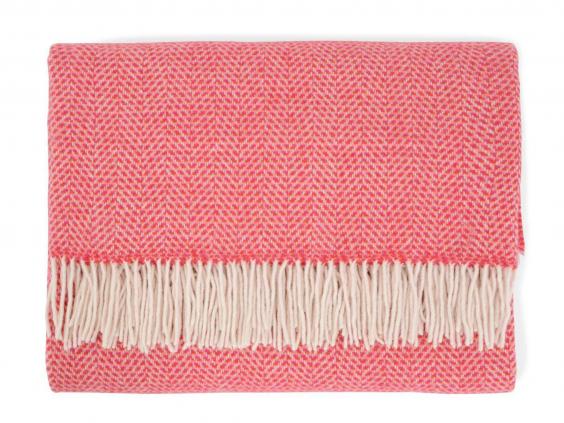 If lambswool just isn't soft enough for you, adding a bit of cashmere into the mix can make a big difference and feel a lot luxurious. This throw, from Heal's own line, is woven in the UK and the red and pink hues are a contemporary take on a classic herringbone weave. There are also options in grey or navy if the red is too much. 136 x 180cm. 
14. Chalk Wovens Fern Throw: From £168, Beut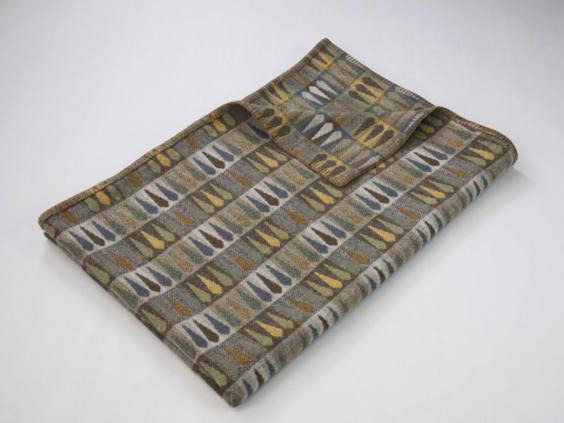 Brighton-based Chalk Wovens takes inspiration from the Sussex countryside and seascapes with its designs. Made from merino lambswool with a stitch-edged finish, we think these make great chair or sofa throws if you want to add pattern to a plain backdrop. The Fern design comes in four colours. For us, this one evokes autumn woodland walks, but there are versions in warmer and cooler tones. Choose from two sizes: 140cm x 185cm and 150cm x 250xcm.
15. Simon Key Bertman Gradient Wool Throw: £275, Beut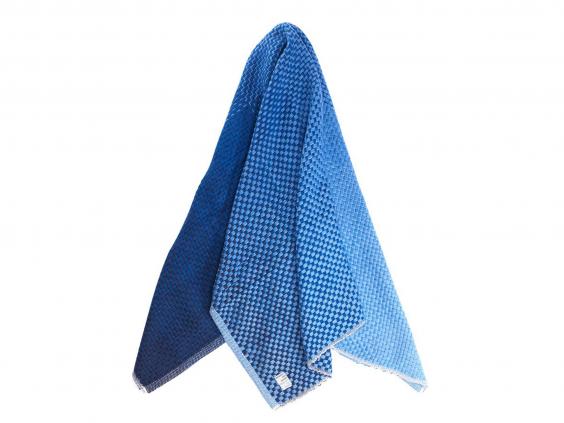 There's something almost digital-looking about the Swedish designer's Gradient throws. They are made using four shades of one colour combined 13 different ways, so you get a sort of ombre effect. Either way, the design, hand woven in 100 per cent New Zealand wool, feels super-contemporary and is ideal for anyone who can't get on board with more classic styles. Choose from grey, red and green and this fresh-feeling blue. 130cm x 180cm.
The Verdict: Wool blankets and throws
For a quality, British-made pure merino wool throw that won't make too much of a dent in your Christmas savings fund, we like Bronte By Moon's versatile herringbone option. If you like geometric prints, try Anna-Lisa Smith or Eleanor Pritchard's pieces. Anyone after a truly statement woolly piece, should look up Melanie Porter's chunky weaves. 
IndyBest product reviews are unbiased, independent advice you can trust. On some occasions, we earn revenue if you click the links and buy the products, but we never allow this to bias our coverage. The reviews are compiled through a mix of expert opinion and real-world testing