Whether you like a straight shot of espresso or you prefer turning it into a latte or cappuccino with some fancy milk action, you'll need a decent coffee maker.
There are three main types of espresso makers – a pod or capsule machine, pump espresso maker or bean-to-cup machine. The former involves simply popping a pre-packaged capsule or pod into the machine – when you press the button, it is pierced and hot water is sent through it to produce the espresso. 
Pump espresso makers, on the other hand, use a thermostatically controlled boiler which heats the water to its optimum temperature for coffee (between 85˚C and 92˚C), after which it passes through the ground coffee at the correct bar pressure. These machines usually enable you to steam milk too. 
Then there's the bean-to-cup option, which is essentially a pump espresso maker with a built-in grinder. In other words, these automatic machines grind the coffee beans and then run hot water through them. If you go for one of these, make sure you get one with a good grinder and learn how to use it properly – this, as any barista will tell you, is the most important part of espresso making, bar none.
Looking for a way to test the perfect cup of espresso? The crema (the foam which settles on the top) should be golden – and to achieve this holy grail of espresso making, don't forget that you won't just need a decent machine, but a top-notch coffee blend too.
1. Jura A1 Bean-To-Cup Coffee Machine: £644.99, Lakeland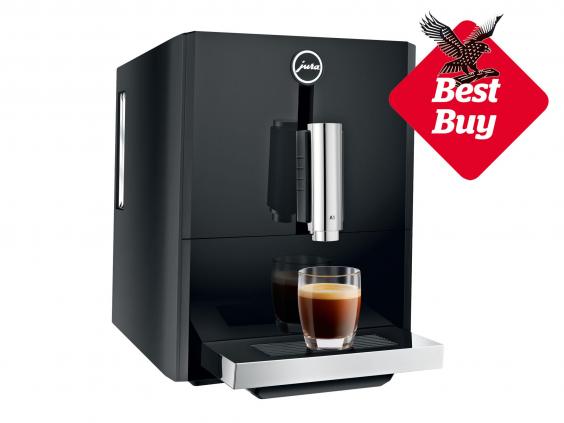 We could blind you with the science of this coffee grinder – a pulse extraction process and 15-bar pressure water pump – but the bottom line is that this Swiss-made machine makes barista-style espresso with golden crema quickly and efficiently. There's also plenty of choice of strengths, cup sizes and coffee types. It's compact, with an easy-to-use touch-screen panel.
2. De'Longhi Dedica Chrome Espresso Coffee Machine: £219.99, Lakeland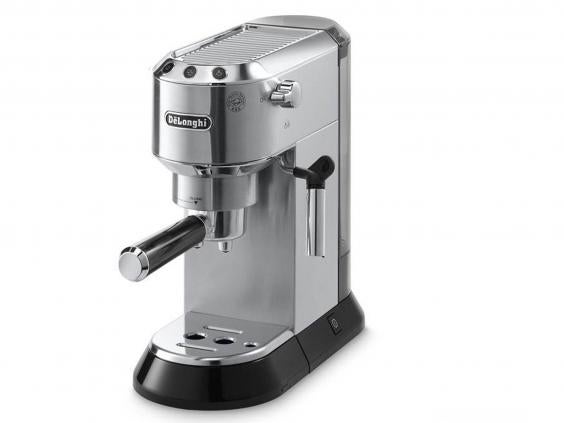 This is the slimmest machine we came across that can make espresso from ground coffee or pods, making it ideal for small kitchens. The smooth aroma of the espresso (which you can turn into a cappuccino using the milk-frothing arm) is enough to lure even the sleepiest head out of bed in the morning. And you can set preferences with ease, although we did find it's easy to press the wrong button by mistake.
3. Lavazza A Modo Mio Minu Plus Coffee Machine: £45, Lakeland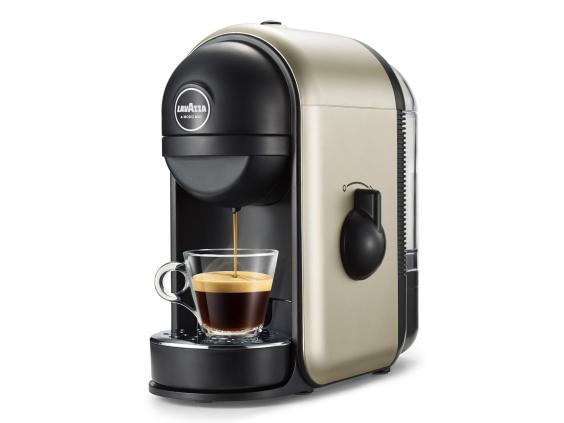 Here's another great option for those whose counter space is limited. Using capsules only, it's also a breeze to use and most importantly, it makes espressos that smell divine and taste rich, with lots of golden crema. It takes very little effort getting to know how to use it and you can operate it practically with your eyes closed – good for those who take a bit of time waking up in the mornings.
4. Francis Francis for Illy X.7: £165.26, Amazon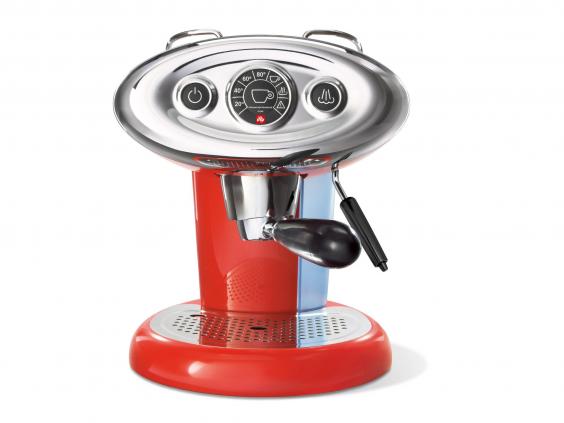 The capsules don't come cheap, but this retro-looking machine (that comes in red, black or white) makes an exceptional cup of coffee, with a tempting aroma, great quality of crema and smooth taste with a good kick, all in less than half-a-minute. The steam pipe works a treat for frothing milk and the controls are simple to use. The only downside is the water tank, which can be tricky to remove for refilling.
5. Morphy Richards Accents Pebble Espresso Coffee Maker: £109.99, Morphy Richards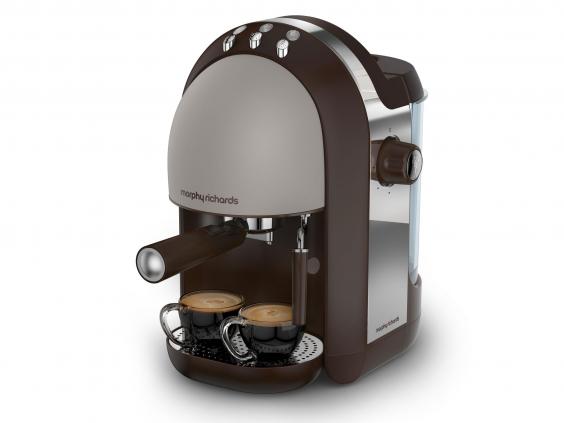 If you like your espresso intense, but not bitter, then this machine – which uses ground coffee or pods – is a winner, especially at this price. The steamer makes decent hot frothy milk in case you want to turn your coffee into a cappuccino, and it's the easiest machine to set up of all the ones we tried, although the milk frother can feel a bit rigid and the coffee could be ever so slightly hotter. 
6. Smeg ECF01 Coffee Machine: £279.95, John Lewis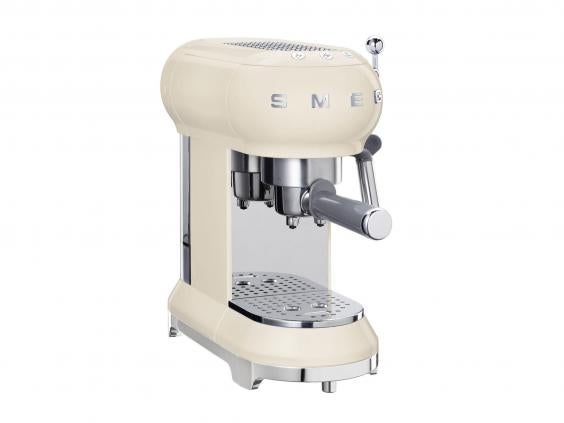 This vintage-looking machine will take pride of place on any worktop, although be warned it's big. It doesn't take long to get going and the espresso – which is made from pods or ground coffee – is so hard to fault that even the most discerning coffee connoisseur should be impressed. The milk steamer turns it into delicious cappuccino, although the machine can look messy after use.
7. Sage By Heston Blumenthal The Oracle Coffee Machine and Grinder: £1,438.94, Amazon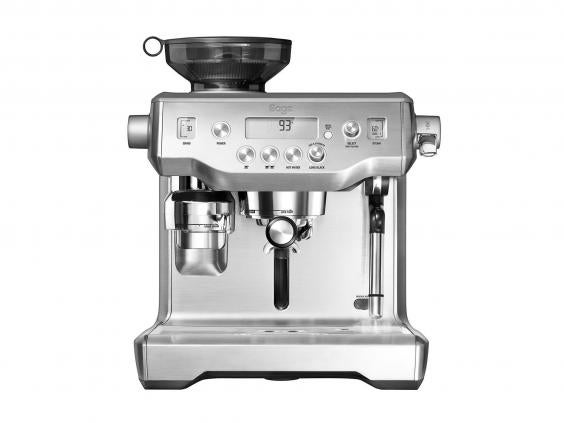 Give someone a cup o'joe made from this manual espresso machine (with an attached grinder) and they'll be in coffee heaven. In fact, the quality is so superb – and the mechanical action so efficient – that some smaller restaurants use them. There's plenty of automated control for the trickier bits of coffee making, including auto-frother milk settings that make the silkiest lattes and cappuccinos. The only downside is that it's as huge as the price tag.
8. Gaggia Naviglio Coffee Maker: £329, Amazon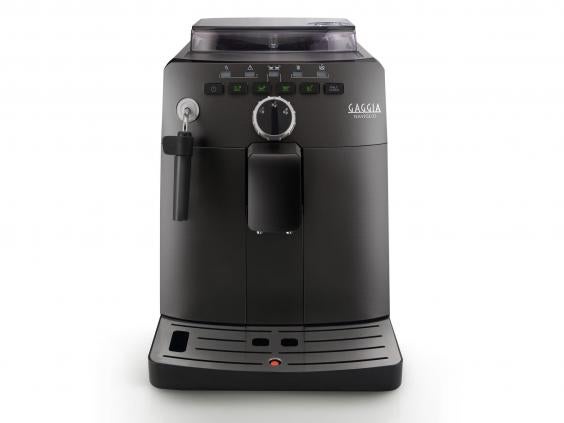 This is the least expensive machine in Gaggia's new bean-to-cup range and it boasts the long-life ceramic adjustable coffee grinder that this brand has become so famous for. Other wow factors include the quick-heat, stainless-steel thermal block boiler, which means you can make several cups of espresso on a run without a long wait in between each, and adds to the long life of the machine. Cleaning is a doddle too.
9. Krups Espresseria A8150  Bean-to-Cup Coffee Machine: £550, John Lewis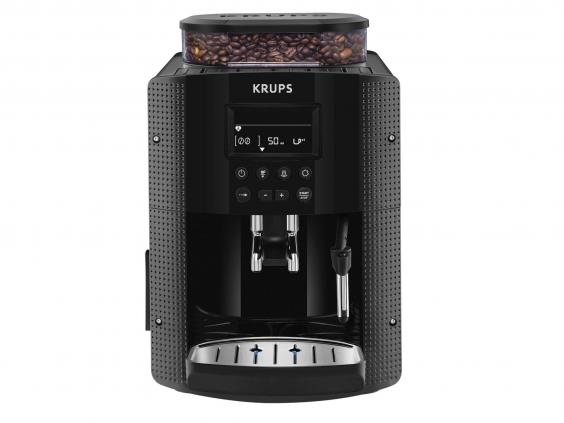 If the traditional manual coffee making rituals don't do it for you and you'd rather just push a couple of buttons to get your morning caffeine fix, then this fully automated machine with milk steamer is likely to appeal. We like the large LED screen, while the patented water heating system keeps your coffee – which you can select in different strengths – nice and hot. Be warned it's noisy when grinding, though.
10. Dualit Classic Coffee Capsule Machine: £249.95, John Lewis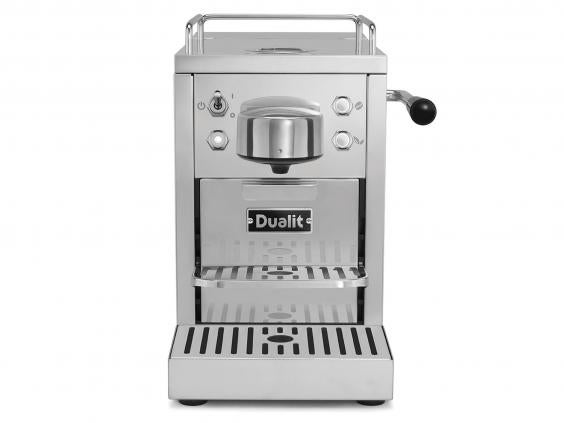 Like most Dualit appliances, this sophisticated bit of kit has great attention to detail, with beautiful polished stainless steel aesthetics – with a kettle and toaster to match. It's easy to customise your preferred settings and the crema and temperature are spot-on. Everything that is movable (cup shelf, for example) or removable (water tank and drip tray, for instance) is effortless to work and it works a treat for tea too. 
11. Nespresso Creatista Plus Coffee Machine by Sage: £449, John Lewis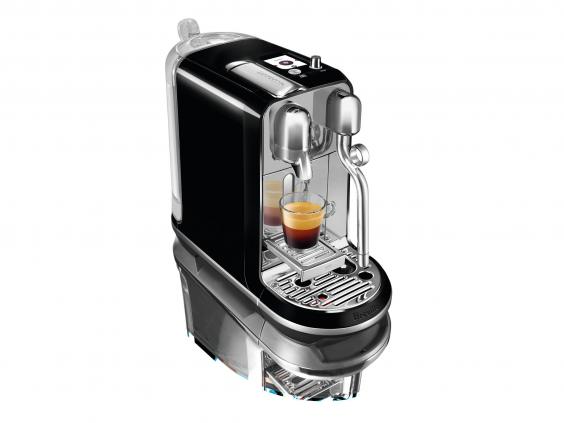 We deliberated about whether to include this capsule-only machine because its forte really lies in its multiple milk foam textures – the first Nespresso machine to do so – which means that you can get creative with flat white, cappuccino, lattes and macchiatos. But because the plain espressos are also so good, we decided to go for it. Speed is a strong point too – both in heating up and in cleaning.
12. Rombouts Ek'Oh Coffee Pod Machine: £180, Rombouts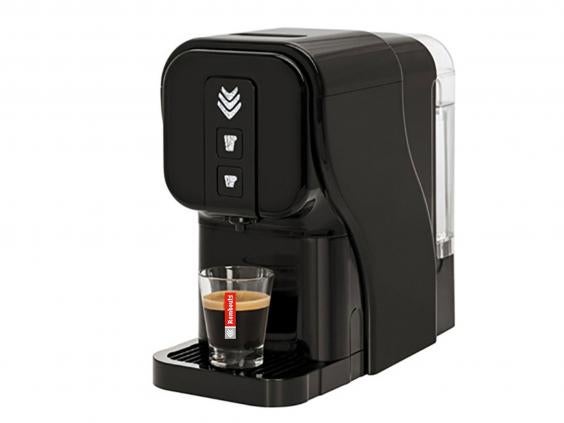 This intuitive machine works like a dream to produce fabulous espressos (among other coffee types) to suit your strength and volume, largely thanks to the 21-bar extraction pressure. It's been designed to be extremely simple to use and it manages to look clean even when the coffee is ready – a good job if you go for the white finish as it shows up everything. Try its single origin coffee pods if you can afford it – they're outstanding.
The Verdict: Espresso machines
We know it's a lot to fork out, but the Jura A1 ticks every box and will last you years if you look after it well. The Oracle by Sage is even more fabulous, but we're aware the price tag is more than most can afford. For those who need to drop a few hundred quid and go for a budget option, the Smeg ECF01 Coffee Machine is a blinder of a machine for under £300, while the Lavazza A Modo Mio Minu Plus Coffee Machine is a steal for under £100.
IndyBest product reviews are unbiased, independent advice you can trust. On some occasions, we earn revenue if you click the links and buy the products, but we never allow this to bias our coverage. The reviews are compiled through a mix of expert opinion and real-world testing
Reuse content