By law, children must use a child car seat until they're 12 years old or 135cm tall, whichever comes first. After this, they must use a seat belt. But it's all-change in the car seat market this year, with fast growing numbers of manufacturers launching seats approved to the latest i-Size car seat regulations, which came into force in the UK in 2015. 
At first, i-Size car seats (which are designed to keep children rear-facing until they're over 15 months old, provide better side impact protection and make car seats easier to fit correctly) were mainly modular systems, which meant you needed one for your baby then another for your toddler. But as our round-up shows, many are now designed from birth to four years, and even beyond – which is far more practical for parents. To check the car seat you choose is i-Size, look out for the special logo (similar to the Isofix logo, but with an 'i' on the side). Many of the car seats also have an 'i' in their name or include the word i-Size.
For so-called 'group 2/3 car seats' (designed for children around age four to 11 or 12 years old) i-Size isn't applicable. But other new car seat legislation has come into force this year that affects these older children. This new law stops manufacturers from making any new models of backless booster car seats for children shorter than 125cm tall or weighing less than 22kg.
It doesn't mean backless car seats will become illegal – it just means that from now on, they can only be aimed at children taller or heavier than that – whichever comes first. Likewise, there's no need to panic if you aren't using an i-Size compliant car seat, which can still be legally sold until at least 2018.
That said, the new regulations are designed to make your child safer – so using a high-backed booster seat for as long as possible is certainly in your interests, as is making sure that any baby set you buy is i-Size compliant. And that's why we've only picked car seats in our round-up that comply with the new rules. 
Legislation aside, when buying a seat, the first thing to check is that it's the right one for your child's age group. Next up, ensure the car seat actually fits your model of car as not all seats fit in all cars, while others might just about squeeze in, but leave very little legroom or room for another seat next to it.
Your next decision is whether to buy a seat with a special safety system, such as Isofix or Familyfix. These car seat bases literally plug into the car itself rather than using a seatbelt alone, after which you click in the actual car seat. Nearly all seats that use these bases (which may or may not be sold separately) are safer, although that's not so in every case and remember not all cars have the fittings for these bases anyway (although more and more do – so always check this out whey buying a car).
Do as much homework as you can around other safety features (such as adjustable headrests) and crash test results (not just front and back impact, but side impact too) and ideally, look into comfort levels, particularly if you regularly complete long journeys.
1. Maxi-Cosi AxissFix Plus: £395, John Lewis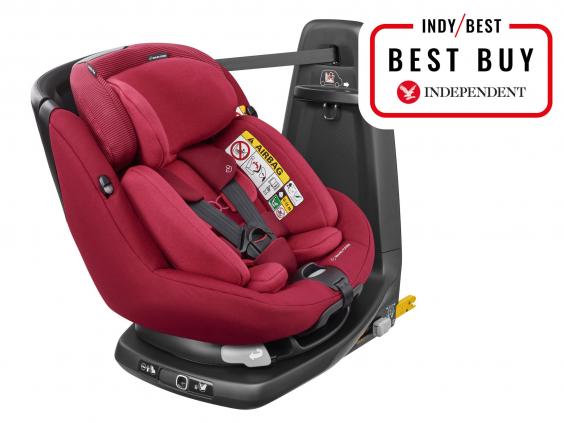 Maxi Cosi's latest car seat has a long list of innovative features including a 360-degree swivel for newborns plus (the original AssisFix only went from four-months up), extra-comfy memory foam seat padding, self-adjusting harness and hold-open harness hooks. It's easy to carry and safety features (which exceed the i-Size standard) include a patented new impact absorption material in the headrest. It goes up to four years old, although the option to rear face stops at two years old. 
2. Joie i-Gemm: £99, John Lewis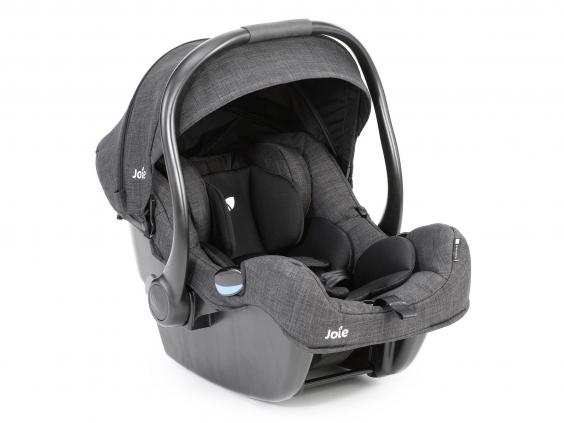 This great value car seat can be used with either the i-AnchorFIX base or the i-Base – and if you don't want to splash out on an extra base at all, simply install it using the car seat belt. It works with all Joie pushchairs too, plus some other brands including Mamas & Papas, iCandy and some Baby Style models. Other features we love include the height-adjustable headrest, rocking base (great for getting your baby back to sleep), its smart looks, comfy seat and the fact that it's not too heavy. It's a doddle to fit it in the car and the extendable sun canopy works a treat. Suitable from birth until 13kg.
3. Britax Advansafix III SICT:  £250, John Lewis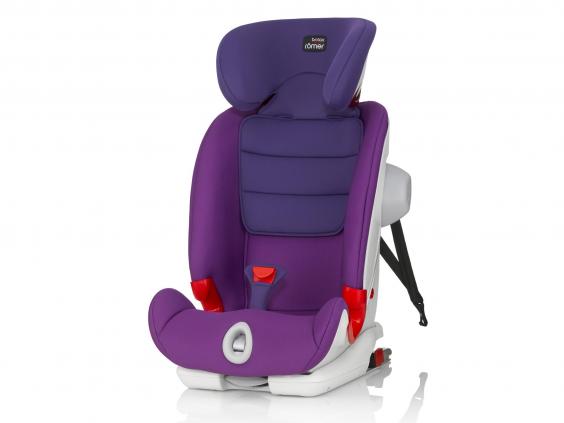 Ever noticed the seat belt slip out of position when your child moves around or slouches in their car seat? Well that's not the case with this one as it uses the SecureGuard safety feature from Britax, whereby a fourth anchor point clips the seatbelt into the correct position over your child's hips. Aimed at kids aged nine months to 12 years old by transitioning into a high-back booster when they're older, the forward-facing seat has other impressive safety features too, including advanced technology that protects kids if the impact comes from the side of the car. Re-launched this February (to update the II version) it's even simpler to install and feels really secure and comfy. 
4. Graco SnugRide i-Size: £299.99, Toys R Us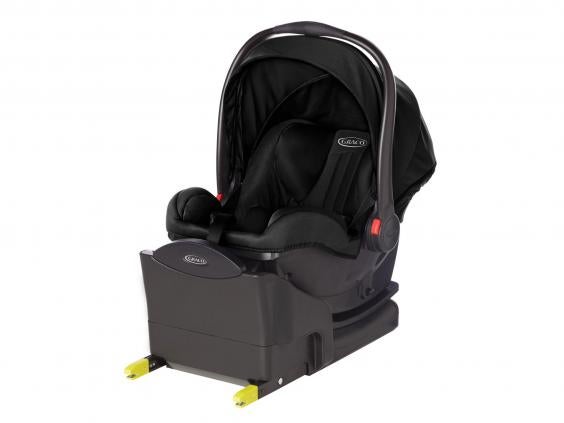 This rear-facing seat is ultra-safe, with a simple-to-adjust base and the option to recline while remaining in a rear-facing position. It's comfortable (with a well-positioned footrest), sturdy and easy to clean. It's also easy to get your child safely secured and strapped in inside, even when you're in a hurry. On the downside, it's quite heavy, weighing almost 10 pounds. Suitable from birth up to around two years old.
5. Cybex Sirona M2 I-Size: £350, Mothercare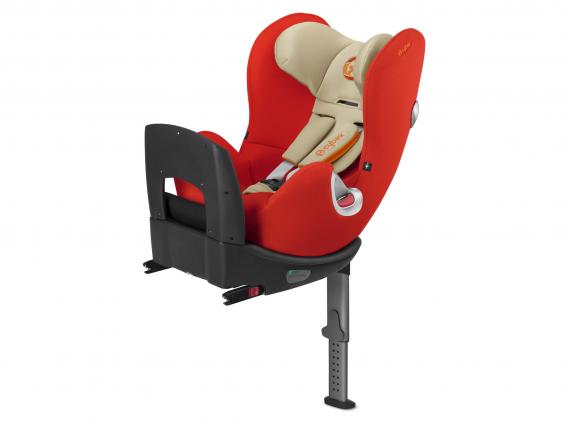 This one performs exceptionally well in crash-tests and, unlike its predecessor the Sirona, it has a click in and out Isofix base, as well as a five-point harness. If your child isn't keen on facing backwards, you can always turn it round after they've reached around 16 months. There is plenty of leg room and this car seat keeps the head particularly comfy at all times. Suitable from birth to around four years old.
6. Baby Jogger City Go: £119.99, Toys R Us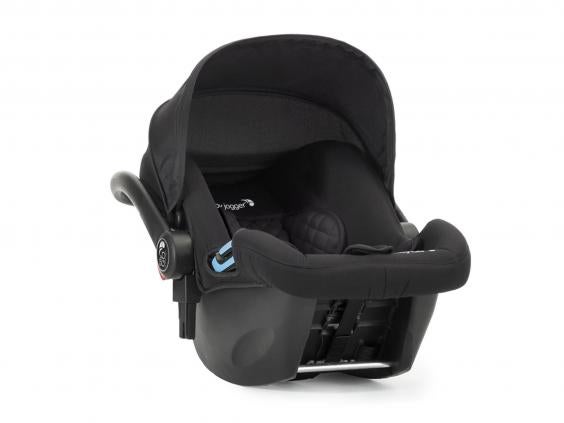 This model looks good, is easy to install, has an extra-large sun canopy and is super comfy. But its biggest advantage is how lightweight it is, compared to most car seats at this price. It can be used with or without a base and has all the safety features you'd want, including an impact absorbing shock bar for extra stability. However, it can only be used with certain Baby Jogger strollers – and not even all of those (plus the car seat adaptors cost extra). Suitable from birth to around 12 months old.
7. Recaro Zero 1: £399, Groovy Style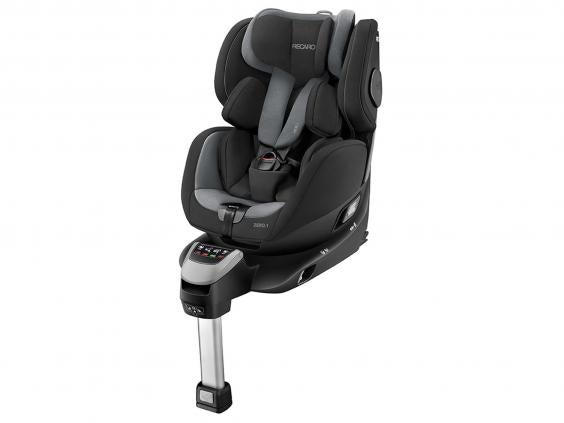 You can tell this is top quality the moment you take it out of the box – and it's simple to install too, thanks to its integrated isofix base and clear indicators. Plus, it's well-padded and is fixed on a rotating mechanism so it can be set to rear or front facing with ease (although we did not find the seat is a one-hand-operation as Recaro claims). And because it is made for newborns right up to around four years old, it's useful if you have both a baby and toddler as it can take both without having to change seats.
8. BeSafe iZi Go Modular: £184.95, John Lewis 
This lightweight, egg-shaped, rear-facing car seat isn't just great in terms of safety and comfort – it can also be teamed up with brands including Stokke, Bugaboo and Quinny as part of a travel system. You can install it either with an Isofix base or seat belt and although the former is easier, the crash tests do better when it's secured by seatbelt. We found the instructions and warnings all easy to understand and it's less bulky than many, as well as giving your baby a decent view out of the window. Suitable from birth to around 12 months old. 
9. MultiMac 4 Seater: £1,499, MultiMac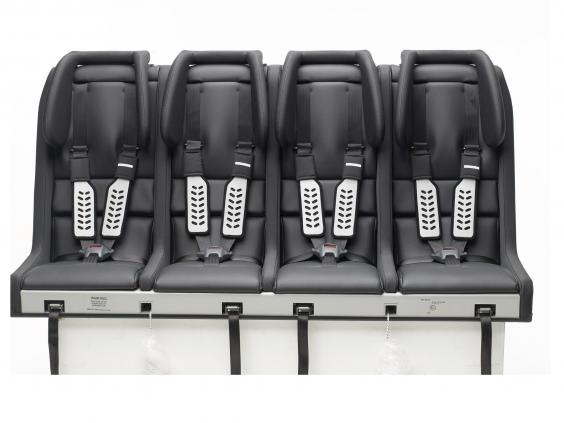 This range is the only car seat around that allows three or four children to sit altogether in a row. It does well in crash tests, while our little testers told us it was comfy too. It's easy enough to fit and unfit once you've got used to it, making it possible to move it between cars at the weekend – but it is extremely heavy. There are two sizes of the three-seater version, depending on your car size. Suitable from birth to 12-years-old.
10. Kiddy Evoluna i-Size: £389, KiddyUK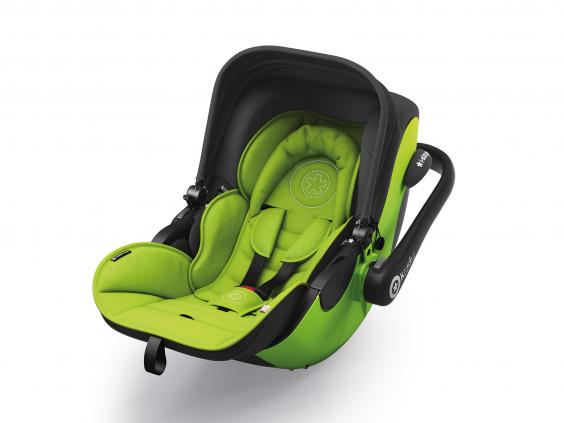 Kiddy car seats have always been pioneering when it comes to safety and this one, its latest model, is the only car seat to have achieved the 'Very Good' status by ADAC, Europe's leading independent consumer crash test organisation. We also like the lie-flat position, which can be accessed (uniquely) either in or out of the car (although you can't carry it around in this position). Aimed at newborns to around 15-months, the Isofix base is included, but it's heavy and bulky.
11. Cosatto Hug Pixelate: £304.95, Mothercare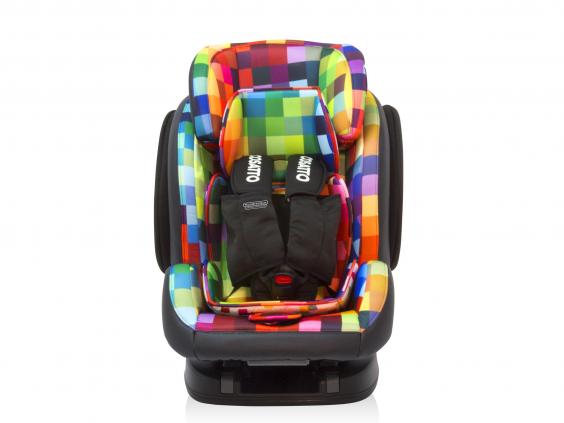 This is exceptionally well-made with heaps of cushioning and a range of funky designs to pick from. And since it's aimed at children aged around nine months to 12 years old, you get over a decade of use from it. The anti-escape harness is designed to prevent little Houdinis from slipping their arms out of the straps and wriggling free (one of the greatest distractions for parents of younger kids), while other super-safe features include outstanding side impact protection and an Isofix fitting.
12. Maxi-Cosi Pebble Plus: £190, Mothercare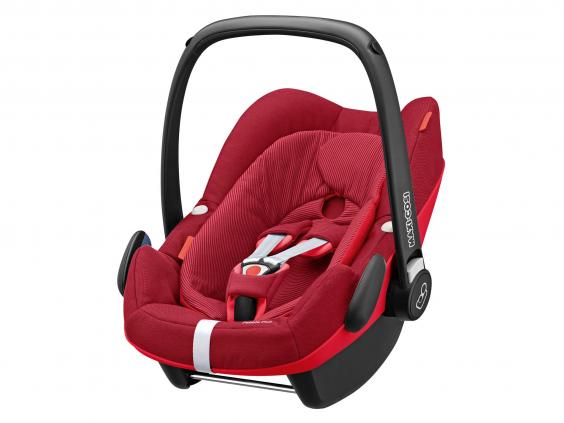 You can use this rear-facing seat either with a regular adult seatbelt or an Isofix base, and it can be used as part of a travel system too. Aimed for newborns up to the age of one, it boasts some of the best safety results on the market (particularly when it comes to side impact) and has a feel of great quality, while also being light. It's a doddle to install and almost impossible to get wrong. It's roomy, with good support for your baby's legs and it's well-padded for comfort, as well as coming in some gorgeous colours. But you'll need to buy the base separately to use under the new i-Size car seat regulations.
The Verdict: Car seats 
For newborns upwards, the Maxi-Cosi AxissFix Plus is cosy, snug, safe and smart. Meanwhile, for older children, our vote goes to Britax Advansafix III SICT.
IndyBest product reviews are unbiased, independent advice you can trust. On some occasions, we earn revenue if you click the links and buy the products, but we never allow this to bias our coverage. The reviews are compiled through a mix of expert opinion and real-world testing
Reuse content