Whether you're a green-fingered genius or just about managing to keep that spider plant alive, every gardener needs a good watering can. As we're of the latter variety, we teamed up with people who really know their stuff to find the best: Richard Hood, of Two Thirsty Gardeners (twothirstygardeners.co.uk), The Patient Gardener Helen Johnstone (patientgardener.wordpress.com), Alexandra from The Middle-Sized Garden (themiddlesizedgarden.co.uk), gardening writer and author, Louise Curley (wellywoman.wordpress.com) and Mark Ridsdill Smith of Vertical Veg (verticalveg.org.uk). The result? Tools suitable for outdoor spaces and gardens of all shapes and sizes, from house plants in tricky corners to big gardens that need frequent watering. There are also suggestions for green-fingered kids so they can give you a helping hand. All have been rigorously tested for capacity, weight, comfort, pouring, spout length and rose quality – and looks, too.
"You're looking for a can which is easy to hold when filled with water and which feels well-balanced," says Louise. "A well-designed one won't put a strain on your body when watering." She recommends 6 to 10-litre vessels for gardens and larger pots to minimise refills. For smaller containers, a greenhouse or indoor watering, Louise suggests a 3.5-litre can or less so you can reach plants at height or in tight spaces. For borders, hanging baskets and other hard-to-reach spaces and pots, opt for a long-spouted can. If you're growing plants from seeds, "look for one with a detachable rose – an attachment which fits on the end of the spout and sprinkles the water gently without drowning anything," says Louise.
1. Apollo 9 Litre Galvanized Watering Can: £12.99, screwfix.com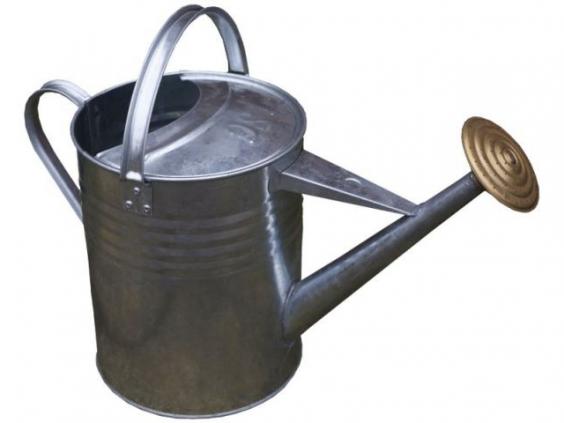 "This is a strong, galvanized can of the type you might find lurking amongst your granddad's cabbage patch," says Richard. "With twin handles for easy pouring and a removable brass rose, it will deliver years of watery service."
2. Indoor Watering Can: £14.95, sophieconran.com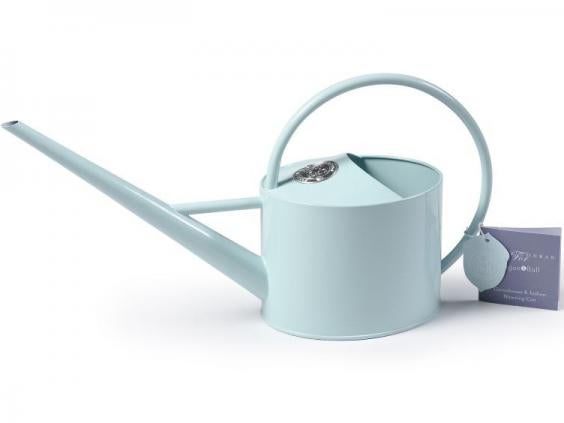 "Aside from its elegant appearance, which means you can leave it out on display, this 1.7-litre can isn't too heavy or awkward to use and the long spout makes it very useful for watering houseplants in tricky locations," says Helen.
3. Sankey Green HDPE 13 Litre Watering Can: £13.27, diy.com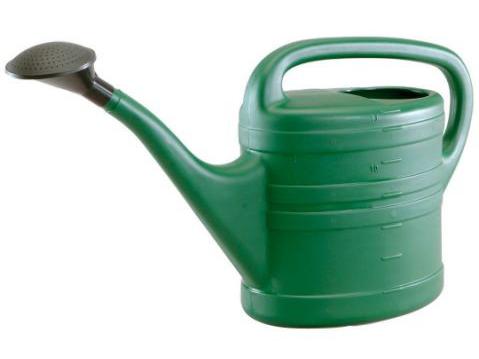 "I prefer a plastic can for outdoor use as, although the metal watering cans look nicer in the garden, when you have many pots to water they start to become quite heavy," says Helen. "This style of can does the job day in, day out."
4. Sarah Raven Watering Can: £39.95, sarahraven.com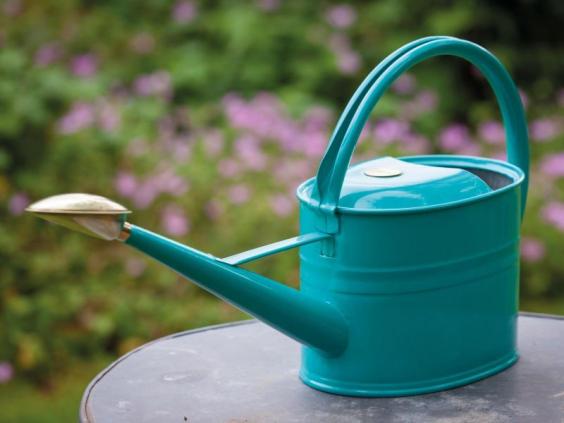 "Beware the gift shop pretty 'vintage' can unless you've tested how the water pours and whether the rose sprays properly," says Alexandra, "but this one fills the pretty-but-practical slot beautifully."
5. Fiskars 10 Litre Swivel-Handled Can: £17.99, crocus.co.uk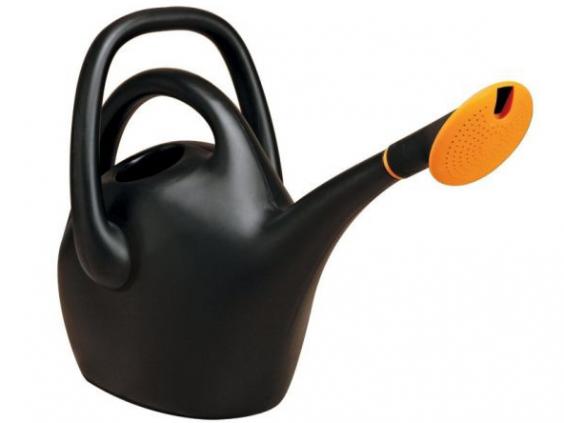 "Ergonomically designed with a second handle to evenly distribute the strain of watering through both arms, this will protect your back and shoulders," says Louise. "Its large capacity may be too big for some but the plastic body is lightweight."
6. Children's 3 Litre Watering Can: £9, henandhammock.co.uk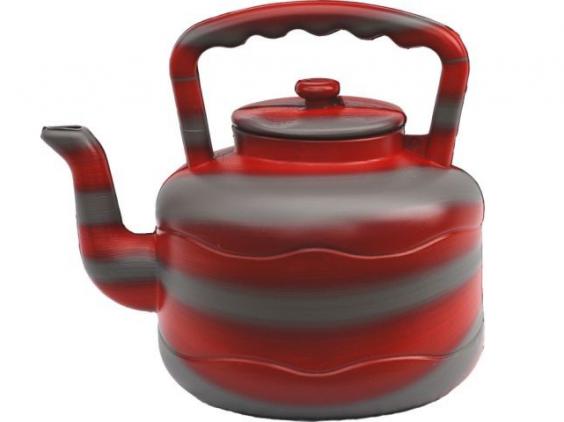 For a bit of fun to encourage littluns, Louise recommends this fun, kettle-shaped can. It's made from sturdy plastic, so can withstand a bit of knocking about, the finger grip on the handle makes pouring more comfortable for little hands and there's a whole range of colour combos.
7. Racing Green 1 Litre Children's Can: £9.95, burgonandball.com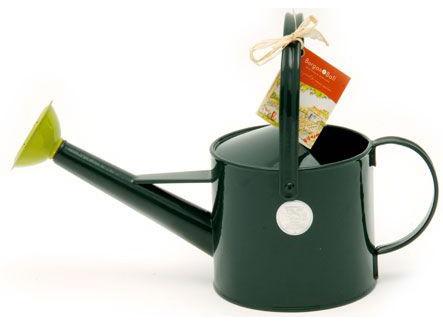 "This powder-coated can is the ideal gift for budding Titchmarshes," says Richard. "Featuring a screw-on rose and folding handle, its small capacity and lightweight construction won't tire tiny arms. It's also dinky enough to use for houseplants, should you manage to wrestle it off the kids."
8. Rhino 10 Litre Easi-Can: £4.99, warriorwarehouses.co.uk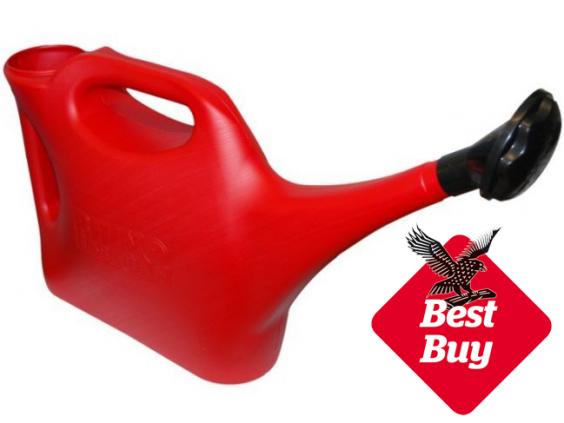 "This is exceptionally light for such a large can and so easy to carry when full," says Helen. "Best of all, the watering rose is designed to snap over the fill point when the can is not in use, therefore preventing snails crawling inside and clogging the spout," adds Richard.
9. Haws Professional 8.8 Litre Long Reach Can: £59.99, waitrosegarden.com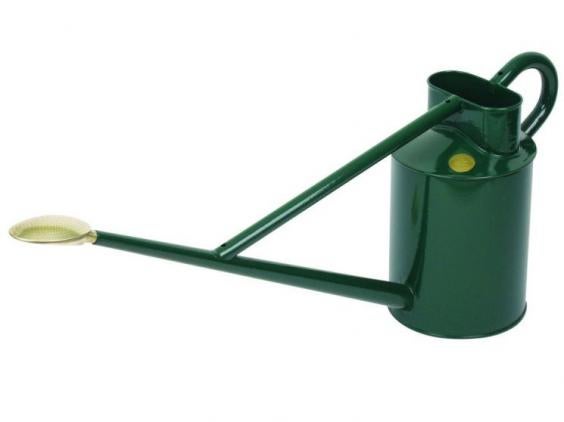 "Haws have been making cans in Britain since 1886 and they're all well-made, long-lasting products, ideal for someone who does a lot of watering" says Louise. "The extra-long neck is ideal for reaching deep into flower borders and the spout filter prevents blockages," adds Richard.
10. Haws 7 Litre Plastic Deluxe Can: £26.99, gardengiftsdirect.co.uk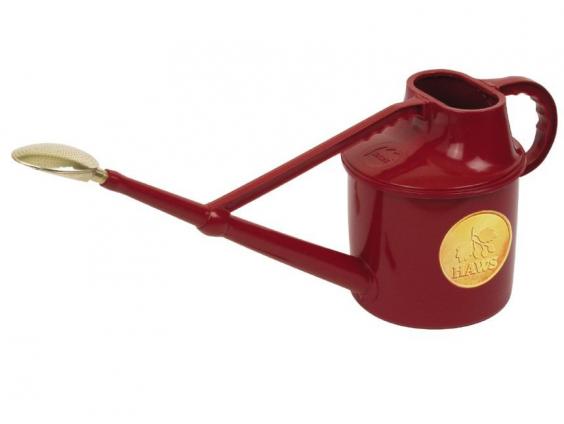 "This is my favourite can," says Mark Ridsill Smith from Vertical Veg (verticalveg.org.uk). "It holds a good volume of water and the long spout is ideal for watering difficult to reach containers. The superb brass rose produces a fine, gentle spray, perfect for watering seedlings."
Verdict:
Rhino's 10-litre Easi-Can is a serious bargain for the quality. Recommended by two of our experts, it's plastic so is more lightweight than many metal ones but super-durable with it and the nifty rose that also fits the fill point to keep creepy crawlies out is a clever design. If looks are as important as functionality, Sarah Raven's purple can is as pretty as it is practical (a rare thing in the watering can world). Or for those snapping at Titchmarsh's heels, our experts swear by Haws' Professional range for its well-designed, long-lasting (and long-reaching) cans that are perfectly balanced to make watering less of a back-breaking chore.
IndyBest product reviews are unbiased, independent advice you can trust. On some occasions, we earn revenue if you click the links and buy the products, but we never allow this to bias our coverage. The reviews are compiled through a mix of expert opinion and real-world testing
Reuse content