The Independent's journalism is supported by our readers. When you purchase through links on our site, we may earn commission.
Wines of the week
The 12 reds of Christmas
Terry Kirby rounds up the bottles to have on your table this year, from classic clarets to big blends and pinots for lighter dishes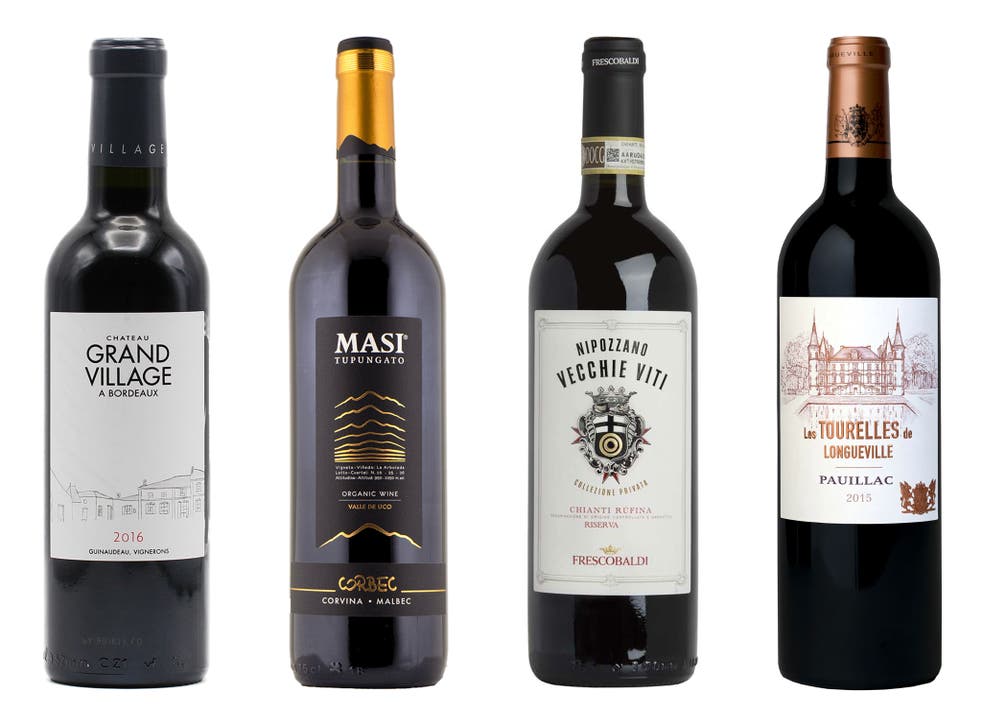 For many of us, red is a colour that spells Christmas: red candles, those twinkling lights in the tree, tinsel, Santa Claus's clothes and, of course, wines.
Substantial red wines are the ones that often go best with the strong flavours of the rich meats and cheeses of the season – goose, hams, game, vintage cheddar and stilton – and while there is always a strong lobby for white with turkey, there are many who plump for red, sometimes a lighter one, here.
And while there is now a considerable number of us who will choose vegetarian or vegan dishes, they still need to be big strong flavours – think dishes with chestnuts, mushrooms or Mediterranean style mixes of aubergines, tomatoes and peppers – all of which still prompt me to pour the red.
Claret is, of course, often the first choice for many; a comforting, big, smooth wine for those richer meat dishes. Some of the best bordeaux bargains can be found among the wines carrying the Bordeaux Superior designation and the Château Grand Village, Bordeaux Supérieur, 2016 (£14.17 minimum order six bottles justerinis.com) is a stunning gem from an estate near Fronsac and is well worth the minimum order for both Christmas and beyond: a smooth, concentrated, elegant wine, the 14 per cent cabernet franc lifting the meatier 86 per cent merlot. And remarkable value for a wine of this calibre. 
If you are happy to spend a good bit more, for one special bottle, try Les Tourelles de Longueville Pauillac 2011 (£48.95 slurp.co.uk; £49 gustowines.co.uk) which is related to bordeaux royalty by being the second wine of grand cru Chateau Pichon Baron, but for less than half the cost of a bottle of that, the second wine is sumptuous in itself: merlot dominated, silky, refined, with blackberry fruit and a hint of spice to the fore. A big wine for the big meal: perfectly suited to goose, beef or venison. 
But of course France can boast many wines which are equal to the special occasion. In the Rhone Valley, the grenache syrah mourvedre blend delivers deep concentration and intensity in wines like the Chateauneuf du Pape Domaines De Vieille Julienne Les Hauts-lieux 2013 (£48.28 laywheeler.com; other vintages available elsewhere) which is structured, fullish on the palate, with rich flavours of autumnal berry fruits and some earthy, meaty notes. Decant well in advance. And if you cant bear to broach it now, it will keep and improve for many years.  
To spend somewhat less, but still get great wines, go further west and south to the Languedoc for two brilliant wines: in the Cotes de Thongue near Beziers, you will find the brilliantly individual, organically made La Croix Belle No 7 Les Folies 2014 (£21.00 rfvintners.co.uk) a slightly bonkers combination of those GSM grapes, plus four others; cabernet sauvignon, merlot, carignan and cinsault, which has masses of complexity, rich fruit, spices and chocolate and more layers of flavour than your festive trifle. Staying in the region, but moving closer to the Spanish border and the gorgeous town of Collioure, the Mas Cristine Rouge 2018 (£24.10 hedonism.co.uk) is syrah, carignan and grenache, with loads of herbal and black fruit flavours, a smack of southern sunshine-drenched vineyards to warm our midwinter days. Both of these wines are versatile enough to match roast meats and vegetable dishes, if, perhaps, a vegetable tagine or pie is your festive centrepiece. If you are looking for something similar but are on a tighter budget, the Paul Mas Reserve Languedoc Rouge (£6.99, normally £9.39, until 3 Jan; waitrose.com) from the reliable Paul Mas stable is good value at the normal price and a complete steal at the discount; a typical grenache-dominated blend, luscious brambly fruit, a hint of spice and herbs and a satisfying mouthfeel. Ideal for a wide variety of roasted meats and hard cheeses.  
Moving away from France, but still with strong European influence, the Masi Tupungato  Corvina Malbec Valle de Uco 2016 (£25.95 farehamwinecellar.co.uk) is made organically in Argentina, by a family of Italian origin using the "appassimento" method with semi-dried corvina and malbec grapes and aged in oak. It is rich, with dark fruit flavours, a hint of chocolate and coffee and more than a sense of Christmas cake about it, while remaining very dry. A fine wine for the cheese course as an alternative to port or dessert wine.  
So much for the heavyweights. Many people prefer a lighter red with turkey, chicken or perhaps pork or vegetable dishes and that's where we need to look to Italy. Firstly the brilliant Nipozzano Vecchie Viti Chianti Rufina Riserva DOCG 2016 (£23.69 strictlywine.co.uk; £27.50 winepoole.co.uk) from the legendary Frescobaldi family and made from a single, ancient vineyard. This is smooth, full of lifted cherry fruit flavours, clean but persistent on the palate; made outside the Chianti Classico zone, it nevertheless oozes class and, please, don't think of it as being anything like that cheap bottle of chianti you bought from the corner shop. Lighter but somehow even more penetrating and intensely fruity is the organic Marchese Valpolicella Ripasso Superiore Organic 2017 (£24.91 independent.wine), made in a sustainable winery with corvina, corvinone and rondinella using leftover grape skins from amarone wine in the "ripasso" method, (a different process to appassimento – see here for full explanation). It has flavours of cranberry, cherries and cinammon and aromas of eucalyptus. All that and a very non-traditional label.
And so to pinot noir, the choice for many of us for turkey, goose or duck. But I'm shying away from over-priced burgundy and looking instead to California and, more specifically, the Santa Lucia highlands rather than the overexposed Napa and Sonoma .
The Talbott Monterey "Kali Hart" Pinot Noir 2017 (£24.99 or £17.99 if bought as part of mixed six-bottle purchase majestic.co.uk) has sublime smoky, spicy, cherry fruit flavours and balanced with fresh acidity; if you didn't "get" Californian pinot noir until now, this should do the trick. Equally gorgeous, but a bit of a leap in price, is the SLH Hahn Pinot Noir 2016-2017 (£35.99 ministryofdrinks.co.uk) from a family-owned, sustainable, boutique winery: slightly fuller and more intense than the Kali Hart, it has enticing black fruit flavours, supple tannins and an overall freshness that underpins the intense flavours. 
If you love the beguiling qualities of pinot, but find, as do many, that Californian prices are a little intimidating, move south of the border, where Chile makes fantastic pinot as well, benefiting from the same Pacific coastal cooling breezes.
Errazuriz is one of the biggest and best names in Chilean wine and the Cuvee Aconcagua Pinot Noir 2019 (£9.00, normally £11.00, until 2 Jan; tesco.com) is richer and rounder than the Cali wines and has all the spice, smoke, earth and black cherry fruit you could wish for, cut through with fresh minerality. Great for the special meal but also a shoe in for that plate of turkey sandwiches in front of a roaring fire. Isn't that what Christmas is all about? 
Register for free to continue reading
Registration is a free and easy way to support our truly independent journalism
By registering, you will also enjoy limited access to Premium articles, exclusive newsletters, commenting, and virtual events with our leading journalists
Already have an account? sign in
Register for free to continue reading
Registration is a free and easy way to support our truly independent journalism
By registering, you will also enjoy limited access to Premium articles, exclusive newsletters, commenting, and virtual events with our leading journalists
Already have an account? sign in
Join our new commenting forum
Join thought-provoking conversations, follow other Independent readers and see their replies