UK secures £3bn in business deals with Kazakhstan despite human rights and corruption concerns
David Cameron describes the 40 trade deals as 'not bad for one afternoon's work'
Charlie Cooper
Whitehall Correspondent
Tuesday 03 November 2015 19:38 Comments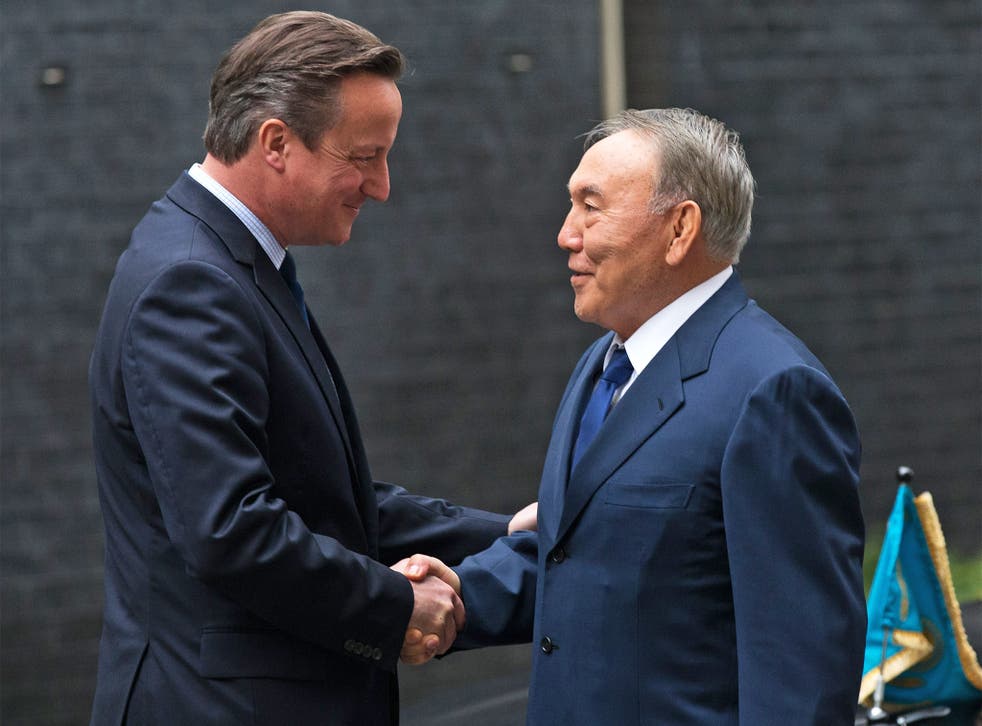 The UK has secured £3bn in business deals with Kazakhstan, despite profound international concern about human rights and corruption in the former Soviet state.
David Cameron said that the 40 trade deals, which include agreements to support four new gas plants and a steel production facility in Kazakhstan, were "not bad for one afternoon's work".
Kazakh president Nursultan Nazarbayev, who was re-elected in April with 98 per cent of the vote in a vote heavily criticised by international observers, is visiting the UK, and will have lunch with the Queen at Buckingham Palace on Wednesday. He will be accompanied by his daughter Dariga Nazarbayeva, who is also his deputy prime minister.
Downing Street said that human rights and political reform were discussed during talks.
Amnesty International UK said Kazakhstan had a "terrible track record over the torture of criminal suspects and in crackdowns on peaceful protesters and journalists."
The Prime Minister said he saw the two countries as "partners in prosperity and partners in progress". The talks came two weeks after the state visit of Chinese president Xi Jinping, and two days before Egyptian president Abdel Fattah al-Sisi.
Mr Nazarbayev congratulated Mr Cameron on winning this year's general election.
"You have carte blanche now to carry out completely new policy. I hope that in this policy there is going to be some place for Kazakhstan," he said.
Register for free to continue reading
Registration is a free and easy way to support our truly independent journalism
By registering, you will also enjoy limited access to Premium articles, exclusive newsletters, commenting, and virtual events with our leading journalists
Already have an account? sign in
Join our new commenting forum
Join thought-provoking conversations, follow other Independent readers and see their replies