Venezuela's foreign currency reserves down to just $10bn, leaving country open to defaulting on debt
'If oil prices stagnate and foreign reserves reach zero, then the clock is going to start on a default'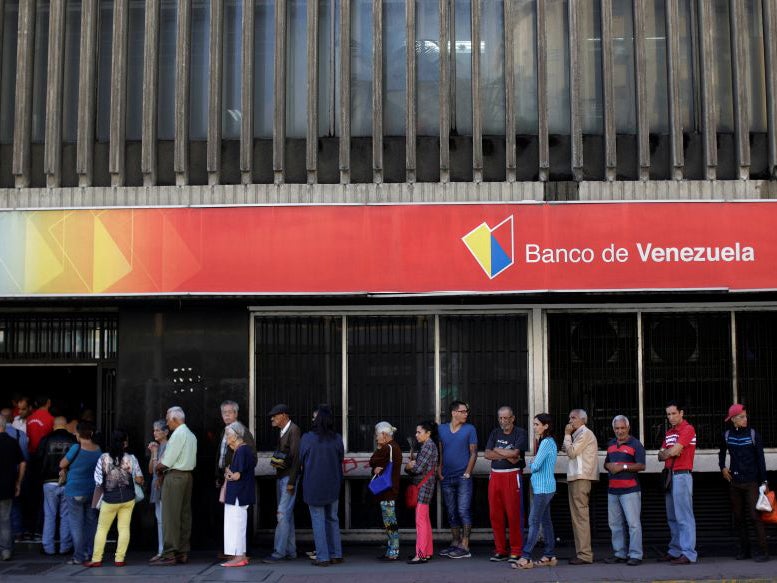 Venezuela's economic crisis has hit a new low, with the country's foreign currency reserves plunging to just $10bn (£8.1bn).
Venezuela has been in a dire state for months, with financial instability leaving food, medicine and electricity expensive and in short supply.
Under President Nicolás Maduro, who became President in 2013, the county's foreign currency reserves have dropped significantly.
Violent protests erupt in Venezuela against President Maduro
In 2011 - under Hugo Chavez - Venezuela had around $30bn (£24bn) in foreign reserves, but this had decreased to $20bn (£16bn) by 2015.
The country also owes $7.2bn (£5.8) in debts, which it has paid in the past using gold.
The small amount of reserves left over means it is possible that Venezuela could default on its debt, which could worsen austerity, further adding to the misery of Venezuelans and potentially sparking a more severe crisis.
Siobhan Morden, head of Latin America Fixed Income Strategy at Nomura Holdings said to CNN Money: "The question is: Where is the floor?
"If oil prices stagnate and foreign reserves reach zero, then the clock is going to start on a default."
State mismanagement of economic resources – particularly oil – has fuelled a severe financial crisis.
Economists says the country has been overly reliant on the fossil fuel, of which it has the largest reserves in the world, making up the bulk of its exports and bringing in 95 per cent of government revenue.
World news in pictures
Show all 50
But a fall in the price of oil, along with massive inflation, widespread corruption and a crash in the Bolívar, were all factors in the financial crisis.
The situation is expected to get worse, with some estimates placing inflation at 1,600 per cent this year.
Earlier this week, it was revealed that around 75 per cent of Venezuelans have lost an average of 8.6kg in bodyweight due to the food shortages.
A third of the country's population, around 9.6 million people, reported eating no more than two meals a day, a study found.
Join our commenting forum
Join thought-provoking conversations, follow other Independent readers and see their replies