More than 120,000 British children will be homeless this Christmas, says charity
Shelter says estimated figure is highest since 2007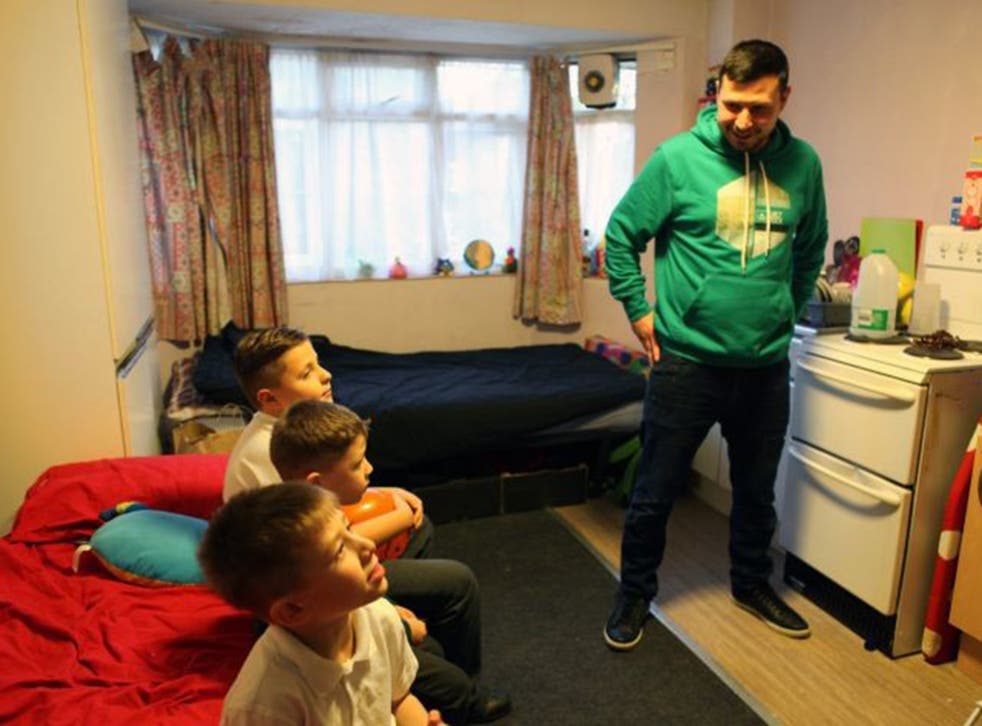 More than 120,000 children across Britain face spending this Christmas homeless and in temporary accommodation, according to analysis by Shelter.
The charity, which used government data to make the findings, said the estimated figure is the highest since 2007 when over 133,000 children were living in temporary accommodation by the end of March that year.
It also calculates that the number of of families living in emergency B&B and hostel rooms has risen by a "worrying" 18 per cent jump in the space of a year, standing at 7,475 by the end of June 2016.
Its report said: "The devastating results of our housing shortage are now being felt by over 120,000 homeless children in Britain - the equivalent of four children in every school."
Shelter also carried out interviews with 25 families currently or recently living in emergency B&B's, hostels or sofa-surfing. It said many felt their accommodation was unsafe and the worst accounts involved exposure to drug abuse, fighting and strangers sleeping in corridors.
Every family interviewed lived in a single room and over half of parents also had to share a bed with their children.
One family interviewed by Shelter was sharing a two bedroom terraced house with three other families.
Many families also reported having to share toilet and bathroom facilities with other residents, according to Shelter, which has launched a Christmas appeal.
£700,000 raised for Homeless Veterans - London Live
It said examples of disrepair in the accommodation families were staying in included dirty or broken mattresses and beds as well as serious hazards like sparking electrical sockets, mould, and windows that would not close.
Eighteen of the 25 families interviewed said their children's mental and emotional health had been badly affected, with accounts of children becoming anxious, isolated from their friends and struggling to sleep. Over half of parents said their children's development was negatively impacted.
Campbell Robb, chief executive of Shelter, said: "Fifty years since Shelter was founded, too many families still need our help.
"Almost daily we hear from parents desperate to escape the single cramped room of a B&B or hostel that they find themselves struggling to raise their children in. Imagine having to eat all of your meals on the floor, share a bed with the rest of your family, or being too frightened to leave your room at night - these are things no parent wants their child to endure.
"That's why we urgently need the public's support to help us be there for the thousands of families who'll need us this Christmas."
A spokesman for the Department of Communities and Local Government said: "Temporary accommodation ensures that no families with children are ever left without roofs over their heads.
"This Government has invested £500m to tackle homelessness - including prevention funding and £40m for councils to help rough sleepers.
UK news in pictures

Show all 50
"Just last week, this Government announced it would be backing Bob Blackman's Homelessness Reduction Bill - which will also provide vital support for many more people."
John Healey, shadow secretary of state for housing, said: "Tory ministers should hang their heads in shame over these shocking figures showing over 120,000 children are facing homelessness this Christmas.
"These are the children that can't go home and after six years Conservative ministers can't dodge their responsibility for this scandal."
Join our new commenting forum
Join thought-provoking conversations, follow other Independent readers and see their replies