Government doesn't investigate human rights claims against Saudi Arabia before selling arms
Exclusive: Officials only come to an 'overall judgement' on whether weapons sold will be used to breach laws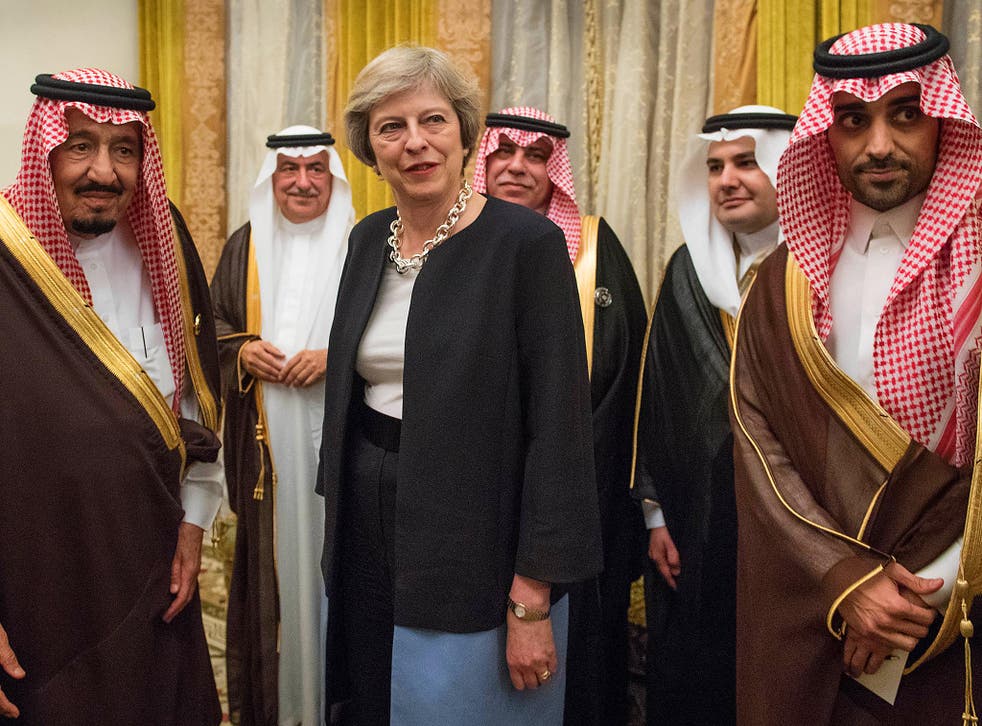 The Government does not make judgments over whether countries like Saudi Arabia have violated international humanitarian laws in specific cases before granting arms exports to them.
Ministers have admitted they do not reach any conclusion on whether there have been violations in particular cases, because they say it would "not be possible" in conflicts the UK is not involved in.
Ministers instead try to come to "an overall judgement" that arms sold to a country will not be used to violate international humanitarian laws (IHL), a government spokesman has told The Independent.
The revelation comes ahead of a landmark judicial review case this week in the High Court, which will determine the legality of the arms transfers to Saudi Arabia.
Campaigners have demanded to know how it is possible to reach an "overall judgement" without determining whether violations have occurred in individual instances and accused the Government of "burying its head in the sand".
It follows the publication of a report from two committees of MPs which said it had been presented with evidence of "clear violations" of international humanitarian law in the war being waged in part by a Saudi-led coalition in Yemen, including an air strike on a wedding party which killed 47 civilians and injured 58 more.
It has also emerged that Saudi Arabia recently used British-made cluster bombs in the ongoing conflict that the UN believes has led to 10,000 deaths.
There has been outrage that the Government is continuing to allow arms sales to Saudi Arabia despite many claims of violations of IHL in Yemen.
Angus Robertson questions Theresa May over arms sales to Saudi Arabia at PMQs
But when Liberal Democrat MP Tom Brake called on the Government to publish the findings on which its assessment of alleged violations of international humanitarian law in Yemen is based, he was told that while some incidents were monitored and analysed, no conclusions on individual cases are reached.
Instead, information is used to "form an overall view on the approach and attitude of Saudi Arabia" to IHL.
Tobias Ellwood, minister for the Middle East and Africa, said in a written answer: "It is important to make clear that neither the [Ministry of Defence] nor the [Foreign Office] reaches a conclusion as to whether or not an IHL violation has taken place in relation to each and every incident of potential concern that comes to its attention.
"This would simply not be possible in conflicts to which the UK is not a party, as is the case in Yemen."
Yemen's prime minister accuses UK of war crimes
The response comes despite a joint report by MPs on the House of Commons business and international development committees calling for sales of UK weapons which could be used in Saudi Arabia's military action in Yemen to be halted until the completion of an independent inquiry into allegations, for which it had seen "clear evidence".
Mr Brake told The Independent: "Yet again the Government is tying itself up in knots to defend their continued sale of arms to Saudi.
"Instead of fully assessing the significant evidence of horrific attacks by Saudi on civilians in Yemen, they are burying their heads in the sand and allowing British-made weapons to be complicit in these attacks.
"This is the dark side of a Tory-Brexit government who are desperate to pursue trade, no matter the human cost."
10 examples of Saudi Arabia's human rights abuses

Show all 10
Andrew Smith of Campaign Against Arms Trade (CAAT) said the UK regime for granting licences should be reformed.
He said: "How can the Government reach an overall judgement without making judgements on specific allegations?
"How can they possibly form an overall picture without determining whether or not allegations are true? If arms export controls mean anything then all allegations of human rights breaches must be thoroughly investigated."
It was confirmed last month that Britain exported 500 cluster bombs to Saudi Arabia in an arms deal dating back to when Margaret Thatcher was in power.
Defence Secretary Sir Michael Fallon revealed the official figures, which relate to exports signed off by the Government between 1986 to 1989, after it emerged that a "limited number" of the weapons sold to the autocracy are still in its stockpile.
theresa May can't give assurances that no civilians have been killed by British arms in Yemen
The weapons are now banned after Britain signed a treaty in 2010, but Sir Michael has said he was satisfied the bombs had not been used to breach IHL.
Saudi Arabia in December admitted using the weapons in Yemen. It has now told the British government it will no longer use them, but has not confirmed it has destroyed them.
It is also investigating itself over alleged violations of international human rights law in Yemen.
On 7, 8 and 10 February, Amnesty International, Human Rights Watch and Oxfam will make submissions to the High Court, in a legal challenge brought by CAAT, over the selling of arms by the UK to the Saudis.
James Lynch, head of Human Rights at Amnesty, said the government's repeated refusal to halt arms transfers "beggars belief", given the extensive and credible reporting showing the Saudi Arabia-led coalition's ongoing serious violations of international human rights.
A poll by CAAT has revealed that two-thirds of British people think selling arms to the Saudis is unacceptable.
A Foreign Office spokesperson said: "The UK Government operates one of the most robust arms export control regimes in the world.
"We do not make assessments in each and every alleged case of a breach of IHL, as we are not in a position to do so.
"However, the Ministry of Defence monitors alleged IHL violations using all available information, such as media and other reports, and this wider picture is used to form an overall judgement of the risk that any exported items might be used in the commission of a serious violation of IHL."
Join our new commenting forum
Join thought-provoking conversations, follow other Independent readers and see their replies