As it happened
ended
1497041538
Election 2017 live updates: Theresa May claims Conservative government supported by DUP will provide 'certainty'
The Independent will be bringing you all the live updates as the UK's next government is formed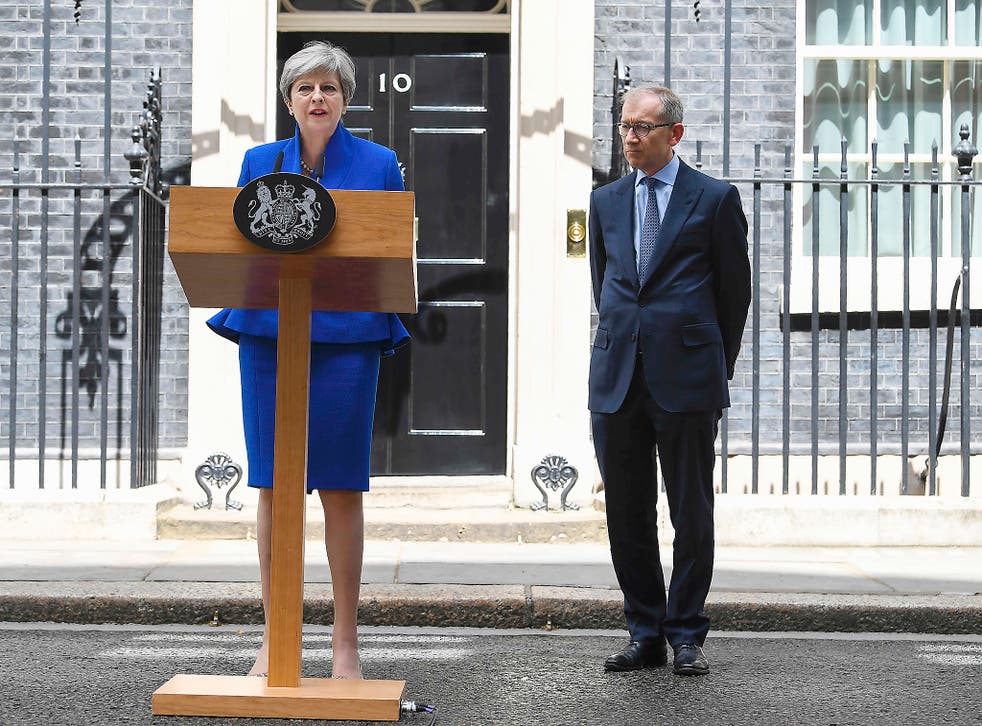 Theresa May has said she will form a Conservative government backed by the DUP, claiming it can bring "certainty" to the UK.
After visiting the Queen, the Prime Minister claimed there was a "strong relationship" between the two parties, amid concern over the DUP's controversial anti-abortion and anti-LGBT policies.
The PM has also apologised to Conservatives who lost last night. She said: "I'm sorry for all those colleagues who lost their seats." She will "reflect on what we need to do in the future to take the party forward" after the result, she added.
The UK voted for a hung parliament after shock losses for the Conservatives in the 2017 general election. With 649 of 650 seats declared, the Tories had 318 seats - eight short of the figure needed to win outright - with Labour on 261, the SNP on 35 and Liberal Democrats on 12.
Jeremy Corbyn's party increase its share of the vote by 9.6 per cent, while the Tories were up 5.5 per cent, the Liberal Democrats, Greens and SNP saw small loses and Ukip's vote collapsed.
The live blog has now ended
UK Election Day 2017

Show all 38
Politicians, voters, and even their pets have been heading to polling stations and are posing for the cameras at every opportunity.
The Prime Minister has made clear that she would rely on the support of the Democratic Unionist Party in order to get her programme through Parliament, despite concern over its stance on issues including equal marriage, abortion and climate change.
Making no allusion to losses suffered by the Conservatives, Ms May said she intended to press ahead with her plans for Brexit.
She faced calls from within her own party to consider her own position after the election, which she brought forward by three years in the hope it would deliver an increased majority in the Commons.
Jeremy Corbyn urged her to resign and allow him to form a minority administration, declaring: "We are ready to serve this country."
But, after intensive talks with the DUP, the Prime Minister instead drove the short distance to Buckingham Palace to ask the Queen for permission to form a new government.
The final election results came in late on Friday, after Kensington finally declared a Labour win — with a tiny 20-vote majority. They were:
Out of 650 seats
Conservatives 318 (-13)
Labour 262 (+30)
SNP 35 (-21)
Lib Dems 12 (+4)
DUP 10 (+2)
Sinn Fein 7 (+3)
Plaid Cymru 4 (+1)
Green 1 (--)
Ukip 0 (-1)
1496902301
Good morning and welcome to The Independent's liveblog as voters head to polling stations across the UK. Expect images of politicians (and dogs) heading to cast their ballots throughout the day. 
The exit poll will be published at 10pm when the polls close. 
Kristin Hugo
8 June 2017 07:11
1496903672
Here is an extract from Jeremy Corbyn's final plea to voters on Wednesday evening in Islington. 
"Tomorrow you have the power to say our country can be better than this. It can be run in the interests of the majority; not the political and corporate elites.

"People fought and died for our right to vote. In the course of this campaign people have lost their lives in Manchester and here in London - citizens of a free and democratic country.

"We can honour the victims of these atrocities tomorrow by voting. By showing democracy that will never be cowed by terror and that hope can triumph over fear.

"Labour's campaign has already changed the face of British politics. As we prepare for government, we have already changed the debate and given people hope. Hope that it doesn't have to be like this; that inequality can be tackled; that austerity can be ended; that you can stand up to the elites and the cynics.

"This is the new centre ground. The place where most people actually are. The policies the majority actually want, not what the establishment and its media mouthpieces insist they should want. This is the new mainstream, and we have staked it out and made it our own - together."
Kristin Hugo
8 June 2017 07:34
1496904203
This is from Theresa May's final plea to voters:
"Today is a day for everybody across the country to fix their sights on the future and vote for a better future of fairness, security and opportunity for all.

"That is the future I want for Britain as we fulfil the promise of Brexit together.

"If we get Brexit right, we can build a Britain that is more prosperous and more secure. A Britain in which prosperity and opportunity is shared by all. A Britain where it's not where you come from or who your parents are that matter, but the talent you have and how hard you are prepared to work. The greatest meritocracy in the world.

"That's my ambition for Britain. Not just to get the right deal for Britain abroad, but to get a better deal for ordinary working people at home. To put the power of government firmly at their service, to stand up for the weak and stand up to the strong, and put the voices and interests of ordinary working people at the heart of everything we do.

"It's why I will build a Britain that is stronger, so that everyone has the security they need to live a full and happy life. Why I will build a Britain that is fairer, so that no one is left behind and every person has the chance to be all they want to be. Why I will build a Britain where prosperity and opportunity are shared across the country so that all can succeed. A stronger, more united country that stands tall in the world.

"This is the prize ahead if we get Brexit right. So if, like me, you believe in Britain. If, like me, you want our country to succeed. If, like me, you believe in putting division behind us, in looking to the future and getting on with the job of building the stronger, more secure country that we need, then fix your sights on the future. And in this unique and crucial election for our country, give me your backing to lead Britain, speak for Britain, fight for Britain, and deliver for Britain. 

"I can only build that better country and get the right deal in Brussels with the support of the British people. So whoever you have voted for in the past, if that is the future you want then vote Conservative today and we can all go forward together."
Kristin Hugo
8 June 2017 07:43
1496905539
64 minutes after voting started and social media is already awash with dogs posing outside polling stations. Here's Louise Haigh, a Labour candidate in Sheffield, who served on the party's frontbench in the last parliament: 
Kristin Hugo
8 June 2017 08:05
1496908352
Former Labour Foreign Secretary David Miliband is on the road today: 
Kristin Hugo
8 June 2017 08:52
Join our new commenting forum
Join thought-provoking conversations, follow other Independent readers and see their replies