Nicola Sturgeon warns David Cameron: Referendum decision lies with the Scottish public
The SNP leader will use her party's success to push for independence again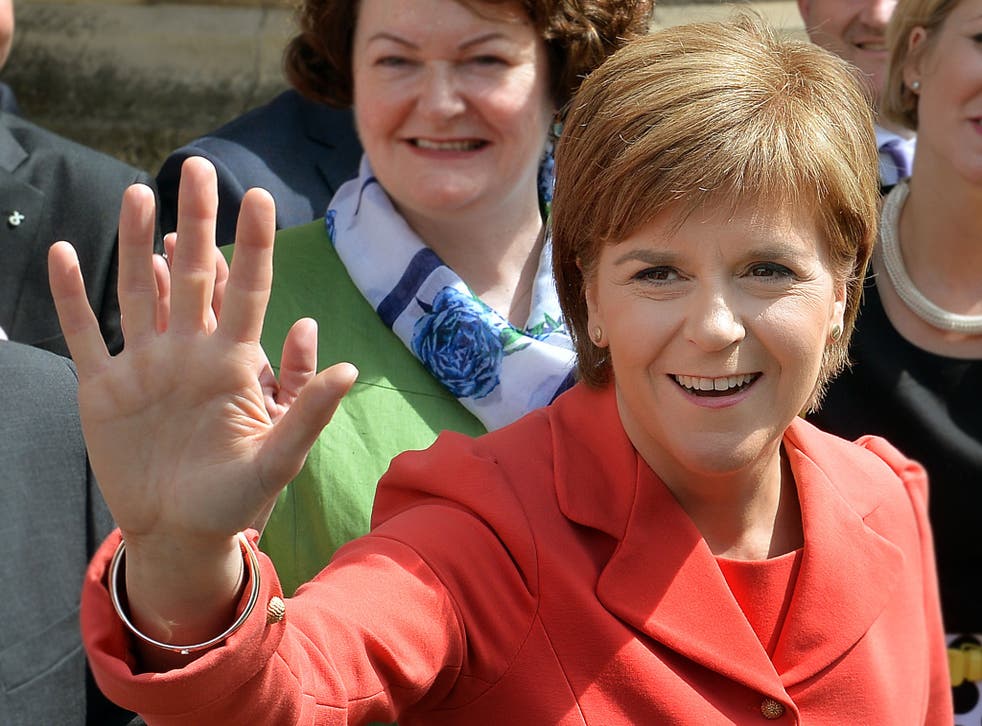 David Cameron's plans to devolve more powers to Scotland do not go "far enough", Nicola Sturgeon has said as she warned the Prime Minister that he has "no right" to rule out a second referendum on independence.
The SNP leader said she planned to hold a face-to-face meeting with Mr Cameron as soon as possible, warning him that the recommendations made by the Smith Commission after the independence vote must now be reconsidered in the light of her party's landslide victory in Scotland.
Although she did not stand for election herself, Ms Sturgeon visited London to present the SNP's new delegation of 56 MPs to Parliament, where it is now the third largest party. It is set to appoint its Westminster group leader, who will have the important role of challenging Mr Cameron at Prime Minister's Questions.
Alex Salmond, the new MP for Gordon and Ms Sturgeon's predecessor as leader, arrived late for the photo opportunity and stood at the periphery as she posed for the cameras in front of the new cohort of MPs.
Asked whether he would be applying for the job of SNP's Chief Whip in the Commons, he replied: "I don't think that's my style is it...I'm more used to breaking whips than following them." Hinting at future rebellion, he added that he might find a "self-imposed" silence "slightly tricky" to keep for the next five years.
At the weekend Mr Cameron ruled out another referendum on Scottish independence, pointing out that the SNP was not pushing for one. But Ms Sturgeon said he had no right to do so because the decision would depend on "what people in Scotland want".
The Prime Minister is also facing increasing pressure to re-examine the handover of more powers to Scotland after the SNP won 56 of the country's 59 Westminster seats. Although he has promised to honour the Smith Commission's proposals "as fast as I can", Ms Sturgeon said he was acting "as if nothing has changed in Scotland".
"I have had one conversation with David Cameron so far and his starting point seemed to be to implement the Smith Commission proposals," she said. "I don't think that goes far enough and I think that has to be looked at again…We've agreed to talk face to face as soon as it can be arranged."
Best General Election 2015 quotes

Show all 10
The former Labour chancellor Alistair Darling, who led last year's campaign against Scottish independence, said the existing proposals had been "completely overtaken by events". He said Mr Cameron risked breaking up the Union if he did not consider a "federal solution" which would be fairer for Wales, England and Northern Ireland.
"I think we've always turned our backs on a federal solution simply because of the fact 80 per cent of the population lives in England," he said. "But I think you can move towards that, and say for Scotland, for Wales, Northern Ireland: 'Here are substantially more powers and responsibilities'."
The Conservative peer Lord Forsyth, who served as Scottish Secretary under John Major, also urged Mr Cameron to draw up a White Paper on full fiscal autonomy for Scotland so the advantages and disadvantages of the policy could be clarified for voters.
The SNP argued in its election manifesto that Scotland would be able to grow its economy faster if it was given full control of its finances – but the independent Institute for Fiscal Studies said the policy would lead to a multibillion-pound budget shortfall.
"I think what the Government needs to do is produce a White Paper which sets out how fiscal autonomy, devo-max, call it what you will, would work in practice so people are aware of the advantages and the disadvantages," Lord Forsyth said.
"The big advantage being Nicola Sturgeon and the SNP would not be able to produce fantasy manifestos that promise the earth without having the responsibility of raising the money to pay for it."
Join our new commenting forum
Join thought-provoking conversations, follow other Independent readers and see their replies