Nigel Farage defends Romanian neighbours comments after car-crash interview with full-page advert saying 'Ukip is not a racist party'
The Ukip leader earlier said he had been 'tired' when he claimed he would be 'uncomfortable' if a Romanian family moved in next-door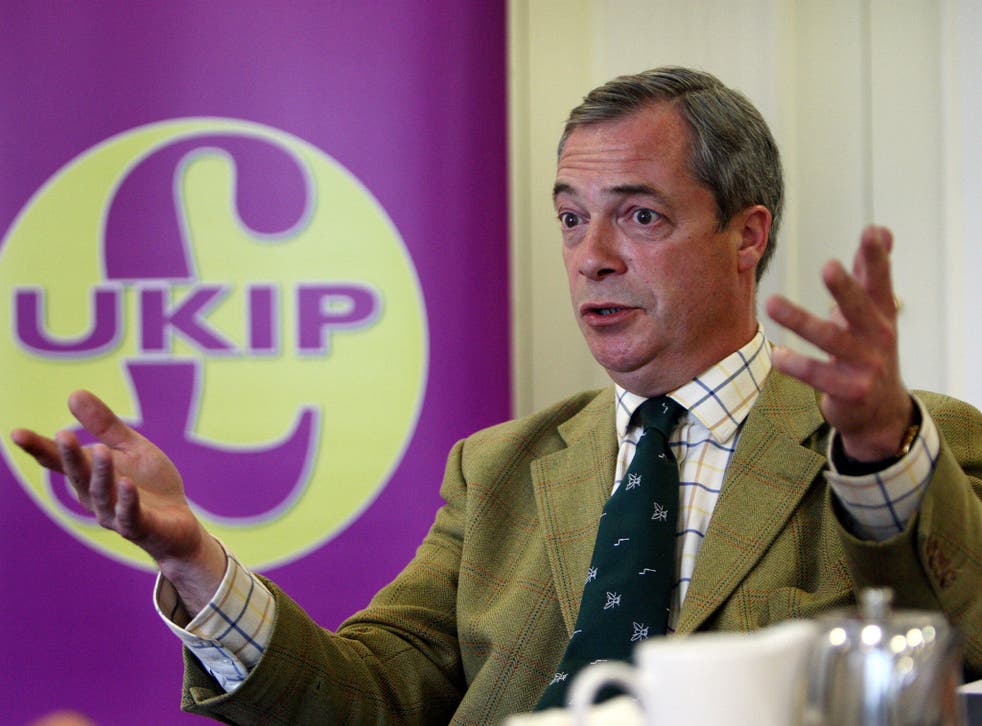 Nigel Farage has defended the comments he made about Romanian people in a car-crash interview with LBC last week, insisting that "Ukip is not a racist party".
After he told BBC News that he had been "tired" when he made the radio appearance last week, the party has now taken out a full-page advert in a national newspaper featuring "an open letter" from its leader.
Mr Farage was accused by Lib Dem leader Nick Clegg of revealing his "divisive, nasty approach" to politics on Friday when he insisted to LBC's James O'Brien that he was right to feel "uncomfortable" at the thought of having a Romanian family move in next door.
He later appeared to relent – saying he "regretted" the fact that he "didn't use the form of words in response that I would have liked to have used", adding: "In life sometimes people get things wrong."
Yet today the party appeared to be back on the offensive. In an advert in the Daily Telegraph, Mr Farage again quoted crime figures about Romanians, saying that they commit "92 per cent of all ATM crime in London".
"The vast majority of Romanians who have come to the UK wish to better their lives and would make good neighbours," he wrote.
"But there is a real problem, an unpalatable truth that our political class would rather not discuss. Since the welcome fall of Communism and the awful dictator Ceausescu, Romania has struggled to complete a full transition into a western democracy."
Citing issues of organised crime and the social exclusion of the Roma minority in Eastern Europe, Mr Farage went on to say: "We should not be in a political union with Romania, with an opened door to all of their citizens. We must take back the power to stop criminals from entering our country by taking back control of our borders.
Ukip gaffes and controversies

Show all 18
"When this happens my answer to the question, 'should people be concerned if a group of Romanian men moved in next door?' will be 'no'."
Mr Clegg, the Deputy Prime Minister, told BBC1's Andrew Marr Show yesterday that after a difficult week for Ukip "the mask is starting to slip".
He said: "I think what's being revealed that sort of behind the beer-swilling bonhomie is a rather nasty view of the world.
"I think anyone who singles out one community, one nationality, and says 'I don't want to live next door to them', I really think that's the politics of division and I think it really should have no place in modern Britain."
Last week also saw Ukip's South East chair Janice Atkinson clash with protesters in Ashford, Kent, and a picture of her swearing at them quickly went viral.
On Friday, as well as the bruising LBC interview, the party was forced to cancel its Freephone number after it received so many calls from protesters deliberately trying to push up the party's costs.
And it wasn't a good day generally for the party, after it was reported that one of its MEP candidates was found to be employing seven illegal immigrants – and Mr Farage "refused to appear on London Live without a professional make-up artist".
Join our new commenting forum
Join thought-provoking conversations, follow other Independent readers and see their replies