Theresa May's attack on foreign students could damage post-Brexit trade with India
But the Prime Minister will face tough questions over new visa restrictions for high-skilled workers likely to affect the Indian IT sector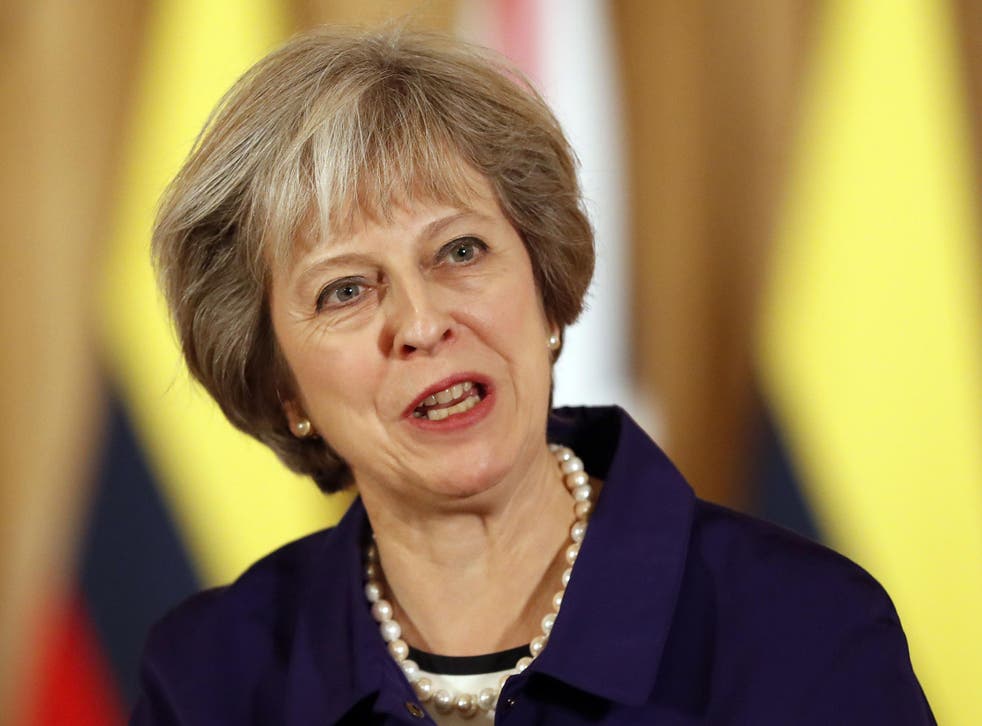 Theresa May has been told that her tough stance on immigraiton could harm any chances of a post-Brexit trade deal with India.
A delegation of 40 business leaders will accompany the Prime Minister on a two-day visit to India today in which the Prime Minister hopes to set in motion the possibility of a free trade deal that can be signed as quickly as possible once the UK leaves the EU.
But the Prime Minister will face difficult questions about changes in UK visa arrangements for Indian workers and students, as the Home Office seeks to drive down non-EU migration figures, which already account for more than half of all migration to the UK.
And her visit has been overshadowed by comments from Dinesh Patnaik, India's High Commissioner in London, who said:
"Students, tourists and short-term visitors are not migrants under any definition.
"Post-Brexit, you need Indians. Our tourists… don't come to Britain due to difficult visa conditions."
Speaking ahead of the visit, the Prime Minister said: "When I took office, I said that the mission of this Government would be to forge a bold new positive role for the United Kingdom in the world and make Britain a country that works not for a privileged few, but for every one of us. And that's exactly what I will be doing this week – leading my first trade mission to India, with small businesses from every corner of the country, as we seize the opportunities of leaving the European Union.
"Because while others seek to tie our negotiating hands, the Government will get on with the job of delivering the decision of the British people. It was MPs who overwhelmingly decided to put the decision in their hands. The result was clear. It was legitimate. MPs and peers who regret the referendum result need to accept what the people decided.
"And now we need to turn our minds to how we get the best outcome for our country. That means sticking to our plan and timetable, getting on with the work of developing our negotiating strategy and not putting all our cards on the table – that is not in our national interest and it won't help us get the best deal for Britain.
"It also means expanding our horizons and forging stronger partnerships with countries around the world. The UK and India are natural partners – the world's oldest democracy and the world's largest democracy – and together I believe we can achieve great things – delivering jobs and skills, developing new technologies and improving our cities, tackling terrorism and climate change. This is a partnership about our shared security and shared prosperity. It is a partnership of potential. And on this visit I intend to harness that potential, rebooting an age-old relationship in this age of opportunity and with that helping to build a better Britain."
But Indian tech body Nasscom has called for a high-skilled worker mobility agreement with Britain, warning: "A system that restricts the UK's ability to access talent is also likely to restrict the growth and productivity of the UK economy."
Meanwhile, the head of the Federation of Indian Chambers of Commerce and Industry (Ficci), A Didar Singh, warned that UK-Indian trade faces a "double hit".
"Exports from the UK to India have been declining," Mr Singh told The Guardian.
"Now, exports from India to the UK will also decline because you've lost 18% of your pound's value. So if I'm sending something to the UK and getting a lower return on it, I'm going to have a think about that. It's a double hit."
Among deals expected to be confirmed during the visit are:
A £1.2 million joint venture between the Pandrol Group UK and Rahee Group in India to set up a manufacturing plant for rail projects;
A £15 million imaging and diagnostic centre in Chennai by Lyca Health UK; and
A £350 million investment from British start-up Kloudpad in high-tech electronics manufacturing in Kochi.
A number of commercial deals will be signed during the visit, including a £350m investment from British start up, Kloudpad, into electronics manufacturing in Kochi, in southern India.
Detailing the aims of the visit, a spokesperson said: "On trade, we really want to unlock the potential of the relationship on both sides. That means looking at how we can lay the groundwork before we leave the EU for breaking down existing barriers to trade that there are.
"We are also going to be looking at how we progress towards having a more ambitious trading relationship once we are outside the EU.
"We want to establish more of a dialogue to explore what that relationship would look like so that once we have left the EU we will be ready to move as quickly as possible to develop that free trade relationship."
On Friday, the Home Office announced changes in visa rules that introduce minimum salaries for high skilled workers, which could affect the numbers of Indian workers allowed to work in Britain, particularly in its burgeoning IT sector. Indian tech body Nasscom has called for a high-skilled worker mobility agreement with Britain, warning: "A system that restricts the UK's ability to access talent is also likely to restrict the growth and productivity of the UK economy."
Ms May will address a business conference in New Delhi on Monday, before holding face-to-face talks with Prime Minister Narendra Modi.
She will also pay her respects at the Raj Ghat memorial to Mahatma Gandhi during her stay in the Indian capital.
On the second day of her two-day visit, she will travel to Bangalore, the fast-growing tech and business hub in the south of the country.
She will also be accompanied by International Trade Minister Liam Fox.
Join our new commenting forum
Join thought-provoking conversations, follow other Independent readers and see their replies