Starbucks workers form first-ever union in company history
Union election marks milestone event during historic wave of labour actions across US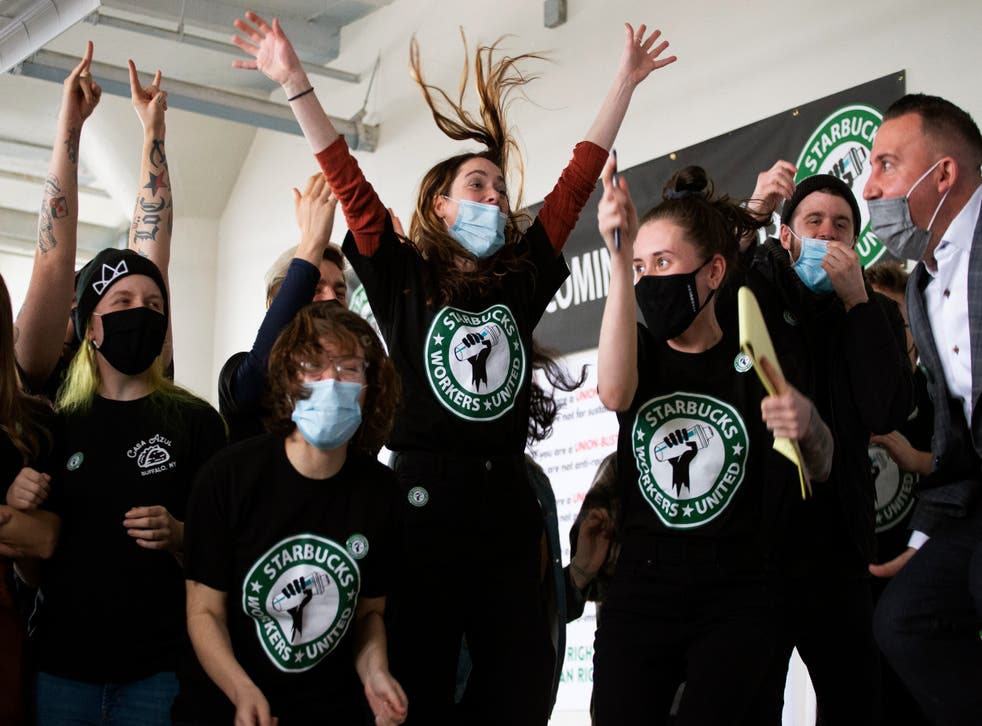 Leer en Español
Starbucks workers at a coffeeshop in New York's second-biggest city have voted to form the first-ever union in the company's 50-year history, marking a major milestone in labour organising during a historic wave of worker actions with potential to spark similar campaigns at other stores.
On 9 December, the National Labor Relations Board tallied 27 ballots cast among 36 eligible workers from one Buffalo store, with 19 ballots voting to unionise and eight against, following a closely watched election that will reverberate across the nation's service industry workforce.
Three Buffalo-area shops held independent elections to determine whether they would unionise. One shop voted down the results, which the union is likely to challenge, and a post-election review of several challenged ballots will determine the outcome at another location.
The Elmwood Avenue location is the first among the company's roughly 9,000 corporate-owned US stores to unionise, a landmark labour victory as thousands of workers across the US join strikes for better wages and working conditions or to push for union membership.
Workers at the Camp Road location voted against unionising by a vote of 12 against and four in support. The union needed to reach a simple majority vote to win recognition.
For the election among workers at the Genesee Street in nearby Cheektowaga, New York, the union's lawyer Ian Hayes challenged six ballots, arguing that those workers do not work at that store. Alan Model, a lawyer for Starbucks, disagreed. Mr Model also challenged one ballot.
Among the unchallenged ballots, the results included 15 in support with nine against. Without a simple majority, those contested ballots will be determinative. A post-election process will review those ballots and mark an outcome at a later date.
Union supporters say the Camp Road store was recently staffed by new hires who were steered by the company against joining the campaign. Two ballot challenges at that location remain unresolved, and one was voided by the board.
Mr Hayes also said three ballots were slipped under the door of a local labour board office before deadline, and that those votes should count. If those are "yes" votes, they would be determinative. The union is likely to challenge those results.
Starbucks Workers United has asked that the company recognise the union and negotiate a contract "in good faith and without delay."
"Today has been monumental in what we've achieved," said Gianna Reeve, a shift supervisor at the Camp Road location. "Now the next step in that is bringing Starbucks to the negotiating table. ... We've earned our seat ... We are the heart of this company."
Workers are hopeful that the company will agree to bargain with them, though they are likely to face an uphill battle as they did throughout their campaign.
While the organising effort involved only about 100 workers in Buffalo, the company – which employs about 235,000 people across 9,000 corporate stores – has taken the campaign seriously.
In a filing with the board last month, Starbucks Workers United accused the company of "engaging in a campaign of threats, intimidation, surveillance, solicitation of grievances and the closing of facilities" ahead of the election.
The company had also appealed to the labour board for an "immediate" stay to halt the election, arguing that a single vote should cover all three Buffalo stores, rather than each separately.
Workers have described a series of actions perceived as attempts to dissuade them from unionising, from anti-union mailings, texts and emails to weekly meetings with management warning that workers could lose benefits or promotions.
In September, several executives visited stores in Buffalo and began sweeping floors, taking out the trash and talking to staff. In an October statement, Rossann Williams, president of Starbucks North America, said she came to Buffalo "to see for myself the working conditions and operational challenges our partners had shared with us".
Days before the election began, Starbucks closed area stores to invite workers to a voluntary talk from former CEO and the company's largest shareholder Howard Schultz at a local hotel. He did not explicitly mention the union campaign but referenced company benefits and learning from "mistakes" throughout the company's history. He also appeared to draw parallels between company culture and the experiences of Holocaust prisoners in rail cars sharing a blanket.
In his first public comments following the union campaign, Kevin Johnson – the company's CEO – told The Wall Street Journal that an attempt to unionise Starbucks workers "goes against having that direct relationship with our partners that has served us so well for decades and allowed us to build this great company."
In a statement to employees on 7 December, Mr Johnson said he respected the union election process.
"We have heard you, and we are making progress on the toughest obstacles," he said. "There is more to do as we continue to adapt to a long-term Covid reality."
Starbucks Workers United members will join the Service Employees International Union, which represents nearly 2 million workers.
One-fifth of workers in the Buffalo area, a region steeped in organised labour history, belongs to a union, according to Cornell University, a figure that is roughly double the national rate, which is at about 10 per cent.
From media and fast food workers and app-based food delivery drivers to roughly two dozen employees at Tudor's Biscuit World in the small town of Elkview, West Virginia, thousands of workers across the US have joined union campaigns this year, propelled by a renewed labour fight during a public health crisis that has underscored the gulf between company earnings and working conditions and pay.
Following Amazon's anti-union campaign targeting workers at the retail giant's Alabama warehouse, workers who sought to create the company's first-ever union are likely to hold another election, after an official with the nation's labour board determined that the company showed a "flagrant disregard" for election rules and "hijacked" the process.
The International Brotherhood of Teamsters, one of the largest union in the country, pledged to "supply all resources necessary" to see Amazon workers unionised.
Thousands of union members have also led high-profile strikes at large employers across the US.
Last month, thousands of United Auto Workers members that manufacture John Deere tractor products ended one of the largest strikes in the US after union members reached a new contract with the company.
The union that represents hundreds of Nabisco workers also reached a tentative agreement with the snack giant's parent company following two months of work stoppages in several states, nationwide boycotts and protests.
Roughly 1,400 workers in three states that produce ubiquitous Kellogg's cereals like Corn Flakes and Raisin Bran have entered the third month of their strike, after members of the Bakery, Confectionery, Tobacco Workers and Grain Millers International Union overwhelmingly rejected a tentative agreement on a five-year contract.
More than 1,000 Alabama coal miners have been striking since April, and have rallied in New York City and Washington DC to bring attention to their fight.
Several student workers unions have launched strikes across the country, including more than 3,000 graduate student workers at New York's Columbia University.
Thousands of members of the International Alliance of Theatrical Stage Employees also threatened to strike in October without a new deal with the Alliance of Motion Picture and Television Producers, with 60,000 union members potentially grinding film and television production to a halt.
Register for free to continue reading
Registration is a free and easy way to support our truly independent journalism
By registering, you will also enjoy limited access to Premium articles, exclusive newsletters, commenting, and virtual events with our leading journalists
Already have an account? sign in
Register for free to continue reading
Registration is a free and easy way to support our truly independent journalism
By registering, you will also enjoy limited access to Premium articles, exclusive newsletters, commenting, and virtual events with our leading journalists
Already have an account? sign in
Join our new commenting forum
Join thought-provoking conversations, follow other Independent readers and see their replies