Virgina killings: Gunman Vester Flanagan confirmed dead after shooting two journalists live on air
Reporter Alison Parker and cameraman Adam Ward were shot dead while conducting an interview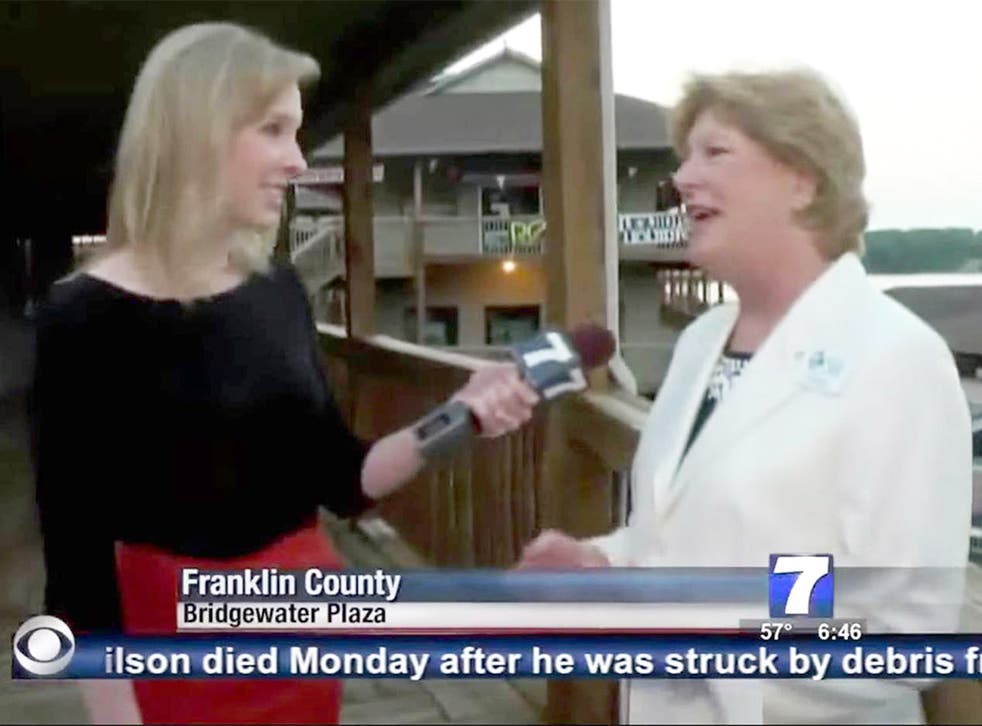 A community in Virginia is confronting horror and bewilderment after two journalists were shot and killed during a live broadcast – an act apparently carried out by a disgruntled former colleague.
Viewers of WDBJ7, a network based in Roanoke, watched aghast as an interview by reporter Alison Parker was interrupted by the sound of gunshots and the sight of the 24-year-old woman trying to flee.
She and cameraman Adam Ward, 27, were both killed, while the woman being interviewed – later identified as Vicki Gardner, executive director of the Smith Mountain Lake Regional Chamber of Commerce - was seriously injured. She was said to be stable Carilion Roanoke Memorial Hospital after undergoing surgery.
The footage that viewers saw of the attack was being filmed by Mr Ward, described by the network as a "go-to-guy".
Police from across the region immediately launched a search for the suspected gunman, named as journalist Vester Flanagan, who also used the on-air name of Bryce Williams. He worked for WDBJ7 until he was fired two years ago and had filed a discrrimination lawsuit against the channel.
Police said that Mr Flanagan – who apparently filmed himself shooting the journalists and posted the footage taken in his cell phone onto his Twitter feed – later shot himself as he was being hunted by officers. At a press conference later, he was confirmed dead.
The shooting stunned the media community in Virginia and sent reverberations across the nation. The two journalists both had partners. Mr Ward's fiancé was said to have in the control room at the time of the shooting.
Ms Parker's boyfriend, Chris Hurst, himself a journalist, said they had been together for nine months and were also planning to wed. "It was the best nine months of our lives," he said in a series of messages posted on social media.
Police had initially said they were unclear of a motive for the crime. But in the hours afterwards, it emerged that Mr Flanagan may have had a beef with the network.
In pictures: Virginia shootings

Show all 13
On the same social social media feed where he posted the shocking footage of his assault, he claimed that Ms Parker had made racist comments and that he had filed a complaint with the Equal Employment Opportunity Commission.
He also claimed Mr Ward had complained to the station's human resources department about him. Mr Flanagan also posted a clipping of a storm detailing a previous legal action had filed in 2000 against a an earlier employer, WTWC-TV in Tallahassee.
ABC News said that some time between Tuesday night and Wednesday morning, the network received a fax from someone claiming to be Bryce Williams, or Mr Flanagan. ABC said it had handed the 23 page document over to the authorities.
Virginia Governor Terry McAuliffe described the killer as a "disgruntled" current or former station employee.
The shooting took place at 6.45am local time in Bedford County, in the south-central part of the state. Ms Parker and Mr Ward were filming a segment at the Bridgewater Plaza, a shopping and recreation plaza.
WDBJ-TV general manager Jeffrey Marks said the interview was to mark the 50th anniversary of the founding of Smith Mountain Lake, a resort area.
Asked on CNN if the station had been targeted or had been threatened, Marks said: "Every now and then you get a crazy email or something and we'll look into it. Nothing of this nature than any of us could recall."
Mr Marks said on air: "I cannot tell you how much they were loved. Alison and Adam. Our hearts are broken."
Join our new commenting forum
Join thought-provoking conversations, follow other Independent readers and see their replies