MH17 Malaysia Airlines crash: Pro-Russian separatists 'discuss downing of flight' in leaked audio released by Ukraine Security Service
Separatist leader Igor Girkin has been accused of claiming Pro-Russian rebels had warned 'not to fly in our sky' on Russian social media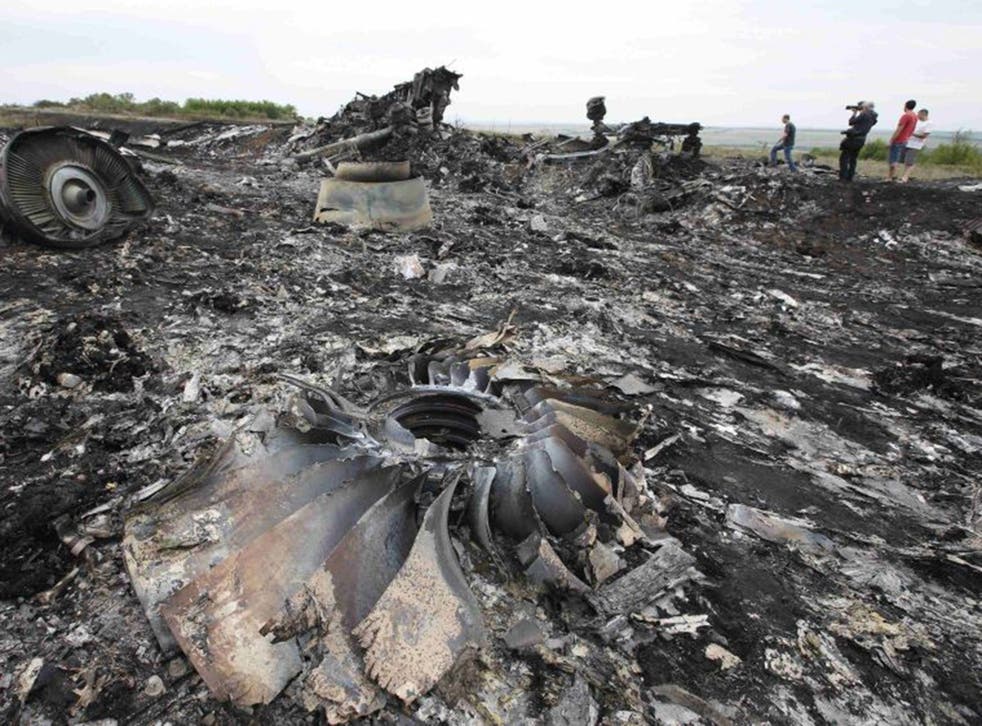 A recording of conversations between a man identified by Ukrainian media as a Russian military commander and rebel fighters has emerged, in which they are reportedly heard discussing the downing of a passenger jet over eastern Ukraine, shortly after 298 people killed when the Malaysia Airlines flight MH17 crashed near the eastern Ukraine border on Thursday.
The Boeing 777-200 departed Amsterdam at 12.14am local time bound for Kuala Lumpur. The jet fell between Krasni Luch in Luhansk region and Shakhtarsk in the neighbouring region of Donetsk.
The authenticity of the recordings cannot be confirmed.
The Security Service of Ukraine (SSU) said in the leaked audio, which they claimed to have intercepted, Bezler, also referred to as 'Bes', can be heard reporting to commander Vasyl Mykolaiovych Geranin of the Russian Armed Forces at 4.40pm local time on 17 July on a civil airplane that had been recently hit.
According to a transcript of the conversation translated by The Guardian, in one of the calls Belzer can be heard saying: "Just now a plane was hit and destroyed by the miners group."
In a second conversation with the SSU said was recorded seven minutes earlier, a militant referred to as 'Major' is reported to have said: "It's the Cernukhinskis. The Cossacks who stay in Chernuknhinks, from their post.
"The plane disintegrated in the air, above Petropavlovskaya, we found the first 200th – a civilian."
In pictures: Malaysia Airlines flight MH17 crash

Show all 109
At 5.32pm, Major is then quoted as saying: "It's pretty bad. It was civilian debris falling in people's yards – f***."
In a third conversation that Ukrainian security forces claim is with Cossack rebel leader Mykola Kozitsyn, a fighter says: "Concerning the plane that was hit and destroyed in the area of Snezhnoe-Torez. It was a civilian one." Kozitsyn then asks: "What was it doing in Ukrainian territory?" The fighter reportedly responds: "Well it means they were bringing in spies, I don't know. Do you understand, there's a war going on. F***."
Both pro-Russian rebels and the Ukrainian government have denied shooting the aircraft down after US authorities said intelligence analysis showed it had been hit by a surface-to-air missile.
Kiev has branded the event an "act of terrorism" and demanded a UN investigation, while Russian president Vladimir Putin has insisted it would not have happened if the Ukrainian government had agreed to a ceasefire.
He also demanded a "thorough and unbiased" investigation into the incident in a phone call with Dutch Prime Minister Mark Rutte, the Kremlin said on Friday. "The head of the Russian state underlined that the tragedy yet again highlighted the need for the swiftest peaceful solution to the acute crisis in Ukraine and noted that a thorough and unbiased investigation into all the circumstances of the air catastrophe was needed," it said.
In a post on Russian social media site Vkontake, rebel fighter Igor Girkin, also known by the nom de guerre Strelkov is reported to have claimed that his forces shot down a plane in the Donbass region of eastern Ukraine at 5.50pm (GMT+4), shortly before reports emerged the passenger jet was missing.
According to a translation obtained by The Independent, he allegedly wrote: "We warned [sic] not to fly in our sky."
It said: "In Torez area, a 26 plane was just shot, it's lying behind 'Progress' mine. We warned not to fly in our sky. Here is the video from another 'bird fall'. Bird fall behind the slagheap, and didn't touch any living areas."
Girkin's original post has now been deleted from VKontakte and his subsequent posts appear to deny that the pro-Russian forces within Ukraine have the available weaponry to take down a jet at 10,000m (33,000ft).
Up to 100 of those killed on flight MH17 were delegates on their way to an international conference on Aids in Melbourne, Australia. They included world-renowned researcher Joep Lange and 49-year-old Glenn Thomas, a British media relations co-ordinator for the World Health Organisation and former BBC journalist who lived in Blackpool.
Nine Britons are now known to have died aboard flight MH17 when it crashed in eastern Ukraine, Malaysia Airlines has confirmed today. The passengers on the flight included 154 Dutch, 27 Australians, 43 Malaysians - including 15 crew, 12 people from Indonesia, four Germans, four Belgians, three from the Philippines and one Canadian.
Register for free to continue reading
Registration is a free and easy way to support our truly independent journalism
By registering, you will also enjoy limited access to Premium articles, exclusive newsletters, commenting, and virtual events with our leading journalists
Already have an account? sign in
Register for free to continue reading
Registration is a free and easy way to support our truly independent journalism
By registering, you will also enjoy limited access to Premium articles, exclusive newsletters, commenting, and virtual events with our leading journalists
Already have an account? sign in
Join our new commenting forum
Join thought-provoking conversations, follow other Independent readers and see their replies